By John W. Miller at the Wall Street Journal
Peabody Energy Corp. warned Wednesday that it could go bankrupt, signaling the end of an era for listed U.S. corporate coal companies, even as their mines continue to fuel a big chunk of the country's power stations.
A chapter 11 filing by St. Louis-based Peabody, the U.S.'s largest coal miner, would be the latest in a wave of bankruptcies to hit top American coal producers, including Arch Coal Inc., Alpha Natural Resources, Inc., Patriot Coal Corp. and Walter Energy, Inc.
U.S. coal miners are wrestling with high debt levels, low energy prices, new environmental regulations, the decline of steel production, and the conversion of coal-fired power plants to use natural gas made abundant by shale drilling.
The industry's troubles come amid a larger political debate over the future of coal that has flared up in the presidential contest. Most Democrats, concerned about the effects of burning fossil fuels on the environment, advocate a switch to cleaner energy sources, while Republicans decry job losses in the coal sector that they predict would come from policies cutting carbon emissions. The industry's setbacks have been especially damaging in the coal strongholds of Wyoming and Appalachia.
To be sure, this isn't the end for coal. Just under one- third of the U.S. grid is still powered by coal, and hundreds of mines are still profitable and operating.
What isn't sustainable are the publicly traded coal powers built atop the recent China-driven commodity boom, and the corporate structures—headquarters, salaries, pensions—they maintained.
Punctuating Peabody's woes, the Energy Information Administration Wednesday said that 2016 "will be the first year that natural gas-fired generation exceeds coal generation" in the U.S. The EIA said Americans would get 33% of their electricity from gas in 2016, and 32% from coal. As recently as 2008, coal fueled half of U.S. power consumption.
The weakening demand is hurting coal markets. Coal prices have fallen 62% since 2011, and 18% in the past 12 months, according to the EIA.
Most of Peabody's mines are still profitable, "they're just not profitable enough to take care of the debt [Peabody and others] have run up," says Matt Preston, a research director at consultancy Wood Mackenzie.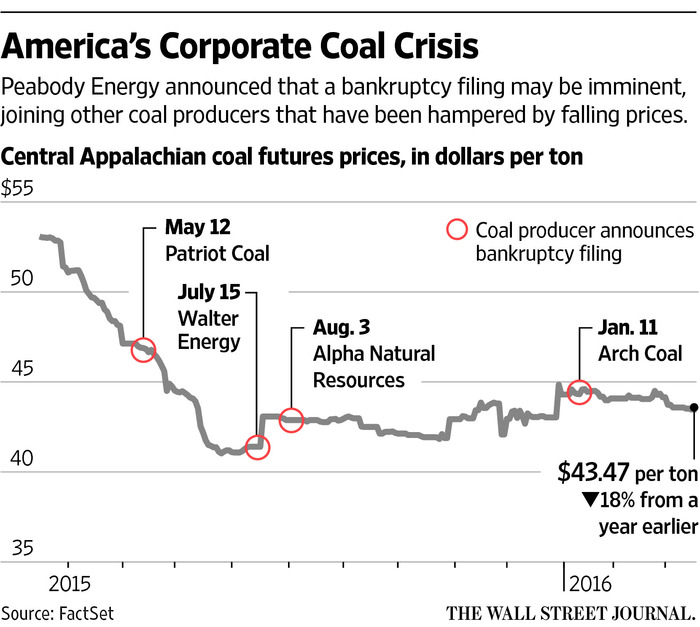 Peabody owes $6.3 billion to banks and bondholders. In its SEC filing, Peabody said it had delayed an interest-rate payment on two loans, triggering a 30-day grace period. If the payments aren't made within 30 days, an event of default would be declared.
"We may not have sufficient liquidity to sustain operations and to continue as a going concern," the company wrote. "We may need to voluntarily seek protection under chapter 11 of the U.S. bankruptcy code." Peabody last month said it would draw down the balance of its $1.65 billion revolving credit facility.
Peabody, which bills itself as the world's largest private-sector coal company by volume and operates 26 mines in the U.S. and Australia, has now lost money in nine straight quarters and in 2015 posted a $2 billion deficit. Peabody, whose biggest mining operations are in Wyoming, has also been weighed down by its ill-timed acquisition of Australia's Macarthur Coal Ltd. for $5.1 billion in 2011. Prices have been declining ever since.
Other factors are accentuating coal miners' pain. The warm winter weather has dampened demand. Steel mills in China are slowing production, slowing orders for Peabody's metallurgical coal in Australia—and miners coal under long-term contracts, in competition with natural gas. As contracts were being negotiated for this year, gas futures were well under $2 per million British thermal units, while when deals for last year were struck at the end of 2014, gas futures were over $3.5/MMBTU.
Peabody executives insist they believe the company has a future, although probably not in its current form. They point to Environmental Protection Agency estimates that show as much as 802 million short tons of coal being burned in the U.S. in 2050, down from around 900 million short tons in 2015.
Coal use is on pace to decline to under 700 million short tons this year.
"Coal will continue to be a fundamental part of the energy mix for many decades to come, and Peabody has the assets, workforce and sustainable practices to continue to be a leader in the industry," Peabody Chief Executive Glenn Kellow said in an email.
The future of the coal industry is a flammable topic for politicians, with an intense fight under way over an Obama administration regulation, now being challenged in court, cutting carbon emissions from hundreds of coal plants across the U.S.
Republicans pounced when Democratic presidential front-runner Hillary Clintonexplained during a CNN appearance Sunday why her plan to aid coal communities amid a shift toward renewable energy was necessary: "Because we're going to put a lot of coal miners and coal companies out of business."
Although Mrs. Clinton went on to say that "we're going to make it clear that we don't want to forget those people," her campaign was rattled enough by Republican attacks that she issued a statement the next day reaffirming her commitment to coal country.
No state has lost more coal mining jobs in recent years than West Virginia, where the bankruptcies of Patriot and Alpha, in particular, have led to the closing of high-cost mines and more layoffs.
There are currently about 12,000 coal miners employed in the state, down from more than 22,000 in 2011, according to the West Virginia Office of Miners Health Safety and Training. The number of active coal mines in West Virginia has also been slashed over that time by more than half, to 90 mines that have produced coal so far this year, down from more than 200 in 2011.
Wyoming had the highest jump in unemployment in the nation over the past year, according to Bureau of Labor Statistics—climbing to 4.7% in January from 3.8% a year earlier.
Robert Godby, director of the University of Wyoming's Center for Energy Economics and Public Policy, said Peabody's troubles, coupled with those of the other coal giants operating in Wyoming's Powder River Basin, hadn't yet caused the widespread layoffs seen in other parts of the country.But as coal companies continued to hurt, Mr. Godby said there was growing anxiety about what the future held, particularly among coal miners with pensions, and around the ability of companies like Peabody to afford reclaiming their mines. "The short of it is that there is some concern here," he said.
Source: U.S. Coal Sector Faces Reckoning – the Wall Street Journal