By Tyler Durden at ZeroHedge
Way back in June, we noted that auto sales had reached 10-year highs on record credit, record loan terms, and record ignorance. We based that assessment on the following set of Q1 data from Experian:
Average loan term for new cars is now 67 months — a record.
Average loan term for used cars is now 62 months — a record.
Loans with terms from 74 to 84 months made up 30%  of all new vehicle financing — a record.
Loans with terms from 74 to 84 months made up 16% of all used vehicle financing — a record.
The average amount financed for a new vehicle was $28,711 — a record.
The average payment for new vehicles was $488 — a record.
The percentage of all new vehicles financed accounted for by leases was 31.46% — a record.
In short, the "renaissance" in US auto sales is being driven (no pun intended) by increasingly risky underwriting practices and this is leading directly to the securitization of shoddier and shoddier collateral pools in a return to the "originate to sell" model that drove the housing bubble over a cliff in 2008.
As Comptroller of the Currency Thomas Curry recently put it, "what's happening in the auto loan market reminds me of what happened in mortgage-backed securities in the run-up to the crisis." 
Of course you can count on Experian and its incomparable senior director of automotive finance Melinda Zabritski (who never saw a subprime loan with ridiculous terms she didn't like) to let you know that as dangerous as this dynamic most certainly is, everything will be fine.
On Wednesday, Experian released data for Q3 and well, let's just say that the trend we've observed and documented over the past two quarters is still intact.
First, the percentage of new and used vehicles with financing rose to 86.6% and 55.3%, respectively. The trend is readily apparent: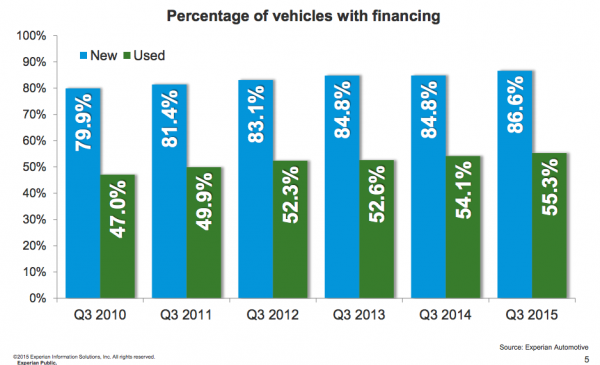 Next, the number of leased vehicles as a percentage of the total continues to rise: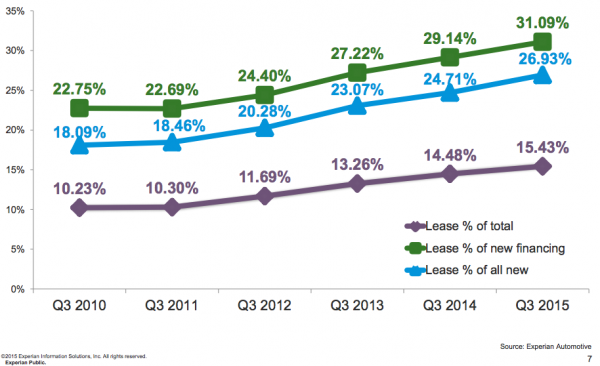 The percentage of subprime and nonprime in the leasing category rose meaningfully Y/Y: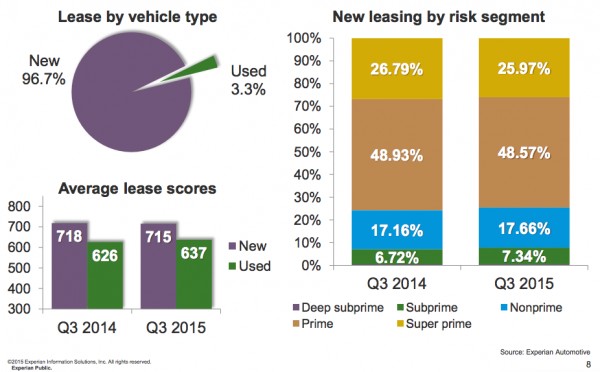 And the average credit score on loans for new vehicles just hit its lowest level since before the crash: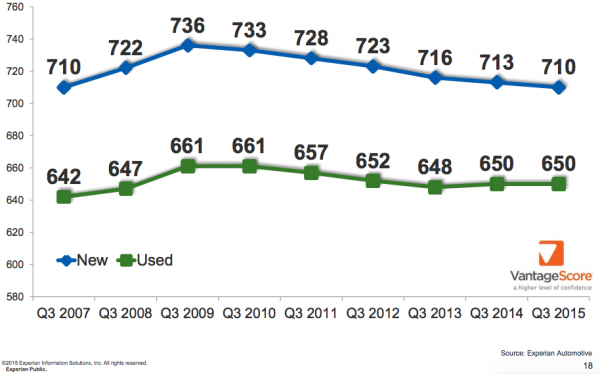 While the average amount financed is up across the board: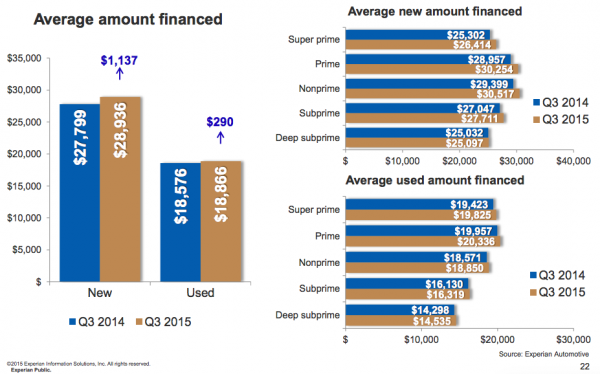 As are average payments: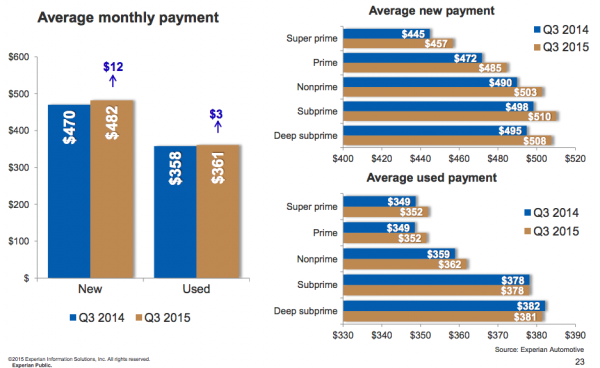 And loan terms: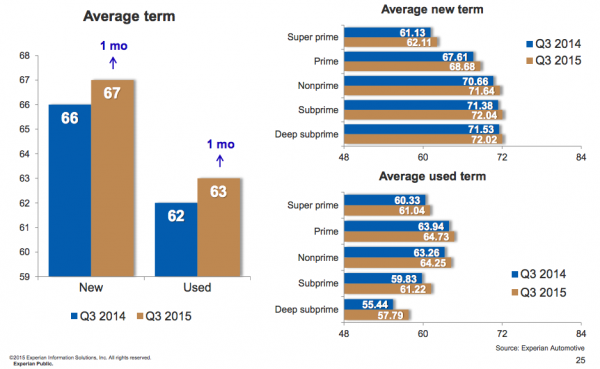 "As the price for a new or used vehicle continues to rise, leasing has become a more viable financing option for consumers looking to maintain an affordable monthly payment," the aforementioned Melinda Zabritski said on Wednesday.
Well yes Melinda, leasing has become a "more viable financing option" for people who otherwise couldn't afford a car as has acquiescing to the extension of loan terms. On the lender side of the equation, continuing to feed Wall Street's securitization machine means constantly expanding the finite pool of eligible borrowers and that means lower underwriting standards.
What's incredible here is that Experian should be shouting about this from the rooftops and instead they're making up excuses for why it isn't a disaster waiting to happen. Auto loan ABS supply is set to rise by a quarter this year to around $125 billion and keeping that party going means making more loans. For those who missed it, here's a look at the latest data from the NY Fed on originations by FICO: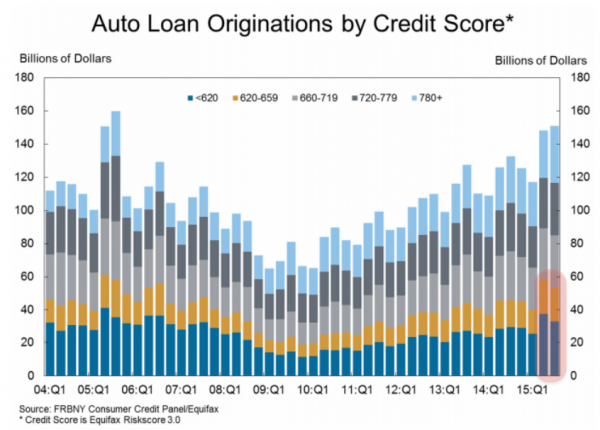 See a problem there?
Of course the bigger question for the US economy is this: what happens when this bubble bursts just as auto inventories hit their highest levels relative to sales since 2009?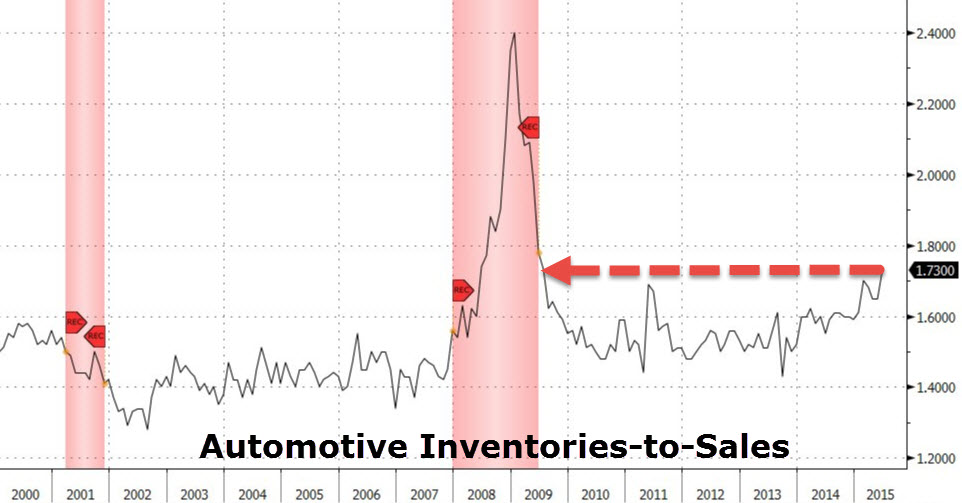 Source: Auto Loan Madness Continues As US Car Buyers Take On Record Debt, Lunatic Financing Terms | Zero Hedge