By Tyler Durden at ZeroHedge
I have written about my town, Palo Alto, many times here on the Slope of Hope (a sampling can be found by clicking here), and these posts tend to focus on the rapidly-escalating real estate prices. I personally think we're past the top at this point, since I've noticed the For Sale signs in my neighborhood are actually just sitting there. It used to be that houses sold instantly. At this point, I'm noticing the signs lingering for weeks. Something has changed.
In spite of this, I noticed something on my regular early morning dog walk that I wanted to mention. In the twilight of 5:30 a.m., I noticed a small home around the corner from mine had a For Sale sign. I had long noticed this little house, because it was on a surprisingly large lot, almost completely devoid of anything but squirrels, and it was a cute little cottage. Having seen the sign, I was curious what they were asking. Two million? Three million, perhaps?
It just goes to show how outlandish things have become, since I couldn't even guess the asking price. I present it to you now: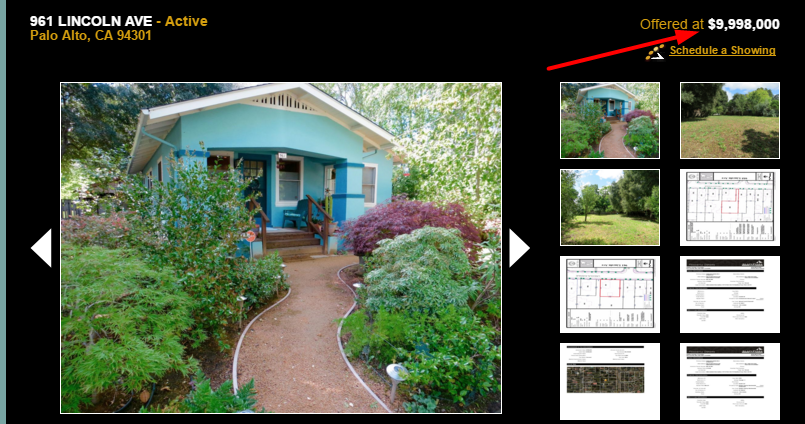 You read that correctly. Ten million bucks. (OK, nine million nine hundred ninety eight thousand). You can see the palace on the left side of the image. How big is this mansion, you ask? I can also tell you that:

Almost one thousand square feet! Two bedrooms! One FULL bath! Got more than one person in your household? Sorry, you'll have to wait in line.
Of course, they are not pretending to be selling this property for the value of the house. It's just the dirt beneath it, which is a little more than half an acre. In many parts of the country, half an acre is a basic middle class lot size. Here in Palo Alto, it is seriously offered, as shown above, as the potential site for "a family compound." A compound. What, like multiple residences for your clan?
I guess the mint blue paint was supposed to sex it up, since as you can see from Google Street View below, it used to be, well, kind of brown. But take a moment to drink in the ambience of the property and consider whether or not you want to get your checkbook out.