By Tyler Durden
When we first heard this past Thursday that private blogger and Citadel employee Ben Bernanke was going to "secretly" meet with both the BOJ's Haruhiko Kuroda and Japan PM Abe, we warned readers that "something big was coming."
As noted late last week, "Bernanke will be in Japan next week. It has been arranged for him to meet officials including Abe and Bank of Japan Governor Haruhiko Kuroda, according to a government official speaking on condition of anonymity. Bernanke is expected to discuss Brexit and the BOJ's negative interest rate policy with Abe and Kuroda, the official said." Reuters also added that "some market players speculate Kuroda might decide, in a surprise, to provide "helicopter money."
We concluded as follows:
So is it time? Is Bernanke about to unleash the next, and final, monetary policy evolutionary step, one which launches "helicopter money" in Japan, and if successful, brings it across the Pacific to the US?

We don't know, but if anyone is still holding on to USDJPY shorts, now may be a good time to quietly close them out, because if Reuters is right, and a "helicopter money" is about to be served for the first time in modern history, things are about to get very volatile, very fast.
Two trading days later, Japan's stocks have soared by 4% – the biggest one day gains since February – and the USDJPY is more than 200 pips higher…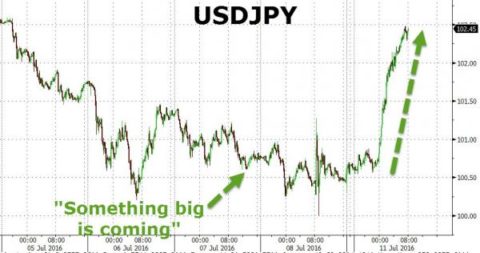 … after something big indeed came overnight from Japan: nothing less than the first "lite" instance of helicopter money .
First, this is what Reuters reported overnight:
Ben Bernanke, a former Federal Reserve chairman, visited the Bank of Japan on Monday, according to a Reuters witness. Government sources told Reuters on Friday that Bernanke, who steered the United States through its worst financial crisis in modern times, would meet with Bank of Japan Governor Haruhiko Kuroda and Prime Minister Shinzo Abe this week. Reuters was not immediately able to confirm whether Bernanke met with Kuroda. Last week government sources said Bernanke was expected to discuss Britain's vote to leave the European Union and the BOJ's negative interest rate policy.
It would appear that something else discussed was the first iteration of helicopter money, because the catalyst that sent both the Nikkei soaring and the Yen tumbling, was not so much Kuroda's whirlwind victory in Japan's latest election – largely as expected – but Abe's announcement that he may proceed with launching a JPY10 trillion stimulus, funded by Japan's first new major debt issuance in four years. From Bloomberg:
The Topix jumped 3.8 percent to 1,255.79, its largest advance since Feb. 15, as Abe said he will order the preparation of an economic stimulus package tomorrow. A person familiar with the matter said Bank of Japan Governor Haruhiko Kuroda met with former Federal Reserve Chairman Ben S. Bernanke over lunch in Tokyo on Monday, also boosting speculation for easing. Japan stocks further benefited as better-than-expected U.S. payrolls helped spur a global equities rally.

"With hopes that stimulus will come earlier than expected, investors are seeing it as an opportunity to buy," said Hiroaki Hiwada, a Tokyo-based strategist at Toyo Securities Co. The report on Bernanke's visit "makes it natural for speculation to emerge on additional easing."

Abe will hold a cabinet meeting on economic measures on Tuesday and consider more than 10 trillion yen ($98 billion) in stimulus, the Nikkei newspaper reported. Following the meeting with Kuroda on Monday, Bernanke will meet with Abe tomorrow, Reuters reported.

"It's positive for stocks that the ruling party has won so many seats," said Shoji Hirakawa, chief global strategist at Tokai Tokyo Research Center. "History shows that when the ruling party wins the upper house, Japanese stocks are stronger afterwards."
Bloomberg adds the following, when reporting on Shinzo Abe overnight speech in Tokyo, a day after winning an increased majority in upper house elections.
Want to make most of zero interest rate environment to utilize fiscal investments
Economy stimulus to establish 21st century infrastructure; speed up construction of high-speed train lines
Will consider size of economic measures from now
Measures to support domestic demand
However, it is not just as $100 billion fiscal expansion coming out of Japan: it comes in conjunction with an imminent expansion of even more BOJ monetary stimulus: "The Bank of Japan is set to announce an expansion of its monthly bond and equity purchases on July 29 and Abe will probably introduce fiscal stimulus by year-end, according to Macquarie Bank Ltd."
So is this the start of "helicopter money"? It would appear so.
Here is the broadest definition of the term from Jefferies: "The important distinction of helicopter money compared to QE or conventional deficit financing is that it is a combination of extreme monetary easing and fiscal relaxation."
More from a just released note by Jefferies' Sean Derby titled "Japan: An Equity Investor's Guide To Helicopter Money" (we will say more on this later):
We believe Japan is closer to introducing helicopter money than consensus believes as the tapering of its JGB purchase program forces the BoJ to seek other routes to stimulate growth. Although the BoJ could accelerate buying of asset classes, there are worries over diminishing returns. Moreover, negative interest rates on deposits is deeply unpopular amongst the banks and seems to have been ill thought out.

* * *

'Let us suppose now that one day a helicopter flies over this community and drops an additional $1,000 in bills from the sky, which is, of course, hastily collected by members of the community. Let us suppose further that everyone is convinced that this is a unique event which will never be repeated', Milton Friedman, The Optimum Quantity of Money

'People know that inflation erodes the real value of the government's debt and, therefore, that it is in the interest of the government to create some inflation', Ben Bernanke

'In this sense, we continue to believe that the BoJ's sudden policy U-turn on negative deposit rates in January was driven by the need to collapse the yield curve into negative territory as far as possible. The authorities are attempting to push bond yields down below existing nominal GDP, so that the existing debt can be converted or 'consolidated' into a perpetual zero coupon bond presumably before any 'tapering announcement'', Japan: It's Time To Launch A Zero Coupon Perpetual JGB! (II), 6th April, 2016

'With real rates negative, the government can finance its outstanding debt without penalty. It could then write off some of the debt held by the BoJ by announcing that the excess reserves used to purchase the bonds would remain on the BoJ's balance sheet forever while the reserves would pay no interest. Effectively, the liability (NPV) would be worth zero. This would give the government a clean slate to increase spending or cut taxes', Japan: Moving the Goalposts (IV) 

At the end of the day, most central bank mandates is devoted to price stability. Deflation in the extreme cases epitomizes falling prices, declining wages and a lack of demand. In order to overcome this 'nightmare' scenario, an expansionist policy would need to combine both fiscal and monetary policy. The important distinction of helicopter money compared to QE or conventional deficit financing is that it is a combination of extreme monetary easing and fiscal relaxation.
Which, incidentally, is precisely what Japan is now planning to do, and in doing so, it has given the world a glimpse of not only how "helicopter money" will look, but also the market's enthusiastic response, which needless to say is music to the ears of central bankers everywhere.
So well done, Blackhawk Ben: while you never managed to unleash helicopter money in the US, you finally succeeded in bringing it to Japan which will now be a trial balloon for the rest of the world: if it works, expect many more instances of "extreme monetary easing coupled with fiscal relaxation" around the globe, just as Russell Napier previewed yesterday.
Source: "Something Big" Indeed Came – Bernanke's Japan Visit Unveils "Helicopter Money", Sparks Monster Rally