By Joseph Adinolfi at MarketWatch
Here's yet another sign that China's economy may be teetering on the brink of a massive debt crisis.
Unproductive debt in China—that is, debt that's used to drive up asset prices—swelled in 2015, eclipsing the level seen in the U.S. in the run-up to the Great Financial Crisis, said Torsten Slok, chief international economist at Deutsche Bank, in a note to clients published Tuesday.
Slok's findings are illustrated in the chart below, where he compares the level of credit growth required in the U.S. and China to generate 1 percentage point of gross domestic product growth. (He notes that the red bar for 2015 also grew, suggesting more credit growth is now required in the U.S. to produce one percentage point of GDP growth).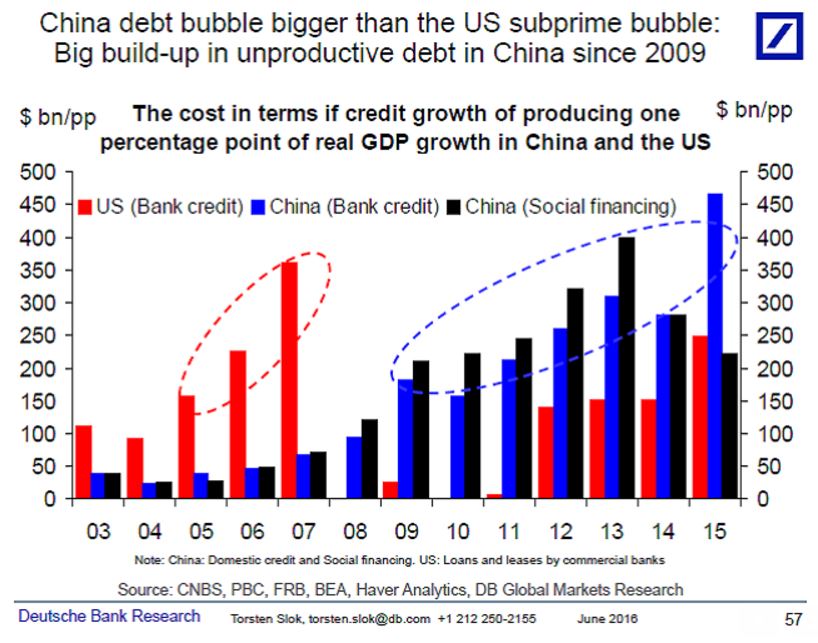 Chinese officials are partly responsible for the expansion of credit last year, analysts say, as the People's Bank of China lessened requirements regarding the collateral lenders put up to borrow funds from the central bank, among other stimulus measures. The move was meant to spur economic growth, the pace of which slowed last year, stoking fears that it could precipitate a sharp global downturn.
The world's second-largest economy saw growth slow to 6.8% in 2015—missing the government's target for 7% growth by a hair. In the first quarter of 2016, the country's economy grew at an annual rate of 6.7%, its slowest pace since 2009. It's important to note, however, that many economists believe Chinese data overstates the strength of its economy.
Over the past year, Chinese stocks, and more recently commodities like iron ore and steel rebar traded in China, have seen a series of dizzying rallies and frightening crashes as investors, emboldened by easy credit engage in speculation.
"The problem is that the banking sector in China has been pushing out new lending aggressively, but with slowing economic growth many loans have not gone to create more factories and jobs but to financial assets that have been leveraged to boost returns," Slok said.
Source: Chart Shows China's Debt Bubble Bigger Than Subprime Bubble – MarketWatch