By Tyler Durden at ZeroHedge
You know you have 'tinkered' too much in the machincations of what dealers now call a "dead market" when the world's largest sovereign bond market is inverted at the short-end and the long-end. The utter folly of Peter Pan policy has sent 10Y JGB yields below the BoJ's overnight call rate for the first time ever…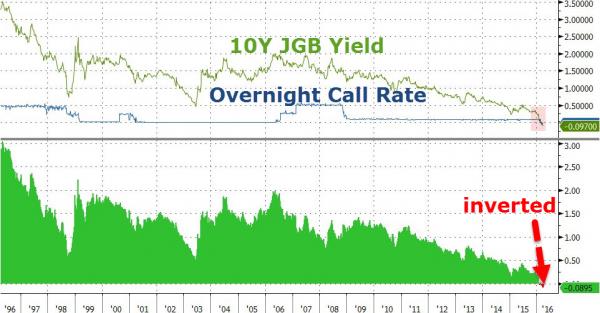 Japan's 10-year bond yield dropped to a record -12.5bps Friday, falling below the the negative deposit rate introduced by the Bank of Japan last month, after the central bank's operation to buy long-term debt met the lowest investor participation on record. Yields on government debt have tumbled since the BOJ announced Jan. 29 that it would start charging 10bps interest on some deposits held at the bank starting Feb. 16.
40Y Yields are down a stunning 90bps since the BoJ went full retard… to record lows.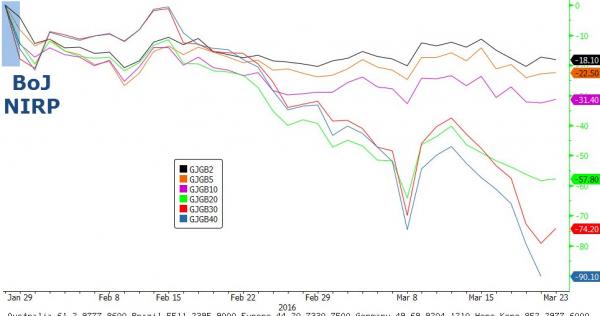 AND yields are so low that demand for 40Y JGBs has driven its yield below the 30Y yield by the most ever…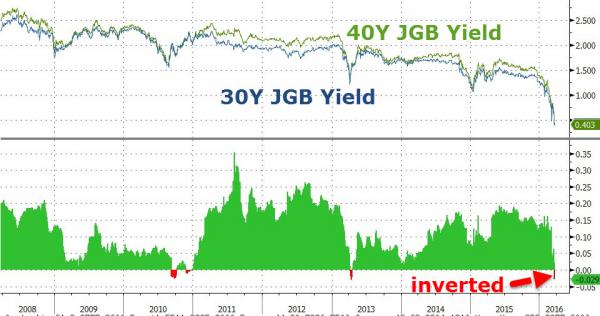 As Bloomberg notes, Japan's long-term bond yields extended their push to record lows, driven by a shortage as the central bank buys record amounts of securities.
Investors are hoarding the debt because it still pays interest, while shorter maturities have negative yields.

"We're in a situation where traders have no stock of the bonds," said Hideo Suzuki, the chief manager of foreign exchange and financial products trading at Tokyo-based Mitsubishi UFJ Trust & Banking Corp.
A double inversion – we are sure just a little more debt monetization and the 'deflation mindset' will be vanquished.
Crucially,  Japanese bond investors are increasingly reluctant to sell their holdings of longer maturities to the central bank as the pool of positive-yielding debt shrinks.
This means, as BNP Paribas warns, that there is a risk that The BoJ's bond buying operations will fail to meet target this month, Tomohisa Fujiki, chief rates strategist at the bank.
In other words – Kuroda just hit the limit of his lies – any more buying from here and arguing that this is not direct debt monetization is simply folly. And as he reminded the world's investors recently – just like Peter Pan, once you stop believing, monetary policy's effectiveness is destroyed.
We can only imagine the capital controls that are coming…
Source: Bank of Japan Unleashes Yield Curve Chaos: JGBs Inverted at Short-and-Long-End – ZeroHedge