By Joseph Walker at Wall Street Journal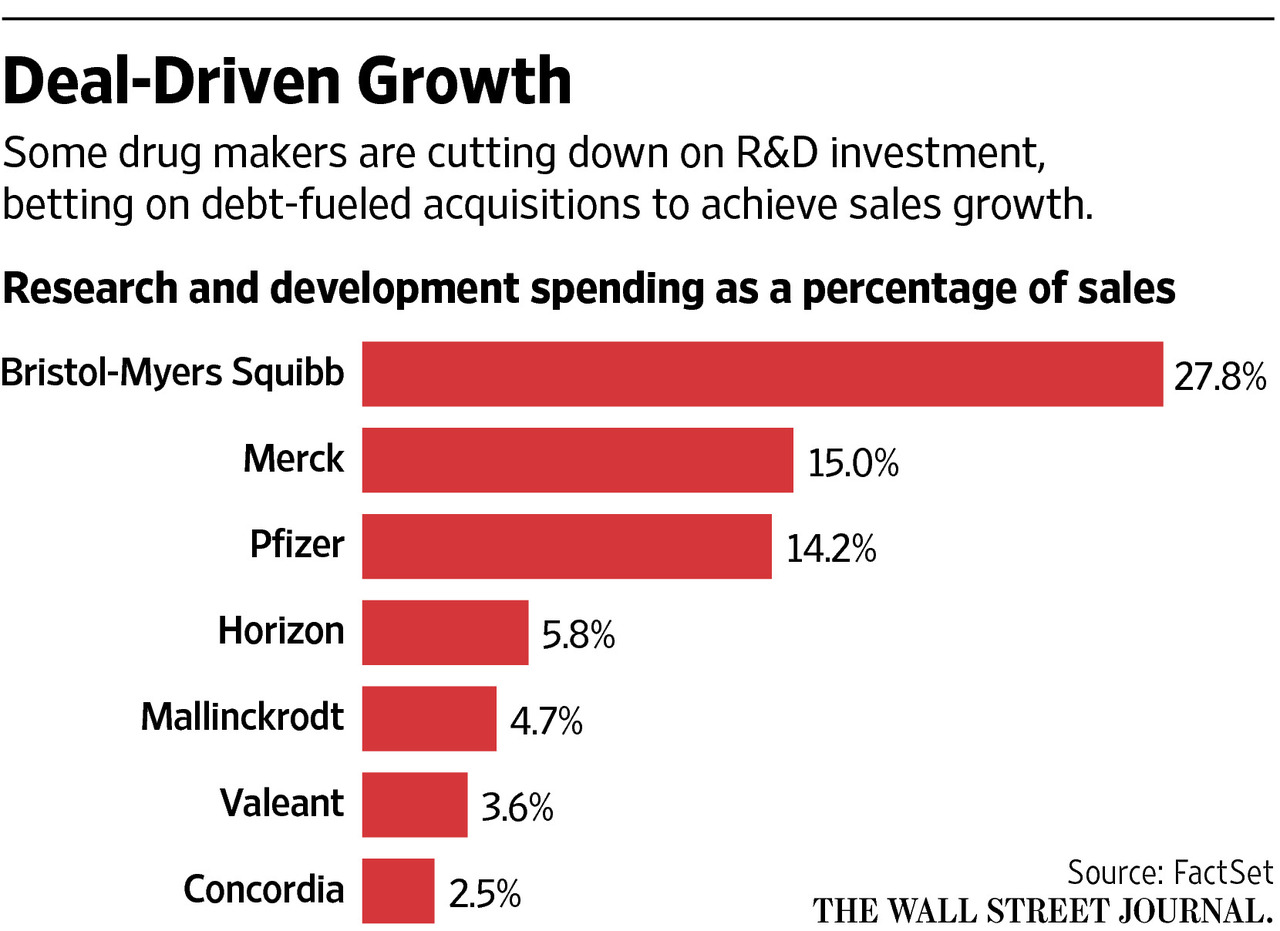 As questions mount about the viability of Valeant Pharmaceuticals International Inc.'s business model, concerns are spreading to other drug makers seen as following a similar playbook.
Shares of Horizon Pharma PLC and Mallinckrodt PLC, two of the largest companies most often compared with Valeant, have fallen roughly 25% in the past three months. Shares of Concordia Healthcare Corp., a younger company based in Ontario, Canada, are down 42%. Combined, the three companies have shed more than $4 billion in market value since late August, according to S&P Capital IQ data.
Like Valeant, the firms are part of a new breed of pharmaceutical company that has limited costly investment in research and development and instead sought sales growth through debt-fueled acquisitions—often of older drugs for which they raise prices sharply. In recent years, the companies' share prices surged as many investors embraced their business models.
But investors are concerned that the companies' growth could be curtailed by any new government price controls, or by increased pressure from powerful pharmacy-benefit managers, which manage drug spending for employers and health insurers. Some of the companies' aggressive strategies for ensuring their drugs reach patients have also come under scrutiny, such as working with pharmacies to help handle patients' reimbursement and copay issues. Pharmacy-benefit managers, including Express Scripts Holding Co., have in recent weeks terminated contracts with pharmacies that dispensed high-price drugs made by Valeant or Horizon.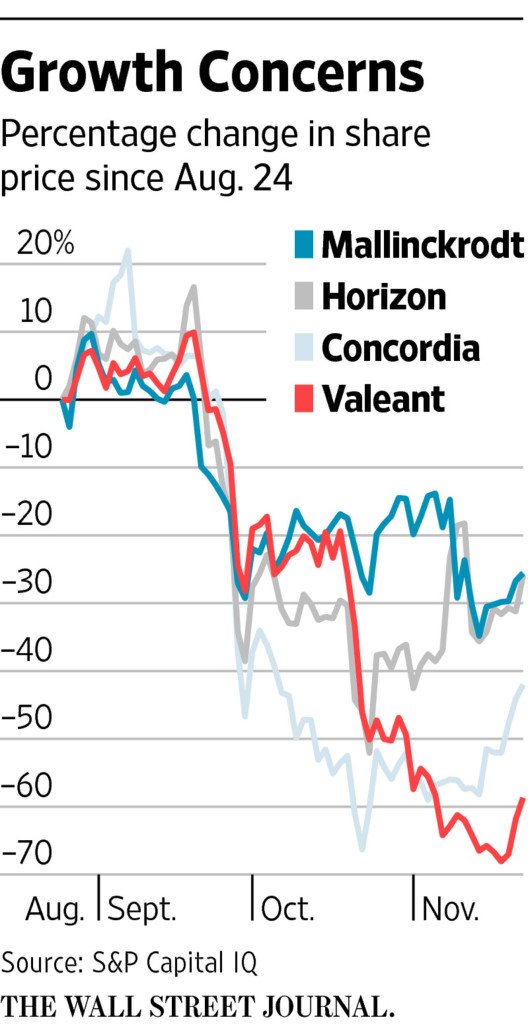 Companies following the Valeant model have invested little in developing new medicines, which limits their ability to grow, some analysts say.
Liav Abraham, a Citi pharmaceuticals analyst, describes the situation as a "house of cards," where worries about the companies' growth prospects cause their share prices to tumble, creating new concerns about their ability to finance future acquisitions with stock, which in turn sends their stocks even lower.
"It's almost a self-fulfilling prophecy and it's driven by the fact the business model is driven by M&A and getting the most out of the assets you acquire, not necessarily focusing on innovation in the way that biotech and big pharma does," Ms. Abraham says.
Horizon and Mallinckrodt disputed comparisons with Valeant and defended their business models. Concordia didn't respond to requests for comment, but has said its drug prices are competitive with other products on the market. Valeant didn't respond to requests for comment. In public comments, it has called its business model sound, and said it would focus more on paying down debt.
In April, Valeant, Horizon Pharma and Mallinckrodt were the subject of a page-one Wall Street Journal article examining their practice of dramatically raising the prices of older medicines they had acquired. U.S. House and Senate lawmakers have since launched probes into Valeant's pricing practices.
Horizon and Mallinckrodt say their price increases are justified because their drugs' previous owners had underpriced them relative to their value. They also note they have begun investing more in clinical trials to expand the use of their drugs in new diseases. Valeant has said its business isn't reliant on price increases and will continue to grow based on prescription volume growth.
When Mallinckrodt, a former unit of Tyco International PLC and Covidien PLC, became an independent company in 2013, most of its drugs were low-growth generics. Since then, the company has spent more than $10 billion on acquisitions to buy medicines that now represent over 40% of its sales. Chief ExecutiveMark Trudeau says the company's high-price drugs save the health system money over the long-term by improving patients' health.
"Our business model couldn't be more differentiated from Valeant," Mr. Trudeau said in an interview.
Horizon Chief Executive Timothy P. Walbertsays investors have unfairly associated his company with Valeant. Horizon is focused on acquiring innovative medicines for rare diseases, he says, citing Actimmune, a treatment for inherited disorders affecting the immune system and bone growth. Horizon gained the drug through its $660 million acquisition last year of Vidara Therapeutics International PLC, a deal that enabled Horizon to move its headquarters from Deerfield, Ill., to Dublin, Ireland, which has a lower corporate tax rate.
But Actimmune is also an example of the significant price increases some drug makers have taken in recent years. First approved in 1990, Actimmune was sold for under $200 a vial until Vidara acquired it in 2012 and raised the price 700%, according to data from Truven Health Analytics. Since last year, Horizon has raised Actimmune's price an additional 66% to $3,300.
Concordia Healthcare is among the most aggressive newcomers to build its business through acquiring older or off-patent drugs and raising their prices significantly, saysJessica Gladstone, an analyst at Moody's Investors Service. Formed in 2012, the company has grown rapidly through five acquisitions totaling $5.13 billion. Concordia projects 2016 revenue of $1.02 billion to $1.06 billion, more than double the $399 million analysts expect this year, according to S&P Capital IQ.
To be sure, Valeant, Horizon and Mallinckrodt have strengths, including good cash flows and growing prescription volume for some key products, analysts say. Umer Raffat, an Evercore ISI analyst, says the fall in these stocks is driven more by uncertainty than fundamentals. Some investors are simply shifting their money to more traditional, R&D-focused drug makers to mitigate their exposure to volatile stocks like Valeant's, he says.
Source: Concerns Over Valeant Spread to Other Drug Makers – Wall Street Journal