By Tyler Durden at ZeroHedge
The Kansas City Fed Composite Index has not been positive for 13 months and February's below expectations print of -12 is the worst since April 2009.
The Fed unleashed QE3 the last time KC Fed dipped… and this time is dramatically worse…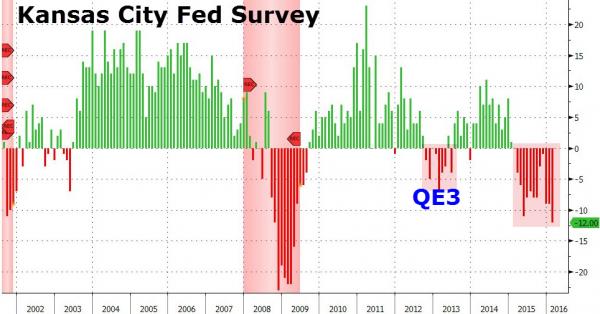 Both MoM and YoY, every single component of the KC Fed survey is down, and down hard with employment-related indicators collapsing.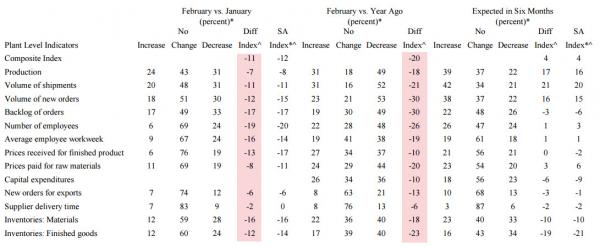 Finally we let the respondents speak for themselves…
"Business is off at levels not seen since the recession of the early 1980's."

"We are starting off to a very slow year. Shipments are down 22% compared to last year. Margins are decreasing. We don't know how our competitors keep lowering prices, as this is not good for the long haul."  
But still we hear day after day that there is no recession in sight?
By way of comparison to the current 'recovery', "number of employees" has now fallen for 14 months… it only fell 13 in 2008/9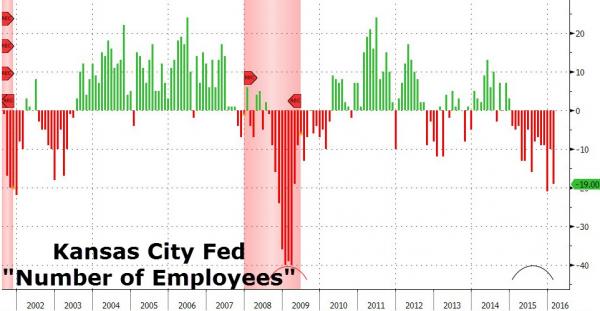 Source: Business is "Worst Since the 80s Recession" – Kansas City Fed Survey Crashes to 7-Year Lows – ZeroHedge