By Rob Copeland at the Wall Street Journal
One of the biggest supporters of the recent technology boom lost at least $1 billion during the first three months of the year, illustrating how ardor has cooled for a once-hot sector of the U.S. economy.
Tiger Global, a hedge fund founded by billionaire Charles "Chase" Coleman and best known for its early bets on startups including Facebook Inc. and Zynga Inc., plunged 22% in the first quarter, said people familiar with the situation. The pullback amounted to a more-than billion-dollar loss on paper, these people said, and potentially more for its larger private-equity and venture-capital operation.
The average stock-focused hedge fund was down about 3% through the end of March, according to researcher HFR Inc. The S&P 500 index rose 1% during that same period, including dividends.
The main culprit for Tiger Global's performance: Its three largest stock investments—retailer Amazon.com Inc., video streamer Netflix Inc. and Chinese e-commerce companyJD.com Inc.—all are down big this year. They comprised nearly half of Tiger Global's portfolio at the start of 2016.
Tiger Global Management LLC, which has $20 billion under management firmwide, also maintains stakes in private firms that are at risk in a cooling environment for technology startups, such as Indian e-commerce firm Flipkart and transportation service Uber Technologies Inc., people familiar with the matter said. It has partial ownership of at least 21 private companies valued at $1 billion or more, according to The Wall Street Journal Startup Stock Tracker.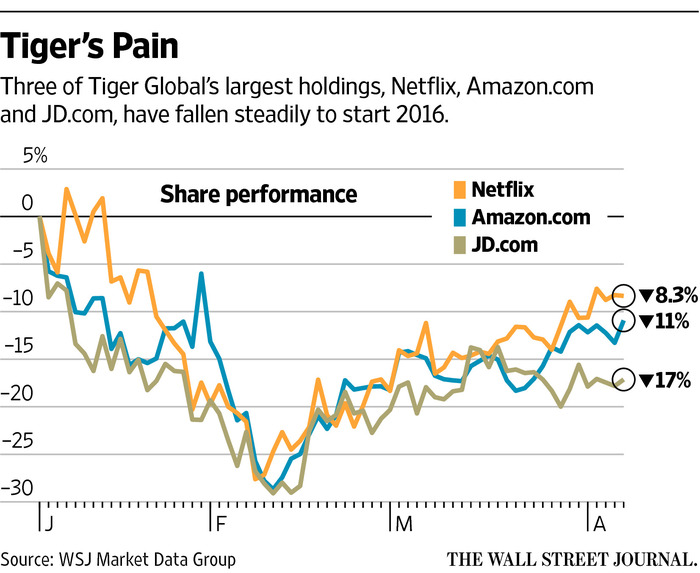 A number of changes altered Tiger Global's leadership and investment decisions over the past year, including concentrating its hedge-fund portfolio in a handful of companies. Several partners departed in 2015, including Feroz Dewan, who was responsible for steering the hedge-fund business on a day-to-day basis. Mr. Dewan plans to start his own investment firm.
Tiger Global uses leverage, or borrowed money, to nearly double the roughly $6.5 billion in its hedge fund, said a person familiar with the matter.
For years, investors like Tiger Global supported highflying companies in Silicon Valley as a rush of money buoyed anything remotely technology related.
But starting last fall, that boom began to cool as mutual-fund firms that spent billions backing startups began marking down the values of their stakes. Public valuations for prominent technology firms also began to slide as the stock market dropped and doubts mounted about the world's economic stability.
Investors in Flipkart have reduced their valuations of the firm by as much as 23%, the Journal reported last month. Morgan Stanley also marked down its stake in another Tiger Global investment, Palantir Technologies Inc., by 32% in the fourth quarter.
Other Tiger Global private investments such as Uber have held mostly steady. The hedge fund also has a collection of relatively difficult-to-trade positions in China, a person familiar with the fund said.
Until this year, Mr. Coleman had one of the more enviable track records in the hedge-fund world.
A former Williams College lacrosse player and a descendant of New York founder Peter Stuyvesant, Mr. Coleman got his start working for hedge-fund veteran  Julian Robertson, who was the father of one of his childhood friends. He later struck a deal with Mr. Robertson for financial backing to start his own firm in 2001 in exchange for a cut of fees earned.
Mr. Coleman soon established his own reputation on Wall Street with prescient investments in technology companies such as LinkedIn Corp. Tiger Global's hedge fund gained 7% and 17%, respectively, in 2015 and 2014. Since inception, it has produced an average annualized return of more than 20%, a person familiar with the fund said.
Mr. Coleman earned $425 million personally in 2014 alone, according to Institutional Investor's Alpha trade publication.
At a company retreat last year, retired Yankees shortstop Derek Jeter offered a warning to Tiger Global's staff. Support "can be fickle and fleeting when you don't perform well," the firm later told investors.
Source: Tiger Global Hedge Fund Plunges on Amazon, Netflix, Other Bets – the Wall Street Journal