By Tyler Durden at ZeroHedge
Ten years after Symantec paid $13.5bn for Veritas, Carlyle Group agreed in August to buy the data-storage business for just $8 billion (the biggest LBO of the year). Of course, the buyout deal made sense when the cost of funding was negligible and The Fed had your back but, as Bloomberg reports, amid soaring borrowing costs, banks have pulled the $5.5 billion debt offering for Veritas signaling a clear end to the reach-for-yield, nothing is a problem, bond market's risk appetite.. and if 'growthy' deals like this are being killed, what does that say for distressed bets on Energy M&A deals?
As Bloomberg noted earlier,
The banks backing Carlyle Group LP's $8 billion buyout of Symantec Corp.'s data-storage business are facing one of the costliest debt deals of the year to offload part of the financing in the corporate-bond market.

As investors squirm at the amount of debt being piled onto the unit, known as Veritas, underwriters are discussing yields of 11.5 percent to 12.5 percent to lure potential buyers to a $1.775 billion junk-rated portion of the debt, according to people with knowledge of the talks. That would be one of the highest bond yields of 2015 and shows just how risk-averse fixed-income investors have become as the global economy cools and the U.S. Federal Reserve moves to raise interest rates for the first time in almost a decade.

Borrowing costs on junk bonds are soaring back toward a three-year high set last month as investors grow wary of increasing their exposure to risky assets in the credit markets. That is beginning to impact banks that have committed to finance buyouts in the last few months and are now finding it difficult to syndicate the debt.
And it seems the costs were just too much…
*BANKS SAID TO PULL $5.5 BLN DEBT OFFERING FOR VERITAS BUYOUT
*BANKS SAID TO POSTPONE BOTH BOND AND LOAN OFFERINGS FOR VERITAS
This is the 24th loan pulled year-to-date, according to Bloomberg – and by far the largest having already been downsized.
Veritas, which postponed its debt offering due to market conditions, is the second LBO deal to retreat from the market this year after Presidio Inc's $400m 8NC3 sr notes in Jan.
LBOs start to lose their efficiency as cost of funding soars…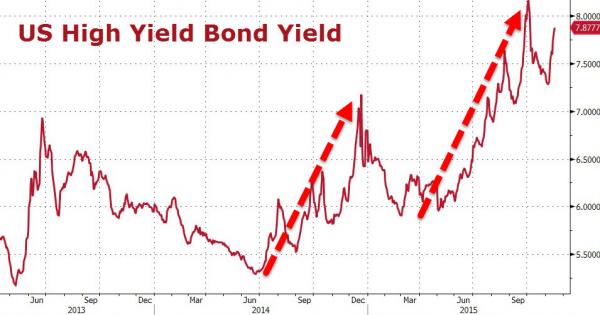 And with broad-based corporate leverage already at record highs, it appears the credit cycle has well and truly turned.
Source: Buyout Bubble Bursts as Banks Pull Carlyle's 'Biggest LBO of the Year" Bond Deal Amid Soaring Costs – ZeroHedge