By Tyler Durden at ZeroHedge
Over the weekend, we asked the question, Did the Canary of New York's Luxury Housing Market Just Die, following reports of the bankruptcy of a New York luxury real estate developet. Now, just two days later, we learn that another high-end real estate developer is having trouble closing out an ultra-luxury project in Manhattan.
Courtesy of Bloomberg, we find that luxury real estate developer Extell Development Co can't sell luxury condos at what may be New York's premier ultra luxury destination, the One57 tower, which it is attributing it to the fact that there is an abundant supply of condos already on the market. As a reminder, One57 is where Bill Ackman paid $91.5 million in April 2015 for a condo (which he hoped to flip), just a few months before Valeant, and his fund, suffered staggering losses. Perhaps that should have been the tell.
The situation has gotten to the point that instead of leasing luxury condos, Extell will now try to sell the units as higher end apartments. Said otherwise, there is suddenly no market for luxury condos right now, and developers will have to try and capitalize on investments at a lower price point than originally planned.
As the following chart shows, the median price of luxury Manhattan apartments has fallen 3.5% y/y through March, reiterating the fact that oversupply and slowing demand are taking a toll on prices: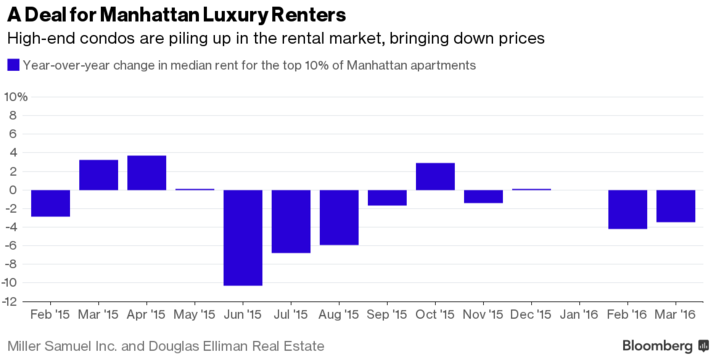 This actually marks the second time in the last six months that the firm has tried to re-brand these units in order to fill vacancies and generate cash. The plan was actually originally announced back in November, with the only difference being that a few months ago their approach was to sell the entire block for $250 million to anyone eager enough to buy into a bursting real estate bubble. That plan obviously didn't work out very well, as they find themselves in the exact same position six months later.
Interestingly, aside from confirming the fact that the luxury NYC real estate market is rapidly evaporating – largely as a result of foreign oligarch bidders who have suddenly become price conscious in the current uncertain economic regime –  we learn that not only are banks and boutique real estate firms on the hook for these projects, but also foreign investment funds as well. According to the WSJ the investors who would get money back first in the event these units eventually sell are actually Abu Dhabi investment funds.
Mr. Barnett said the condo market is strong but that buyers are moving more slowly now that there are many more buildings on the market.

He predicted that the market would tighten within a few years, creating an opportunity for a patient buyer of the rental apartments, who could rent them out for several years and eventually sell them for as much as $6,000 a square foot.

In any event, he said, most of the proceeds from the sale would not go to Extell, but to several Abu Dhabi investment funds that backed the project.
The silver lining, albeit for buyers, is that you now may have a shot at living in a complex such as One57 for a much lower price point than your neighbors. Currently, for the low starting price of just $3.45 million, you can move right in. Alternatively, you can wait for the prices to really plummet as the market wakes up to the fact that the luxury real estate bubble has burst.
Sadly for Bill Ackman, it means that his real estate "flip" investment will be his latest dud.
Source: Manhattan's Real Estate Woes Get Worse: No Demand in Building Where Ackman Splurged $90 Million – ZeroHedge