By Tyler Durden at ZeroHedge
It has been over half a year since we first downgraded the industrial recession to an all-out global depression by using Caterpillar retail sales data, which have been so counterintuitive to what the company's earnings have been reporting that last September we had to ask "What On Earth Is Going On With Caterpillar Sales?."
Today, we must admit that something simply does not compute.
On one hand, CAT stock has soared by over 30% from its 2016 lows….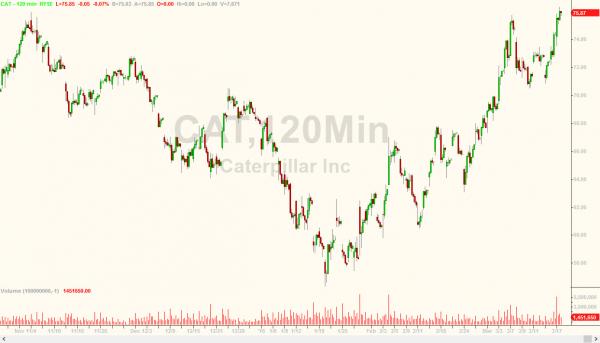 … despite warning just yesterday that the pain will continue after the company guided even lower to already depressed expectations.
But what makes no sense at all is that according to the just released CAT retail sales data, the industrial recession since downgraded to a depression, just fell out of the bottom, when the heavy industrial equipment company reported that February world sales crashed by 21%, after falling "only" 15% in January, led by double digit drops in every single market:
US down 11% after sliding 7% in January

China and Asia/PAC down 26% after being down 22%

EAME down 23% after sliding 14% the month before

Latin Marica imploding by 45% after a 36% drop one month ago, and one of the worst monthly drops on record.
Visually, this is as follows: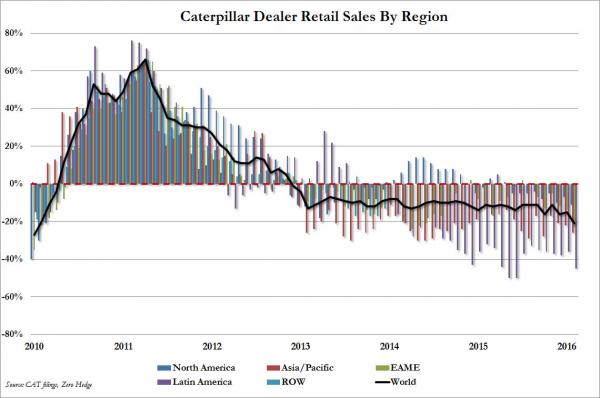 And what is more confusing is that CAT has not only not had a positive monthly increase in retail sales in a record 39 months, or more than double the length of the Financial Crisis' 19 months and the longest in history, but the February drop was the biggest one month decline in 5 years!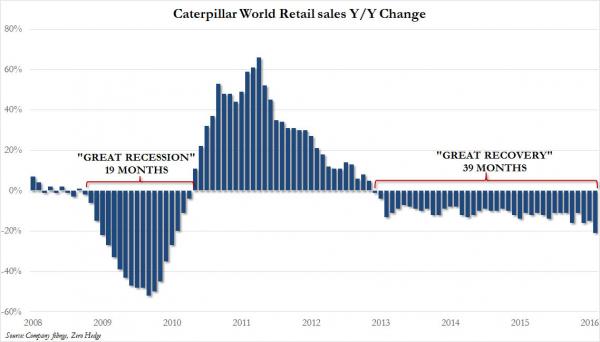 Of course, on its face, this data would explain why over the past month first the BOJ, then the PBOC, then the ECB and finally the Fed all surprised with not only more dovishness but much more outright easing as central banks panic to halt what at least according to this one indicator confirms the global economy has not been worse in nearly half a decade.
Source: This Simply Does Not Compute: If Caterpillar Data Is Right, The Industrial Depression Has Never Been Worse – ZeroHedge