By Tyler Durden at ZeroHedge
A few days after the ECB unexpectedly announced its CSPP, or corporate bond buying program which based on its definition was limited to investment grade, non-financial debt, we explained "Why The ECB Will Be Forced To Buy Junk Bonds", saying that "the reasons to believe Draghi will take the plunge into non-IG corporate credit go beyond the "MOAR is always better" line. As BofAML's Barnaby Martin explains, the EU corporate sector's penchant for bond buybacks may ultimately force Draghi further down the ratings ladder lest the ECB should end up entangled tender offers or else end up without enough debt to monetize."
This was confirmed on the very first day of the ECB's bond purchases.
As Bloomberg writes, purchases on the first day included notes from Telecom Italia SpA, according to people familiar with the matter, who aren't authorized to speak about it and asked not to be identified. Italy's biggest phone company has speculative-grade ratings at both Moody's Investors Service and S&P Global Ratings.
Telecom Italia's bonds are in Bank of America Merrill Lynch's Euro High Yield Index and credit-default swaps insuring the notes against losses are part of the Markit iTraxx Crossover Index linked to companies with mostly junk ratings.
Moody's and S&P have ranked Telecom Italia one level below investment grade, at Ba1 and an equivalent BB+ respectively, since 2013. Fitch puts the company at the lowest investment-grade rating and only revised its outlook on that level to stable from negative in November. "This dispels any doubts investors may have had about the commitment of the ECB and the central banks to tackle lower-rated names," said Alex Eventon, a Paris-based fund manager at Oddo Meriten Asset Management which oversees 46 billion euros ($52 billion). "Telecom Italia is firmly at the weak end of the spectrum the ECB can buy."
So how did the company sneak by? "The company's bonds only qualify for the central bank's purchase program because Fitch Ratings ranks it at investment grade."
Ah yes, the old "one rating agency IG rating" loophole, abused so extensively when it cames to the ECB's purchases of sovereign bonds, which had junk ratings from one or more rating agencies, but were kept IG by the questionably conflicted DBRS. As such, expect more quasi fallen angels to sneak through the ECB buying filter.
What happens if and when Fitch downgrades the bonds and all three rating agencies have it at junk, making it ineligible for ECB holdings? Nothing:
Investors can be reassured that the ECB won't immediately dump the bonds if the ratings fall below the criteria for purchase. The central bank said last week securities can be retained even if they lose all their investment-grade ratings.
Ironically this is taking place as Draghi called on politicians to help the European Central Bank's bid to restore economic health to the region by accelerating reforms. "There are many understandable political reasons to delay structural reform, but there are few, very few, good economic ones," the ECB president said in a speech in Brussels on Thursday. "The cost of delay is simply too high."
Draghi said fiscal policy should not work against monetary policy by curbing aggregate demand, and should be seen as a microeconomic tool to enhance growth. He also called for measures to increase workforce participation and to improve productivity, and said the economic and monetary union must urgently be completed.

"If other policies are not aligned with monetary policy, inflation risks returning to our objective at a slower pace," he said. "I will only note once more the critical need to restore clarity and confidence on the institutional setup of the euro area. We know that the current setup is incomplete."
The speech was seen by many as a direct response by Mario Draghi to DB's scathing critique released yesterday in which the bank's chief economist David Folkerts-Landau unleashed on the ECB as the main catalyst damading the European project, to wit:
"by appointing itself the eurozone's "whatever it takes" saviour of last resort, the ECB has allowed politicians to sit on their hands with regard to growth-enhancing reforms and necessary fiscal consolidation.

The benefits from ever-looser policy are diminishing while the litany of distortions, perversions and disincentives grows by the day. Savers are punished and speculators rewarded. Bad companies survive while good companies are too scared to invest.Moreover, governments no longer fear that failure to reform their economies or reduce debt will raise the cost of borrowing. In fact, total indebtedness in the eurozone has been rising, with the reformed and re-interpreted Stability and Growth Pact as toothless as ever. Risk-spreads have all but disappeared from government bond markets. Badly needed labour, banking, political, educational and governance reforms have been slowed or abandoned.

All of these earnings have clearly fallen on deaf ears, because while Draghi was making hollow chit chat, his traders were busy: today they bought bonds from another soon to be junked company, Volkswagen and, as the FT points out, some 15% of corporate bonds in the Eurozone now have negative yields.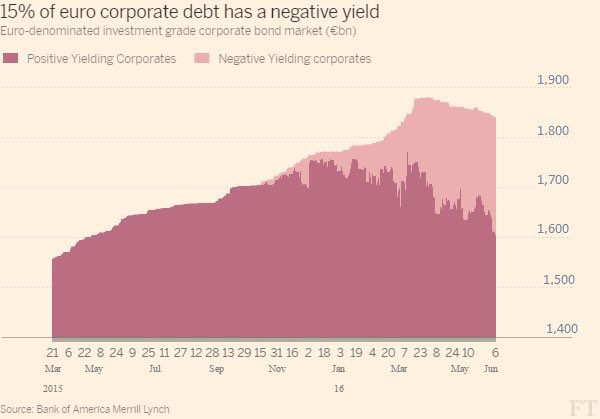 Needless to say, Europe's politicans take one look at these self-funding government and corporate bonds and decide… to do nothing at all.
Telecom Italia used to have three investment-grade ratings and the notes are still held by many bondholders that focus on higher rated debt, said Saida Eggerstedt, who helps oversee about 29 billion euros of corporate bonds at Deka Investment GmbH in Frankfurt.