By Tyler Durden at ZeroHedge
Two weeks ago we reported that one month after China created a record $520 billion in total credit (TSF), through February 18 Chinese banks had followed through with another CNY2 trillion according to MarketNews, meaning that in the first two months of the year China will have created a gargantuan $1 trillion in new credit between loans and unregulated shadow banking issues.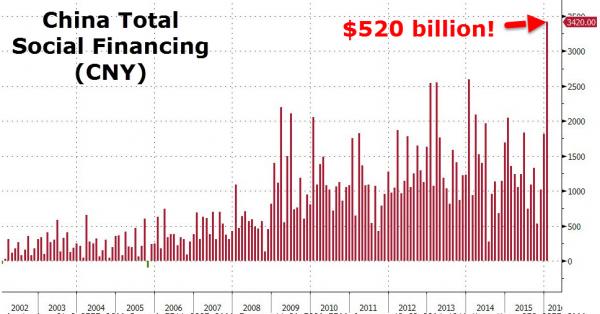 A question that emerged is what China is spending all this newly created money on. One answer emerged overnight when Bloomberg reported that after tumbling in the first half of 2015, copper inventories at the Shanghai Futures Exchange had been steadily rising, and in the most recent week soared by 11% to an all time high of 305,106 tons.
At the same time reserves at the London Metals Exchange declined for 11 days to the lowest level in more than a year, in other words China is shifting idle inventory from Point A to Point B.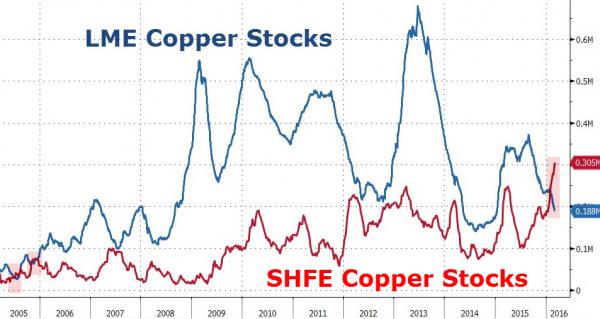 Bloomberg adds that as a result of this massive spending spree, inventories tracked by the Shanghai Futures Exchange are higher than stockpiles monitored by the London Metal Exchange for the first time in a more than a decade.
This explains two things:
for all talk of reform, China is once again building a bubble in excess capacity and stockpiling surplus commodities, which will likely last as long as China floods the economy with newly created bank loans;
The recent surge in the price of copper, which has been a direct function of China's recent massive restocking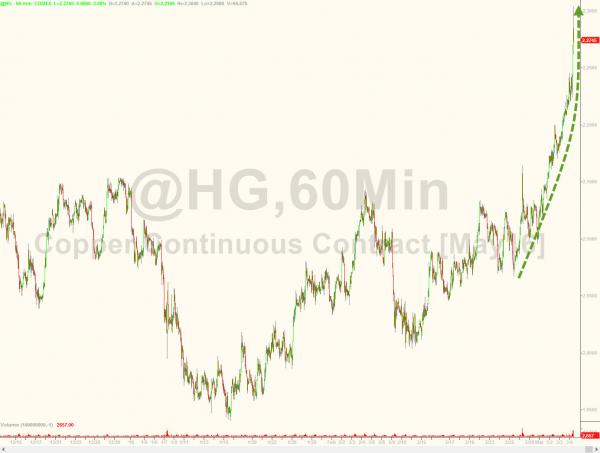 Most importantly, this means that the world is now back to the "old regime" China, where it was stockpiling massive amounts of inventory as only possible the "use of capital" of trillions in new money created, which of course is precisely the "regime" that created the hard landing scenario that China finds itself in at this very moment.
And so, can kicked. The only question is for how long.
Source: The Reason for Copper's Dramatic Surge: Chinese Copper Inventories Hit Record – ZeroHedge