By Esther Fung at the Wall Street Journal
SHANGHAI—China's housing market is showing nascent signs of recovery after a two-year downturn, helping to counter a slowdown in the broader economy but prompting fresh warnings about a buildup of debt.
Property prices and sales have risen in recent months, driven by looser lending policies, accompanied by a sustained advance in new construction. That occurred even though China is weighed down by unsold homes with enough square footage to fill seven Manhattan islands.
"Property developers' appetite has returned," said Xia Qiang, a senior partner at Yi He Capital, which provides loans to property firms. "Just two weeks ago four developers from Fujian and Zhejiang asked if there were any projects they could invest in in Shanghai."
From January to April, housing sales rose 61.4% to 2.41 trillion yuan ($369 billion) from a year ago, the National Bureau of Statistics said on Saturday. Property investment in the first four months of this year rose 7.2% to 2.54 trillion yuan. Construction starts gained 21.4% to 434.3 million square meters.
But the rosy statistics present a quandary for Chinese officials. After engineering a credit-fueled property upturn, Beijing has started tapping the brakes amid concern that it has overshot, economists say. Among the fixes Beijing has imposed are a decrease in bank lending and more purchase restrictions on some of the hottest property markets, including Shanghai and Shenzhen. A column in the official People's Daily recently criticized debt-fueled growth policies, warning that China faces a "property bubble."
The zigzag policy reflects China's tough balancing act in a nation where empty apartment towers ring many smaller cities. It wants to boost the property sector enough to hit its 6.5%-plus growth target for 2016 without making its overcapacity and debt problems too much worse, economists said.
"New loans are pouring into the real-estate sector," said Alicia Garcia-Herrero, economist with investment bank Natixis, part of France's Groupe BPCE. "But the elephant in the room is credit risk."
Many economists say higher housing prices and sales buoyed China's first-quarter gross domestic product, which rose 6.7%, a slightly slower pace of expansion than the previous quarter. Some of these people say the market will continue to grow in the coming months, spurred both by rising housing prices and activity in the sector and by a related increase in consumer confidence.
But that period will be followed, these people predict, by a housing downturn as the market is weighed down both by excess capacity and restrictions by local governments intended to cool prices.
What's more, the housing market's contribution to the Chinese economy has been falling in recent years. The construction, sale and outfitting of homes contributed to 22% of China's GDP in 2013, 19.8% in 2014 and 15.1% in 2015, according to Moody's Analytics.
"Housing will not be a durable source of growth for the Chinese economy, at least not for the foreseeable future," said Mark Zandi, chief economist of Moody's Analytics.
The property uptick, meanwhile, is spreading beyond the top-tier cities of Beijing, Shanghai, Shenzhen and Guangzhou. This, economists say, reflects confidence that the government will continue its policies aimed at reducing the inventory of unsold properties, such as lowering down-payment requirements and cutting interest rates.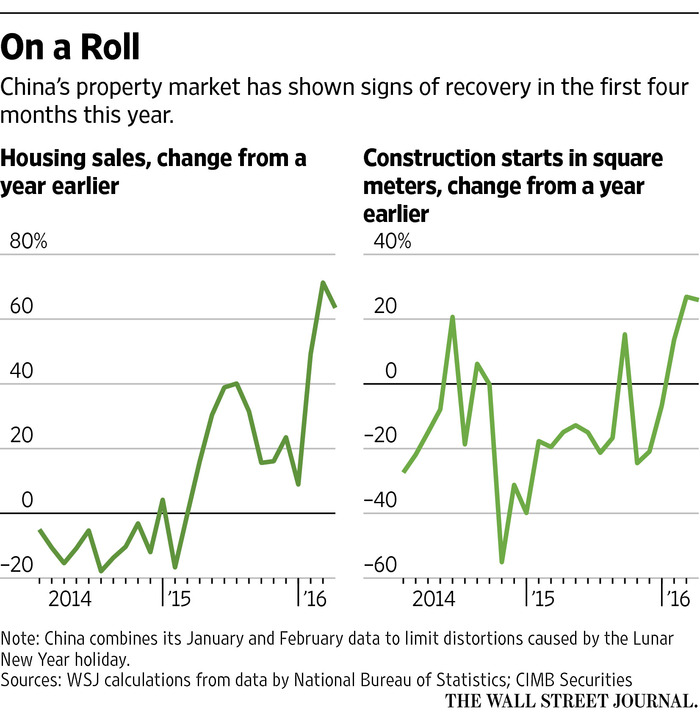 The sector has also drawn support from people seeking an alternative to a tumultuous stock market in recent months. "Leaving my money in the bank is meaningless and it will only devalue," said Wang Hong, a 35-year-old office administrator who is looking to buy a second home in Nanjing. "If home prices fall and if I get cash-strapped, I will just sell my first home."
Demand for homes is growing at a similar rate across China but price gains in the top tier cities are outpacing those of smaller ones, as developers struggle to sell stockpiled properties, those in the real-estate industry say.
"We should not neglect the fact that many more cities [are] still in the process of clearing their dwelling stock," said China Vanke, a Shenzhen-based property developer, said in its annual report in late April.
Vanke calculated the dwelling-to-household ratio in 49 relatively developed Chinese cities and concluded that 29 of them, including Kunming, Changzhou and Hangzhou, must slow new construction to allow the population to grow or risk increasing the stock of empty homes.
One sign of more plans for construction is that the price of residential land in 105 cities surveyed by the Ministry of Land and Resources rose 4.7% in the first quarter from the same period a year earlier. It was the third-straight quarterly rise.
The faster-than-expected revival of housing construction is driving concern that builders are responding too quickly to the recent surge in sales.
"Housing starts will need to remain below sales for a few years in order to absorb the overhang of unsold properties and put construction growth on a more sustainable trajectory," Capital Economics' Mark Williams and Julian Evans-Pritchard wrote in April.
A rise in housing would provide a boost to economic growth in the short run "but it will come at the expense of a sharper deceleration when the policy-driven increase in sales inevitably comes to an end and developers are forced to cut back construction more rapidly," they added.
Source: China Housing Revival Buffers Economy – the Wall Street Journal