By Tyler Durden at ZeroHedge
There has been some confusion in recent months about the unprecedented M&A buying spree unleashed by Chinese investors on international, but mostly U.S. targets, a spree which has already resulted in a record amount of Chinese outbound M&A capital, manifesting in $41 billion in US deals in just the first quarter, already double the full amount for 2015…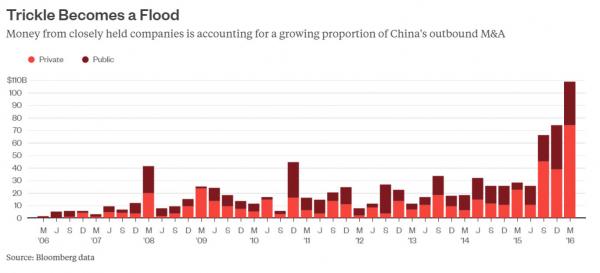 …funded by just as ridiculous amounts of debt: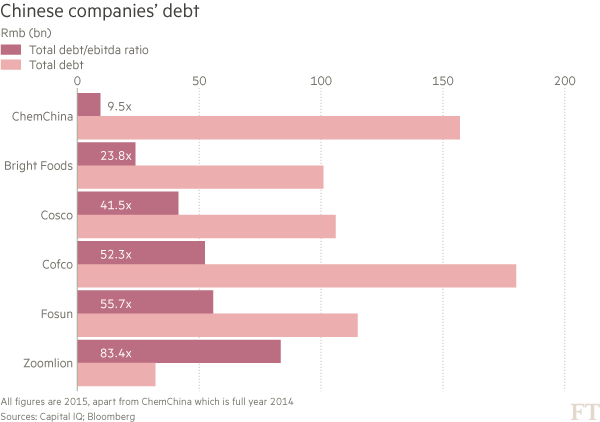 The truth is that there is nothing confusing about this: M&A is merely the last surviving loophole allowing domestic oligarchs to bypass Chinese capital controls and park billions in equity on U.S. and international soil. It also explains the complete lack of price sensitivity when Chinese bidders rush to purchase any desired target as can be seen in the most recent example involving global hotel chain Starwood and its Chinese acquiror, shady insurance company Anbang. The reason is that contrary to conventional M&A where the transaction IRR is determined by the purchase price (the lower the better), for Chinese "bizarro M&A" deals, the more capital that can be invested offshore, the better – it simply means that even more capital will evade the Chinese financial system.
In many ways, Chinese "bidders" are now the full-blown replica of what Japanese buyers were in the 1980s, when at the height of the Japanese stock bubble, every US assets was fair game, including golf courses and, of course, the the Rockefeller Center.
* * *
So what U.S. assets are these rabid Chinese buyers after? Here, courtesy of Bloomberg, is a sample of what Chinese money is buying.
Luxury Hotels
Strategic Hotels & Resorts Inc.'s portfolio includes Four Seasons properties in Austin and Silicon Valley, as well as the Intercontinental Miami and Chicago. China's Anbang Insurance Group Co. is paying about $6.5 billion to buy the hotel group from Blackstone Group LP—just three months after the New York-based private equity firm acquired it.
More Luxury Hotels
Anbang is also currently the lead bidder for Starwood Hotels & Resorts Worldwide Inc., after twice topping Marriott International Inc.'s bid. Starwood owns real estate valued at about $4 billion, including the St. Regis in New York. Anbang's latest offer values Starwood at about $14 billion.
Refrigerators, Dishwashers, and Coffee Machines
General Electric Co. agreed to sell its appliances business to China's Haier Group Co. for $5.4 billion in January—$2 billion more than Electrolux AB had agreed to pay for the business before the deal collapsed amid opposition from the U.S. Justice Department. Haier will need antitrust approval from authorities in the U.S., Mexico, Canada, and Colombia.
Cranes
Zoomlion Heavy Industry Science & Technology Co., a Chinese industrial machinery manufacturer, is pursuing Westport, Conn.-based cranemaker Terex Corp. After Terex agreed to a merger with Finnish competitor Konecranes Oyj, Zoomlion made an unsolicited counter-bid in January; last week it upped the offer to $31 a share.
The Dark Knight's Hollywood Producer
China's richest man agreed in January to buy Legendary Entertainment LLC, producer of Godzilla and the Dark Knight trilogy and co-producer of Jurassic World, for as much as $3.5 billion. Wang Jianlin is set to become the first Chinese person to control a Hollywood film company.
Software Distributors
Computer, networking, and software distributor Ingram Micro Inc. was snapped up in February by an arm of China's HNA Group Co. for an equity value of about $6 billion. Ingram Micro will continue to be run from Irvine, Calif., and will become part of the Chinese conglomerate that acquired airport luggage handler Swissport International AG last year and missed out on London City Airport last month.
A Gay Dating App
Beijing Kunlun Tech Co., an Internet games company that helped introduce Angry Birds to China, bought a majority stake in Grindr, the world's biggest gay social networking app. Chairman Zhou Yahui's company offered $93 million in cash for 60 percent of New Grindr LLC and is now scouting for other potential U.S. investments.
A Stock Exchange
The Chicago Stock Exchange said in February that a Chinese investor group, Chongqing Casin Enterprise Group, agreed to acquire it. The 134-year-old bourse handles only about 0.5 percent of U.S. stock trading, but the deal, which needs regulatory approval, would be the first Chinese acquisition of a U.S. exchange.
* * *
And lest there is any confusion that the acquiring companies are nothing but frauds, make that mega frauds, here is an excerpt from theNYT's profile of China's Anbang, and its chairman Wu Xiaohui, one of China's richest men:
He is often compared in the media to Warren E. Buffett. Like the American billionaire, he is leveraging his control of an insurance company to become one of the biggest names in global finance. Like Mr. Buffett, he looks to be acquiring an immense personal fortune. But that is where the comparisons between Wu Xiaohui, the chairman of the Anbang Insurance Group of China, and Mr. Buffett come to a halt.

Mr. Wu has links to some of the most powerful families in China. He married Zhuo Ran, the granddaughter of Deng Xiaoping, China's former paramount leader in the 1980s and much of the 1990s. That name, uncommon in Chinese, appears in corporate records tied to at least two of the 37 holding companies.

His exact holdings in Anbang are not clear. A close examination of Anbang's shareholding structure shows that the 37 companies control more than 93 percent of Anbang, while two Chinese state-owned companies own the rest. The 37 shareholders are linked by common phone numbers, email addresses and interlocking ownership, according to company records filed with the Chinese government and available online.

* * *

One Anbang shareholder — a coal mining company in China's western region of Xinjiang — is owned by another mining company, Zhongya Huajin, that listed a Zhuo Ran as its first legal representative, though that person has since resigned.

Zhongya Huajin shares an official website address with a different Anbang shareholder, a Beijing real estate company. Collectively, those companies own nearly 4.6 billion shares of Anbang, or more than 7 percent. The companies could not be reached for comment, and their common website now contains only links to pornography and gambling services.

Five shareholders list the same legal email address in government filings. Phones at those companies rang unanswered, and a message to that address was not returned.

Calls to Anbang's listed phone number were not answered. Nobody replied to a list of questions delivered to its Beijing headquarters, with its enormous lobby — the size of several basketball courts — and its large chandelier. An Anbang employee said the company did not answer media questions.
And there you have it: global money laundering at an absolutely epic scale, now masked as Mergers and Acqusitions.
Source: 8 Things the Chinese are Scrambling to Buy in America – ZeroHedge