By Tyler Durden at ZeroHedge
We've written quite a bit over the past two years about the likelihood of social upheaval in China.
Since assuming office, Xi has presided over the country's emergence as a force to be reckoned with both militarily and financially on the world stage. Indeed, there's an argument to be made that Beijing has returned the globe to a bipolarity not seen since the height of the Cold War.
Meanwhile, the President has also embarked on an ambitious anti-corruption campaign ("Tigers and Flies") that's ensnared thousands upon thousands of Party officials in a sweeping effort to stamp out perceived violations of decorum and ensure that the rank and file toes the Party line.
But as much as Xi has done to enhance the country's international standing and create discipline within the Politburo, censorship and oppression are part and parcel of Beijing's agenda. This was on full display last year during China's stock market rout when Caijing reporter Wang Xiaolu was arrested for a story he wrote that suggested authorities may be backing away from efforts to intervene to prop up equities. Wang's piece was blamed for a decline in CS300 futures. Ultimately he recanted, issuing the following (obviously scripted) apology: "I shouldn't have released a report with a major negative impact on the market at such a sensitive time. I shouldn't do that just to catch attention which has caused the country and its investors such a big loss. I regret . . . [it and am] willing to confess my crime."
China's tightening control over the media comes at a turbulent time. The country is attempting to mark a difficult economic transition that may very well result in the loss of hundreds of thousands of industrial jobs. China is also trying to navigate a currency devaluation that is causing Chinese to move money out of the country by the hundreds of billions. Meanwhile, the underlying, export-led economy is decelerating quickly.
It's during times of crisis that a free press is most valuable. To the people, that is. But not for those in power, who will invariably take the blame for whatever ills beset society.
In that context it's not surprising that Xi recently "toured" CCTV and People's Daily calling on state media to "reflect the will of the Party, mirror the views of the Party, preserve the authority of the Party, preserve the unity of the Party and achieve love of the Party, protection of the Party and acting for the Party." Here are some highly amusing pictures and commentary from Shanghaiist along with some tweets:
Xi Jinping visits CCTV studio to tell them what a great job they're doing, feeling is mutual

State media outlets got the scoop of the century earlier today when none other than President Xi Jinping himself dropped by on an inspection tour, presumably to act out his secret dream of being a newsman.

CCTV's Beijing headquarters pulled out all the stops letting Xi sit down at the anchor's chair of Xinwen Lianboand revealing a special banner, reading: "CCTV's surname is the Party. We are absolutely loyal. Please inspect us."
Xi Jinping considers new job as CCTV news anchor, because it's basically 30 minutes about what he did that day. pic.twitter.com/TRbHuIpCIj

— Chris Buckley 储百亮 (@ChuBailiang) February 19, 2016
"You stay classy, San Diego." pic.twitter.com/aocDkTTaT8

— Felicia Sonmez (@feliciasonmez) February 19, 2016
That spectacle didn't sit well with free press champions like a blogger named Ren Zhiqiang who made the mistake of asking "When did the 'People's Government' turn into the 'Party's Government?"
That, and other comments by Ren disappeared from the internet and he was quickly lambasted by state media for having "vicious motives" and for secretly promoting "capitalism."
But Ren's story wasn't the most dramatic. Not by a long shot.
As The Washington Post reports, "two weeks after China's President toured state media offices and called for absolute loyalty from the press, a website with links to the government published an explosive letter asking him to resign 'for the future of the country and the people.'" Here's more:
The letter was reportedly posted in the early hours of March 4 by a website called Wujie News, which is jointly owned by SEEC Media Group, Alibaba and the government of Xinjiang, in China's far northwest. The Washington Post found a cached version of the document that shows the post live on the site.

The letter, signed "loyal Communist Party members," lambasts China's president for "abandoning the principle of collective leadership," for concentrating power in his own hands and "indulging" flatterers. Xi's declaration that the press should serve the party, not the people "dismayed the whole nation," it charges.

The short-lived open letter signed "loyal Communist Party members" took it a step further, taking aim at Xi's handling of the anti-corruption campaign, picking apart his handling of the economy and foreign affairs.

"Your indulgence in a personality cult and silencing 'improper discussion of the center' has made those of us who have been through the cultural revolution concerned. Our Party, our country, and our people can not afford another 10 years of turmoil."
The letter also threatens the "security" of Xi's family, which was probably an especially terrible idea. Reports indicate that there's likely some connection between the letter and prominent political reporter Jia Jia. 35, Jia has a large following on Twitter: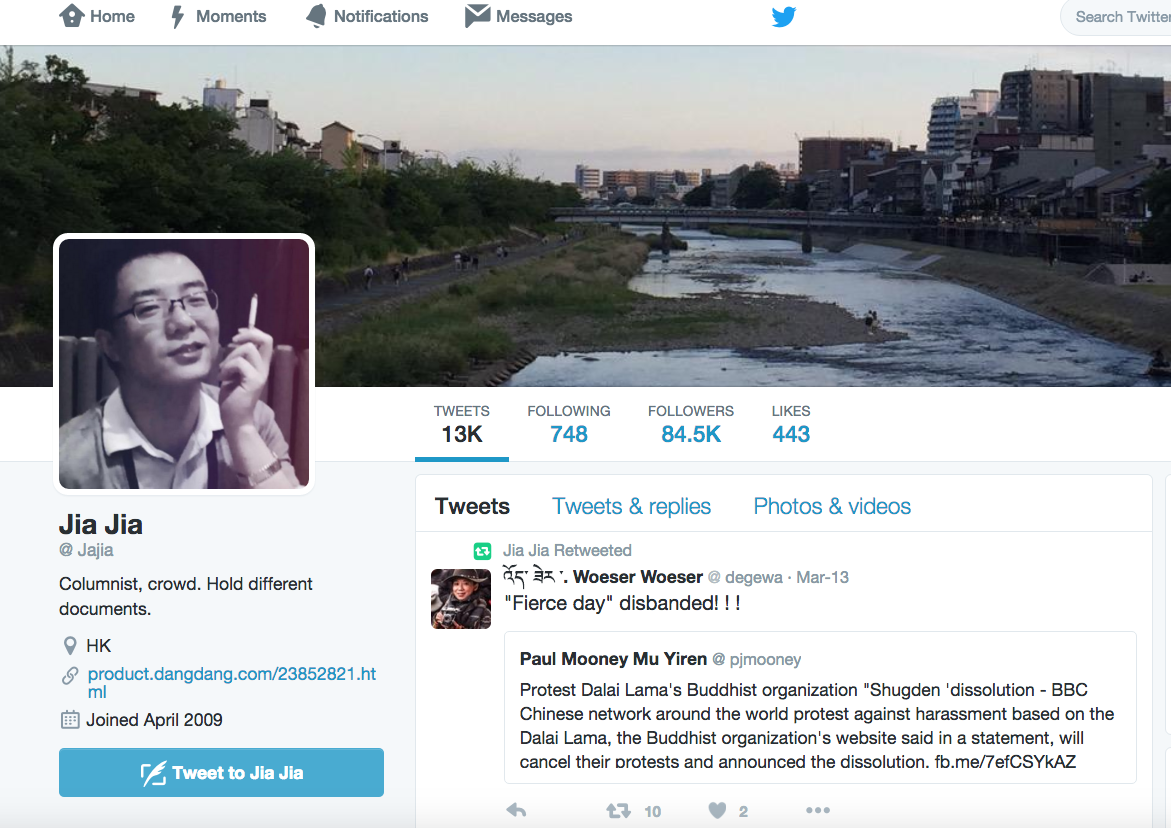 According to his wife, he was last heard from on Tuesday, when he was en route to Hong Kong from Beijing. The next day, he did not show up for a scheduled lunch. "I do not know if he was taken from the airport lounge or from the plane or in Hong Kong," a friend told Apple Daily. "Multiple reports from activist groups and Hong Kong media suggested there was a connection between Jia's apparent detention and an explosive letter calling for the resignation of the Chinese president, Xi Jinping, which was published early this month on Wujie News, a website with ties to the Chinese government," The Guardian reports, adding that "Zhou Fengsuo, a human rights activist who knows Jia, said that not long before his disappearance the journalist had told friends he feared he was being investigated and could be detained." Jia sent this tweet three days before he disappeared:
文学必须干预政治,直到政治不再干预文学为止。艺术必须干预政治,直到政治不再干预艺术为止。新闻必须干预政治,直到政治不再干预新闻为止。色情必须干预政治,直到政治不再干预色情为止。以此类推。

— 賈葭 (@jajia) March 12, 2016
It reads: "Literature must intervene in politics until politics doesn't intervene in literature any more. The arts must intervene in politics until politics doesn't intervene in the arts any more. Journalism must intervene in politics until politics doesn't intervene in journalism any more."
That's a noble position to take, but it appears as though Jia overplayed his hand by calling for a coup.
The question now isn't so much what happened to Jia. We already know the answer to that. He was arrested and may or may not be heard from again. If suggesting that the plunge protection team is pulling away from its support of the stock market is enough to get you thrown in jail, then one shudders to think what sort of fate awaits someone who sent thinly-veiled threats to Xi's family and suggested a revolution is coming.
No, the question isn't what happens to Jia. The question is how an increasingly agitated public reacts to his story. If the disaffected, downtrodden masses rally behind his name in the face of blatant oppression and darkening economic prospects to stage a popular uprising against the Politburo then we suppose Jia would be satisfied – whatever his own fate.
*  *  *
Full text of letter
Xi Jinping, hello.
We are loyal communist. On the occasion of the "two sessions" held, we write this letter to you, asking you to resign from all party and state leadership positions. Made this request, out of consideration of the Party's cause, out of the country and nation's future to consider, too, it is out of consideration for you and your family own security.
Xi Jinping, you since 2012 since the party's "eighteen" was elected the new general secretary of the Central Committee, determined to fight corruption tiger, party corruption and other malpractices improved. You personally served more than one team leader of the Central Leading Group for comprehensive deepening reform, but also a lot of work for economic development, got some people's support, which we see in the eyes.
However, Xi Jinping, we have to point out that it is precisely because this way you will be fully caught up power into their own hands, direct decision-making in all areas of political and economic ideology and culture, have caused unprecedented problems and crisis.
Politically, you abandoned the party's fine tradition, in which the most significant is to have leaders at all levels to support your position as the core, abandoned the democratic system as the core set of the main principle of collective leadership of the Standing Committee, excessive concentration of power. You strengthen the functions of the NPC and the CPPCC Council committee at the same time, weakening the independence of the national authorities of each, including Premier Li Keqiang and other comrades, including the terms of reference has been greatly affected. Meanwhile, the Central Discipline Inspection Commission departments and units stationed in the patrol group and state-owned enterprises has become a new system of power, leading to unclear responsibilities party committees at all levels of government decision-making chaos.
Diplomatically, you abandoned Deng Xiaoping's "low profile" consistent policy of blind shots, not only failed to create a good surrounding international environment, but also to the DPRK successfully conducted an atomic bomb and test missiles, forming a huge threat to China's national security; also the United States successfully return to Asia, with South Korea, Japan, the Philippines and Southeast Asian countries formed a united front to jointly contain China. In dealing with Hong Kong, Macao and Taiwan issues, fails to comply with Comrade Deng Xiaoping wise "one country two systems" concept, dilemma, leading Democratic Progressive Party won power in Taiwan, Hong Kong and the rise of independent forces. Especially in the issue of Hong Kong, in an irregular way back to the mainland to Hong Kong booksellers, on the "one country two systems" pose a direct injury.
Economically, you pass the Central Financial and Economic Leading Group, directly involved in the formulation of macro and micro-economic policies, leading to a huge upheaval China's stock and property markets, hundreds of thousands of people of wealth vanished, devastated. Supply-side capacity to reform and policy, resulting in a large number of state-owned central enterprises laid off workers; private business failures blunts, large numbers of people unemployed. "Along the way" strategy, large foreign exchange reserves into chaos countries and regions, but no return. Excessive consumption of foreign exchange reserves, the depreciation of the RMB into the cycle, everyone's confidence in a decline in the national economy is about to collapse into a situation, people wanted change.
On the ideological and cultural, you stressed that "the media surname Party", while ignoring the people of the media, the whole nation was stunned; you support lower Zhou Xiaoping Hua Qianfang this level of people to become the representative of the literary front, so many writers and artists chilling; you condone singing the praises of cultural institutions directly to you, your wife Peng Liyuan sister CCTV Spring Festival Gala served as producer, director, so that we would have loved to be your personal Spring Festival a propaganda tool.You condone these cult of personality, and not to "jump Yee central", to engage in "a party statement" approach, let those of us who experienced the "Cultural Revolution" can not help but secretly worried – our party, the state and the nation can no longer afford new Shinianhaojie! .
Xi Jinping, you carry out anti-corruption high pressure, to correct unhealthy tendencies in the party's helpful role, but because there is no supporting measures to keep up, the objective, but also led to the current government at all levels slack phenomenon, officials do not act timid, people complaining It has further exacerbated the deterioration of the economic situation. We also see that the current anti-corruption, target only focus on the struggle for power. We fear that this practice intensified power struggle within the party, also may give you and your family bring risks of personal security.
Therefore, we believe that Xi Jinping, you do not have to lead the party and the country into the future ability, no longer suitable for the post as general secretary. We ask you for the Party cause, for long-term stability and security for you and your family, resigned from all positions of the party and the country, so that the CPC Central Committee and the National People's alternative elite, aggressive lead us into the future.
Loyal Communists
March 2016
Source: Chinese Coup Rumblings: Website Prints "Explosive" Letter Calling for President's Resignation – ZeroHedge