"Although this recent labor market report was, on balance, concerning, let me emphasize that one should never attach too much significance to any single monthly report," said Janet Yellen at her speech in Philadelphia this week. But is this month's report of sharply slower growth in non-farm payrolls a one-off, or is something deeper and more long lasting afoot.
The Kansas City Fed publishes a composite indicator of US employment conditions which it calls the Labor Market Conditions Index. It's an amalgam of 24 different labor market indicators, published in 2 series, as a total index depicting the overall, and a second indicator depicting the momentum of changes in conditions.
This momentum indicator, known as the Change In Labor Market Conditions Index has been a useful predictor of changes in trend. It may be useful on that basis to compare the current period with the years leading up to the severe 2007-08 recession.
As is evident in the chart, the labor market conditions index turned negative a full year before the Great Recession incepted, and nonfarm jobs did not roll over until 14 months latter.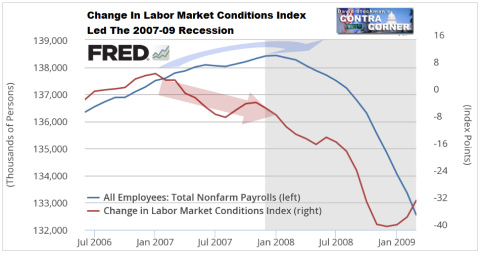 Here's how the current situation looks, and the pattern is strikingly similar.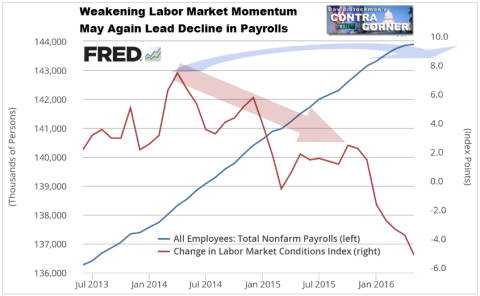 Janet Yellen may think that May's drop in nonfarm payrolls growth was a one off, but the Fed's own Labor Market Conditions indicator says that a deeper and more long lasting weakening has been under way since 2014. In 2009, similar weakening led to the Great Recession. Are we to expect that, "This time is different?"