By Bob Tita at The Wall Street Journal
Farmers increasingly are leasing tractors, combines and other equipment as grain prices continue to slump, helping prop up manufacturers' sagging sales. But this shift raises the risk of further saturating the farm-machinery market.
With grain prices high for most of the past decade—and with the added benefit of generous federal tax breaks—many U.S. farmers bought new machinery every year or two from Deere Co., CNH Industrial NV and others. Now, lower prices for corn and other crops, plus the recent rollback in tax breaks, have crimped farmers' spending on equipment.
The slump has extended to the used market, where prices for high-horsepower tractors have fallen by as much as 25% in the past year, according to dealers and analysts. Lower used prices weaken farmers' buying power for new models by diminishing trade-in values.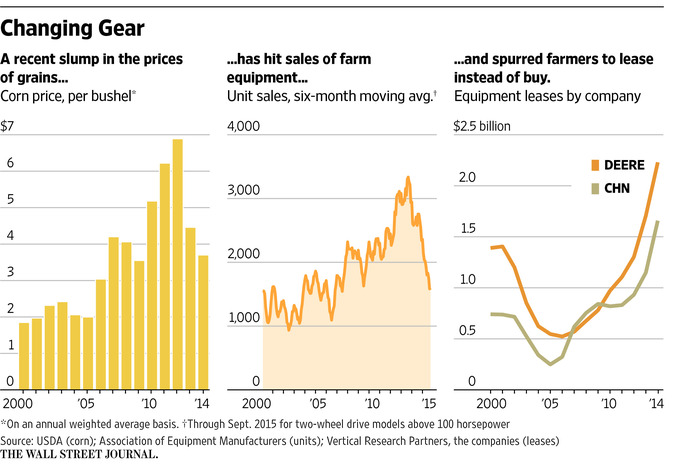 Leasing shields farmers from deteriorating used-equipment prices because they can walk away from their gear once the leases expire in two or three years. Leases also help farmers conserve cash at a time when profits from farming are contracting.
"When the farm economy is down, leases are big," said Rob Shelton, account manager for Legacy Equipment, a Deere dealer in Paragould, Ark. Mr. Shelton said the dealership leased 175 new and used tractors this spring and about 15 used combines in August and September, after leasing almost no machines for several years.
Farmer Steve Fox grew used to trading in tractors every other year for new models, but now is running 10 tractors leased through Deere and CNH. A three-year lease for a large tractor costs him about $40,000 a year. Over the life of the lease, he will pay about half what a new tractor would cost.
"I've always bought, but you can't afford to do it now. You can't make your payments [on a new tractor] fast enough to make up for what it's losing" in value, said Mr. Fox, who farms about 16,000 acres of rice and soybeans in northeast Arkansas.
For Deere, CNH and AGCO Corp., which together account for more than 90% of the high-horsepower tractors in the U.S., leasing helps generate demand during what has become the biggest downturn in the farm machinery market in more than a decade. Deere, the market leader for tractors above 100 horsepower with about a 60% share, has suffered a drop in its overall farm-equipment sales—which includes leases—of 25% over the past three quarters compared with a year earlier. Its profit was off 54% for the first nine months of the year.
Last year, Deere's lease revenue rose about 24% from 2013 to $435 million, according to an analysis by Vertical Research Partners based on the company's regulatory filings. Lease payments accounted for 23% of the $1.89 billion of revenue last year for John Deere Capital Corp., the company's customer financing subsidiary. That is likely to increase significantly this year though, analysts say. In recent months Deere's customer financing unit has been buying about 40% of the high-horsepower tractors sold by the company for the purpose of leasing them to farmers, according to a report by Barclays.
A spokesman for Deere acknowledged that leasing was going up, but disputed the 40% figure: "The 40% is not consistent with what we have seen," he said, declining to elaborate.
The leasing program at rival CNH Industrial has accounted for half of CNH's sales of high-horsepower tractor models recently, Barclays said. CNH, the maker of the Case IH and New Holland brands, declined to comment on its leasing program.
Industrywide, sales of two-wheel-drive tractors with engines larger than 100 horsepower in the U.S. totaled 1,597 units in September, down 42% from a year earlier, according to the Association of Equipment Manufacturers, which tracks retail sales.
Greater reliance on leases to generate sales volumes carries risks for manufacturers. If many farmers don't opt to buy their equipment when the leases expire, the returns could saturate an oversupplied used market, and further undermine demand by driving down trade-in prices.
"When you do leasing, you have to be careful not to overdo it," said Greg Peterson, a consultant who tracks used-equipment prices at auctions.
Farmers' willingness to purchase equipment at the end their leases is likely to turn on the so-called residual price—the leftover cost for equipment after the lease payments are made. A low residual value usually means farmers paid more of the total cost in their lease payments.
Equipment manufacturers have been bumping up residual values, according to corporate filings and analysts. This lowers lease rates and makes leasing more appealing to farmers.
"We're not intending to artificially drive lease volume. We watch it very closely," saidDavid Gilmore, senior vice president for sales and marketing in the U.S. and Canada for Deere's financial-services division. "The market has changed for our customers and they're looking for ways to squeeze efficiencies out of their operations. The interest in leasing has gone up."
The residual value of Deere's of leased equipment—including its construction equipment—last year was nearly 62% of the total cost, up from 57% in 2012. CNH's residual cost was slightly above 70% last year, compared with 65% two years earlier, according to Vertical Research Partners.
Deere's Mr. Gilmore and a spokesman for AGCO—a distant No. 3 in the U.S. market with the Massey Ferguson and Challenger brands—both said farmers end up buying the vast majority of their companies' leased equipment.
Some analysts say the current glut of used equipment may persist longer than companies anticipate. That is because most of the record volumes of new equipment sold between 2010 and 2014 have yet to reach the used market. Just 9% of the 37,138 high-horsepower tractors sold in 2013 have shown up in the used market, and 24% of the 2012 sales, according to Barclays.
"The used market has failed to absorb the early part of that surge" in new-equipment sales, said Barclays analyst Rob Wertheimer. "The excess used tractor market will worsen in the next two to three years. Used pricing is likely to erode further."
Source: Farmers Shift to Leases, Threatening to Swell Machinery Glut – The Wall Street Journal