By Victor Reklaitis at Market Watch
If you're looking for Fed criticism and a bearish warning on stocks, Stan Druckenmiller has delivered.
The storied hedge-fund manager said the Federal Reserve should have ended its post-crisis "emergency measures" by now, as he warned about excessive risk taking.
"The reason I think it's going to end badly is at some point — over six years when you have zero rates and quantitative easing — you move investors out the risk curve," he said late Tuesday at the annual DealBook conference in New York. "You cause emerging-market governments … to act in ways they've never been able to act in history, because the markets wouldn't have let them, [and] you cause corporations to start acting in bizarre ways, buying back twice as much stock … at, you know, record prices."
The longtime Fed critic said we will have to pay for the central bank's mistakes.
"You're pulling demand forward today. This is not some permanent boost you get. You're borrowing from the future," he said. "There's been such a misallocation of resources, because this has gone on so long and so unnecessarily. The chickens will come home to roost."
There's more bearish talk from Druckenmiller in the call of the day, plus a glimpse into where he's actually investing his money. But today's chart strikes a bullish tone, as it shows recent upbeat action by small caps. And it's worth noting that the bears have been off target for years, as Cullen Roche points out over at Pragmatic Capitalism.
This bull market is "still a story about how the bears have been wrong, more than how the bulls have been right," Roche writes. "The recent market action in October wasn't a change in the macro story. It was the result of another brief scare in what has been nothing more than a long-running costly narrative about how the next 2008 is right around the corner."
The Call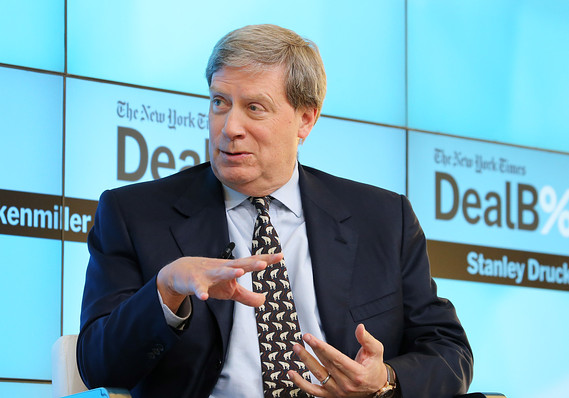 Duquesne Capital Management founder Stanley Druckenmiller
While Druckenmiller is warning about a "bubble," he said he's still "playing around like everyone else."
The Duquesne Capital founder said he is somewhat on the sidelines when it comes to stocks, but he is buying certain high-beta, high-growth plays that are investing in their businesses and should do well with low nominal growth. He's shorting some value plays that do buybacks and need cyclical growth, as well as "shorting the euro again" as U.S. and European monetary policies diverge. Investors shouldn't try mirroring his moves, Druckenmiller cautioned, adding that he changes his mind quickly.
Druckenmiller acknowledged he hadn't expected the October rally, saying he was positioned for a bear market before those recent big gains. "Unfortunately, I didn't play the rally other than to get out of the way of it," he said. Yet he hasn't flipped to bullish: "I could see myself getting very bearish. I can't really see myself getting really bullish."
And he used the b-word: "We're in a bubble in terms of what I would call short-term behavior, if that makes any sense," Druckenmiller said, describing the tendency to ignore the long term as "rampant in our whole society."
Source: Bearish Warning That the Fed's 'Chickens Will Come Home to Roost' – Market Watch