By Tim Wallace at The Telegraph
The eurozone lenders are sitting on bad loans totalling €826bn, down just €15bn from €841bn in November of last year.
The banks have tried to sell off portfolios of non-performing loans to investors who want to take on the assets.
Funds have raised €40bn to buy up those assets but banks are still racking up more bad loans themselves, meaning the overall level is falling only very slowly.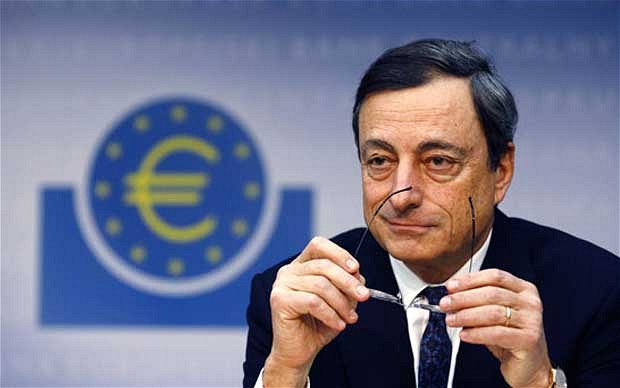 The European Central Bank (ECB), run by Mario Draghi, has taken over responsibility for regulating the eurozone's biggest banks
So far banks have "barely touched the tip of the iceberg," said Linklaters' Edward Chan.
"It still means you don't have the banks as a credible engine for growth. It is a sick sector, having to nurse their own capital positions. You don't have any source of funding for growth, which if you look at wider eurozone picture is a bit depressing."
Banks in Greece and Italy have the highest proportions of bad loans on their books, Linklaters found.
A total of 3.92pc of all European bank assets are non-performing loans.
By contrast the American banking system is in much better health – only 2pc of its assets are non-performing loans, just half as bad as the eurozone's rate.
The European Central Bank has taken over much of the regulation of the biggest eurozone banks, which had led to expectations of more rapid action on banks' balance sheets.
Linklaters' Andreas Steck believes the authority will soon get tougher on weak banks.
"The ECB is clearly working hard to deal with non-performing loans resolution and with a working group now in place to tackle these loans, we will see them engaging in a much stronger fashion with national competent authorities and banks to ensure that further action is taken ahead of next year's stress test," he said.
Source: Eurozone Banks Still Swamped With Bad Loans – The Telegraph