The statistics in the chart below are representative of every Democrat controlled urban shithole city in America. Obama and his anti-gun activist minions are peddling a false narrative about guns because they understand most Americans are dumber than a sack of hammers and easily manipulated by propaganda. Obama uses every high profile shooting to blame guns, in order to deflect people from seeing the truth. And the truth is guns are not a problem in white America.
It's only a problem in the urban ghettos with the toughest gun laws run by Democrat mayors and city councils. Chicago is a perfect example of Obama ignoring the real problem. Fifty years of welfare programs and treating black people like victims has created a dysfunctional system leading to hopelessness, crime, and perpetual poverty. Chicago is 32% white, but they commit only 3.5% of the murders. Over 96% of the murders are committed by non-whites. Essentially, it is young black men murdering other black men. White people are not in the equation and are not part of the problem. It's a black problem framed as a gun problem by Obama and his lying apparatchiks.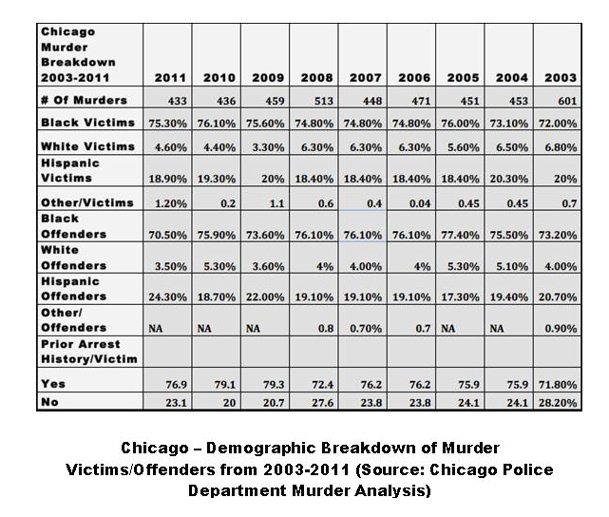 There are approximately 8,000 gun related homicides annually in the U.S. The vast majority occur in the urban ghettos and are committed by blacks and hispanics against other blacks and hispanics. They use illegally acquired guns, so more gun laws will do nothing. Their lawless culture, requiring no personal responsibility by those who father children, creates the dysfunction and crime. The urban ghetto kill zones all have the same thing in common – run by liberal Democrats for decades, with poverty created by their welfare policies, dreadful public schools, and a black population who don't work and take no personal responsibility for their lives or their children.
Here are the murders by city for a sampling of these shitholes:
Los Angeles – 587
Chicago – 508
NYC – 333
Detroit – 316
Phila – 248
Baltimore – 233
New Orleans – 150
Indianapolis – 129
Memphis – 124
St. Louis – 120
Newark -112
Milwaukee – 104
Washington DC – 103
There are dozens of other shitholes like Camden, Kansas City, Atlanta, Oakland, Pittsburgh, and Miami with extremely high murder rates, and in every case more than 90% are committed by non-whites. Why don't you hear Obama giving speeches about black communities policing themselves and taking responsibility for the crime, drugs and murder in their neighborhoods? He has no problem with proclamations about white people clinging to their guns in middle America where there are virtually no murders.
The entire gun narrative peddled by liberals is false. The crime rate has been falling for 25 years. There were 24,703 murders in 1991 when the population was 253 million. Murders in 2014 totaled 14,249 with a population of 317 million. The willfully ignorant American public completely buys the falsehoods presented by Obama and believes murders and crime are skyrocketing.
Today, the national crime rate is about half of what it was at its height in 1991. Violent crime has fallen by 51 percent since 1991, and property crime by 43 percent. In 2013 the violent crime rate was the lowest since 1970. And this holds true for unreported crimes as well. According to the National Crime Victimization Survey, since 1993 the rate of violent crime has declined from 79.8 to 23.2 victimizations per 1,000 people.
So, with homicides at a 25 year low and completely confined to the urban ghettos where young black men kill other young black men, we need new gun laws to restrict what white people can own? It makes you wonder. Why has the government militarized local police forces across the country in white communities when crime and murder is virtually non-existent in those communities? Why is Obama and his liberal nazi hordes trying to ban any gun capable of providing defense against a tyrannical government? Why has this become a war on whites when it is solely a black problem? It's almost as if the government is treating working class whites with guns as the enemy. I wonder.
http://www.theburningplatform.com/2016/07/14/not-a-white-problem/