By Tyler Durden at ZeroHedge
As the world came to depend increasingly on China for growth in the wake of the financial crisis, scrutiny around the economic numbers emanating from Beijing began to build.
Despite the contention from the NBS that Chinese data "reflect the real situation," virtually no one trusts the numbers and as we've documented extensively, it's not even clear, when it comes to GDP at least, that the misleading numbers are all China's fault. Estimating the deflator in an economy of that size in the absence of robust statistical systems is a virtual impossibility, which, in layman's terms, means that when input prices are tumbling, GDP is overstated.
In any event, handicapping Chinese economic data has become something of a sport for analysts, pundits, and commentators even as everyone, on paper anyway, pretends to believe the "official" numbers.
As WSJ reports, the blurry line between what's real and what isn't in China isn't confined to the macro level. Even microeconomic data may be wholly fabricated or, to use an apt metaphor, a "Hollywood" illusion.
Box office ticket sales in China topped $1 billion last month, easily besting North American sales which came in more than 25% lower. But how much of the total is "real" is up for debate. For instance, "Ip Man 3", starring Mike Tyson as a corrupt real estate developer somehow raked in $72 million in its opening weekend. That reportedly prompted Chinese regulators to "investigate whether the distributor tried to boost the movie's box office by buying tickets for 'ghost screenings,'" WSJ writes.
"Ticket buying in bulk to create buzz around a movie is a marketing strategy widely used in China, according to interviews with nearly two dozen industry insiders," The Journal goes on to note, before adding that "bulk buying has been an under-the-radar practice by Chinese companies to get a leg up" for years.
Hollywood, whose share of the market in China declined from 44% in 2010 to just 38% last year, isn't happy about the perceived manipulation. "The opaqueness is an extra challenge for Hollywood as its market share in China drops," Rob Cain, a film producer and entertainment industry consultant to Hollywood studios operating in China told The Journal. "It's impossible to know what the exact box office numbers are."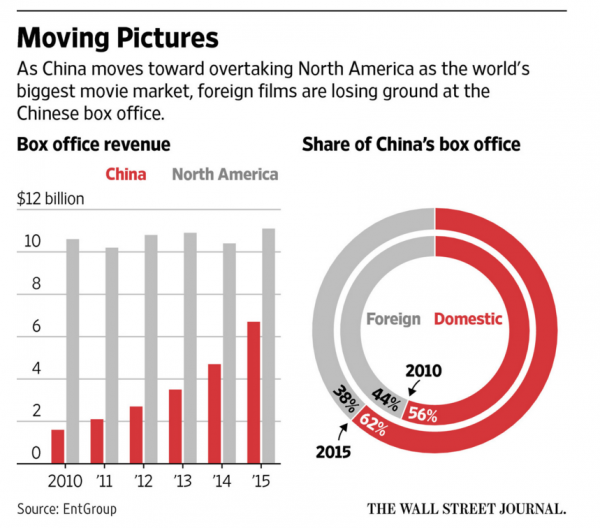 Right. Which sounds precisely like something an economist would say about the country's macro data.
In any event, Chinese regulators are set to crack down in the wake of what apparently was an egregious example of ticket sales inflation with "Ip Man 3".
"On Monday, in a rare move, China's movie regulator asked to see ticketing contracts between 'Ip Man 3' distributor Dayinmu Film Distribution and online ticket sellers," The Journal reports. "The move came after local media posted screenshots of film-ticketing sites purporting to show that some theaters had sold-out screenings every 10 minutes after midnight in the same theater—an impossibility for a movie that lasts 105 minutes."
Yes, and an "impossibility" for a move starring Mike Tyson as a property tycoon. But it gets still more amusing: "…tickets had sold for as much as $31 a seat, several times the price of tickets at other showtimes, with such prices helping to drive up the total box office."
So "Ip Man 3", a film that is over an hour-and-a-half long, is not only selling out for multiple screenings that start 10 minutes apart in the very same theatre, but seats for this Tyson extravaganza are going for $31 each.
And you can see why:
Apparently, the numbers for this film are so farcical that even Beijing can't stomach them. "Bankrolled in part by a flamboyant Shanghai mogul with an estimated net worth of $780 million, the Donnie Yen-Mike Tyson flick supposedly took in $72.3 million in its first three days in theaters, even though early March is typically a slow moviegoing period," The LA Times writes. "Officials with the State Administration of Press, Publications, Radio, Film and Television on Monday launched an investigation into four online ticket sellers to determine whether sales figures were manipulated and hyped."
Allow us to save the Politburo some time and effort: yes, the sales figures are manipulated. The idea that a martial arts film starring Mike Tyson brought in $72 million in 72 hours at the Chinese box office is laughable.
The big picture (no pun intended) takeaway is that just like China's now famous "ghost cities," the country's theaters are rife with "ghost screenings," and although Beijing may disavow any connection, it's all part of the same ruse: to make China appear as though it is a bastion of growth and prosperity in a sea of global economic turmoil.
As for what this means at the micro level, well… don't bet the house on Shifang Holdings…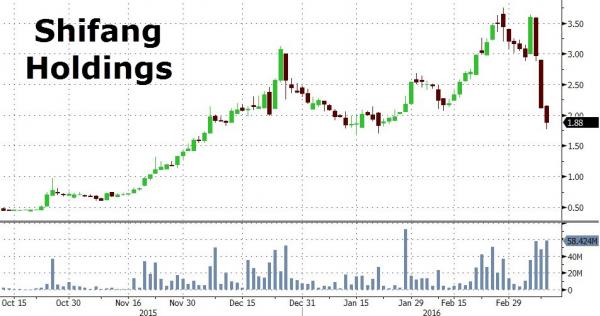 Source: Forget "Ghost Cities", China Turns to "Ghost Screenings" to Boost Box Office – ZeroHedge