by John Ficenec at The Telegraph
Glencore shares plunged 30pc in afternoon trading to a new record low after analysts warned the stock could be worthless if commodity prices remain at current levels.
The shares went into freefall after analysts at Investec issued a note warning that heavily indebted companies such as the Swiss-based mining and trading giant could see almost all their equity value eliminated under current commodity prices, leaving nothing for shareholders.
Almost £2bn was wiped off the value of Glencore as investors panicked and dumped the stock.
It puts further pressure on Glencore, which has already been hit hard by the slump in commodity prices.
Earlier this month the miner was forced to raise $2.5bn through a share placement, selling 1.3 billion new shares at 125p apiece.
It has also has announced plans in recent weeks to suspend its dividend and sell off assets as part of debt reduction measures to bolster its balance sheet.
Hunter Hillcoat, an analyst at Investec, said: "Mining companies gorged themselves on cheap debt in a race to grow production following the Chinese stimulus that occurred in the wake of the great financial crisis.
"The consequences are only now coming home to roost, as mines take a long time to build. We expect commodity markets to remain subdued for several years to come given that excess supply has coincided with a slowdown in demand."
Even a move by chief executive Ivan Glasenberg to instil confidence in investors by buying 110 million shares has had little effect on sentiment.
More than 85pc has been wiped off the stock so far this year and it is trading far below its listing price in May 2011 of 530p.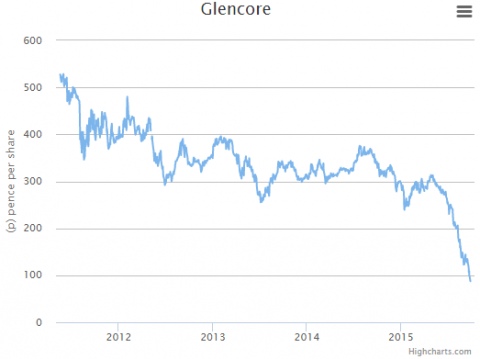 The analysis from Investec looked at the entire debt pile of Glencore, while the company itself has always argued its stockpiles of metals can quickly be sold to rapidly reduce the debt levels.
However, the broker warned that: "If major commodity prices remain at current levels, our analysis implies that, in the absence of substantial restructuring, nearly all the equity value of both Glencore and Anglo American could evaporate."
Source: Glencore shares obliterated after analysts warn they could be worthless – Telegraph