By Larry Elliott at The Guardian
The world's leading oil producers are preparing for the possibility of oil prices halving to $20 a barrel after a second day of financial market turmoil saw a fresh slide in crude, the lowest iron ore prices in a decade, and losses on global stock markets.
Benchmark Brent crude briefly dipped below $40 a barrel for the first time since February 2009 before speculators took profits on the 8% drop in the cost of crude since last week's abortive attempt by the oil cartel Opec to steady the market.
But warnings by commodity analysts that the respite could be shortlived were underlined when Russia said it would need to make additional budget cuts if the oil price halved over the coming months.
Alexei Moiseev, Russia's deputy finance minister, told Reuters: "If oil goes to $20, we will need to do additional [spending] cuts. Clearly we have shown that we are very willing to cut fiscal spending in line with an oil price at $60, for example. In order for us to be long-term sustainable [with the] oil price at $40, we need to do additional cuts, but if the oil price goes to $20 we need to do even more cuts."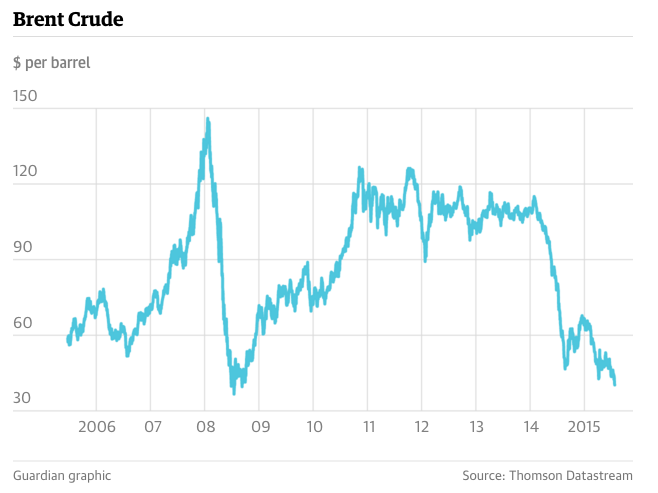 Russia and Saudi Arabia – the world's two biggest oil producers – both increased spending when oil prices rose to well above $100 a barrel. The fall from a recent peak of $115 a barrel in August 2014 has left all Opec members in financial difficulty, but Saudi Arabia has refused to relent on a strategy of using a low crude price to knock out US shale producers. Hopes that Opec would announce production curbs to push prices up were dashed when the cartel met in Vienna last Friday, triggering the latest downward lurch in the cost of oil.
Lord Browne, the former chief executive of BP, refused to rule out the possibility that oil could halve again in price when he was interviewed by Bloomberg TV. Asked if oil could hit $20 a barrel, Browne – who ran BP from 1995 to 2007 during a period when the cost of crude rose from $10 to $100 a barrel, said in the short term nothing was impossible. He added: "In the long run, $20 is probably wrong, but that's as far as I'd go."
Weak export figures from China triggered the early fall in the price of oil and industrial metals on Tuesday. Iron ore's 10-year low was accompanied by declines in zinc, lead and nickel, leaving mining companies to bear the brunt of a renewed sell-off in equity markets.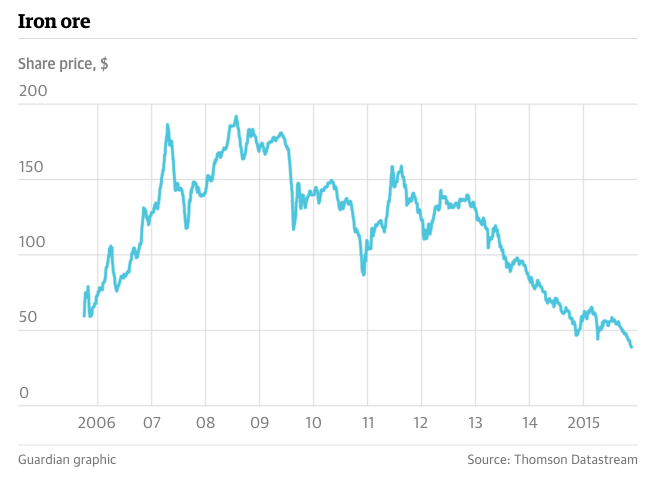 In London, the FTSE 100 dropped 1.42% to close 88.3 points lower at 6135.22. Germany's Dax lost almost 2% to end the day 212 points down at 10673.6, while in early trading in New York, the Dow Jones industrial average was down just over 150 points.
Connor Campbell at Spreadex said: "There is little on the horizon that looks like it can provide a salve for today's commodity burns; if anything, with a Chinese inflation figure released in the early hours of Wednesday morning, a figure that could easily underperform expectations if today's trade balance data is anything to go by, tomorrow may be even worse."
Samuel Tombs, UK economist at Pantheon, said another downward lurch in oil prices could delay an interest rate increase from the Bank of England.
"Provided oil prices don't continue to slide, then inflation looks on track to pick up from -0.1% in October to about 1% in March, the latest number the [Bank of England's] monetary policy committee will have before its May inflation report."
He said: "It's a close call, but that rate probably will be strong enough to convince a majority of MPC members that an interest rate rise is warranted. A further plunge in oil prices to below $30 probably would keep CPI inflation below 1% and likely would persuade the committee to stand pat for a few more months."
The consultancy Capital Economics said: "Brent's [short-lived] dip today below $40 per barrel is a further damning verdict on Opec's bungled communications after its meeting last Friday. However, it was never likely that the group would agree to cut output to boost prices. Instead, any recovery next year will depend on reductions in non-Opec supply and on stronger demand. On this basis, while we are lowering our end-2016 forecast for Brent from $60 to $55, we continue to expect oil prices to stage a partial recovery next year."
Source: Oil Producers Prepare for Prices to Halve to $20 a Barrel – The Guardian