Ballooning home prices have made it tough for investors to work out their equations. These investors were everyone from the couple living down the street to giant private equity funds and REITs that, stuffed to gills with unlimited funds from Wall Street, have been buying vacant single-family homes by the thousands. They've been chasing their luck in the now teetering buy-to-rent scheme.
Part of that scheme – encouraged by the Fed – was a concerted effort by these players to push up prices by waves of purchases that would ripple through the larger housing market via the multiplier effect. It would reward them with near-instant paper gains. And they've succeeded so well in pushing up home prices over the course of two short years that their own business model no longer works.
Another class of investors has also been hit. Flippers, who buy homes in the hopes that with some trimming, painting, and rehabbing, they can resell them for a profit a few months later, must buy low – below market prices! – and sell at least at market rates for their equation to work. But buying low has been getting tough, and now price increases have slowed – and flippers have been curtailing their buying as well [Home-Flipping Collapses in San Francisco, Losses Spread].
The National Association of Realtors (NAR) keeps confirming these trends on a monthly basis, as both "cash sales" – many of which by investors – and "sales to investors" have been dropping, or rather plunging since late 2013.
Every month since late last year, existing home sales have been below their year-ago levels. The culprit, among others, are the same folks who drove up sales starting in late 2011 through mid-2013, and who have now walked away: investors.
The share of sales to investors has plunged to 12%, down from over 20%, and as high as 23%, during the investor spree in 2012 and early 2013. By the looks of it, it's not over.
The chart on the left shows the declining home sales since late 2013 (green bars). Note the dropping 12-month moving average (black line). The chart on the right shows the recent plunge in sales to cash buyers (red line) and investors (blue line).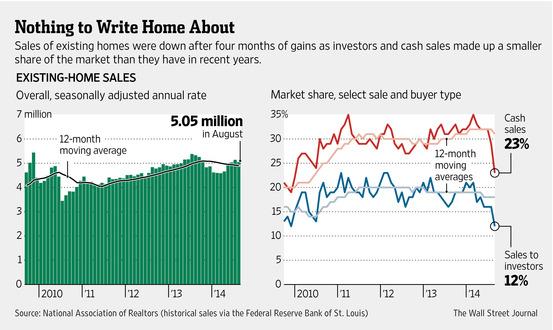 But prices are still rising, as sellers are clinging to their hopes of instant riches. And regular folks are increasingly priced out of the market. Now the market is in a quagmire of dropping sales, still rising prices, and ballooning inventories; existing homes are now at 5.5 months' supply, and new homes at 6 months' supply [Drowning in Unsold New Homes?].
That's the toxic mix with which housing downturns always start. And something has to give. Not that the NAR, which represents realtors, ever gives up hope for yet still higher prices and more volume:
"I do believe there is sizable pent-up demand – it's just a matter of when it will get released," explained NAR chief economist Lawrence Yun, as his organization is desperately hoping – because that's all it can do – that these renters will come out of the woodwork somehow and buy homes and pay hefty commissions on inflated prices to NAR's clients, namely realtors – along with points, interest, insurance, fees, and other expenses to everyone else who is making money off homeowners.
So what about this American Dream? Turns out, it's not for millennials. Read…. California Home Sales Dive, Prices Hit Wall, Millennials Blamed