By Steve Goldstein at MarketWatch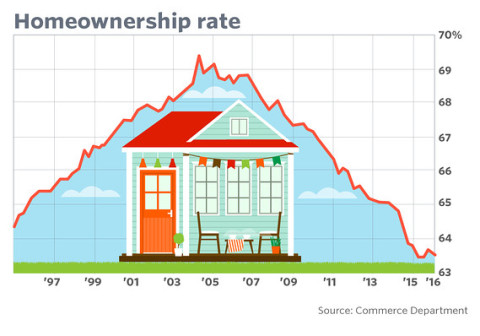 The rate that Americans own their homes fell in the first quarter to the third lowest on record, another indication that worsening finances as well as changing preferences since the Great Recession are altering behavior.
The Commerce Department reported that the ownership rate fell a tenth to a seasonally adjusted 63.6% in the first quarter, marking the third lowest figure since the 63.5% low in the second quarter of 2015. The ownership rate was 67.8% in the quarter when the U.S. entered recession.
The diminished interest, or ability, to own a home comes at a time when mortgage rates are low but house prices are climbing.
Freddie Mac reported the benchmark 30-year fixed-rate mortgage rose to 3.66% in the week ending April 28. The 30-year mortgage has been below 4% throughout 2016, according to Freddie Mac data.
However, home prices are on the move, particularly out west. According to Case-Shiller data, prices nationally rose at a 5.4% clip in the 12 months ending February. Some cities including Denver and Portland are seeing double-digit percentage increases.
Rents also are picking up, however. The median asking price for rent was $870 in the first quarter, the Commerce Department reported, representing year-over-year growth of 8.9%.
Source: Homeownership Rate Falls to Third Lowest On Record – MarketWatch