By Jed Graham at Investor's Business Daily
Hiring at restaurants, hotels and other leisure and hospitality sector venues slowed markedly last year in metro areas that saw big minimum-wage hikes, new Labor Department data show.
Wherever cities implemented big minimum-wage hikes to $10 an hour or more last year, the latest data through December show that job creation downshifted to the slowest pace in at least five years.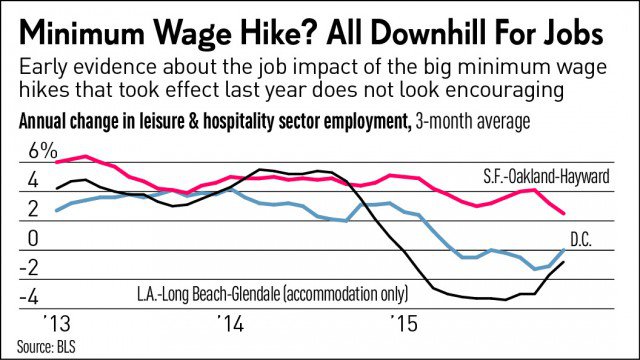 Liberals fighting for a dramatic increase in the minimum wage have insisted that there would be a negligible impact on job creation. Though the data are preliminary and overly broad, Washington D.C., Oakland, Los Angeles, San Francisco, Seattle and Chicago seem to be finding out that the reality isn't so benign.
A slowdown in job growth can fly below the radar, at least for those who aren't seeking low-wage work. But the risk of raising the minimum wage too high became fairly obvious last month, whenWal-Mart (WMT) bolted from Oakland and Los Angeles and scrapped plans for two stores in low-income areas of D.C.
The big shortcoming in the available data for 5 of the 6 cities is that they cover broad metro areas, far beyond the city limits where wage hikes took effect. Still, the uniform result of much slower job growth in the low-wage leisure and hospitality sector, even as the pace of job gains held steady in surrounding areas, sends a pretty powerful signal.
D.C.'s Great Stagnation
The data from D.C. are the most reliable because they are confined to the city limits. The latest data show that job gains ground to a halt in the nation's capital in 2015, with average monthly leisure and hospitality sector employment in the fourth quarter virtually unchanged from a year earlier. That was a sharp drop from the 3% annual job gains in 2014, meaning restaurants, hotels and other employers went from adding 2,000 jobs to adding zero. That's no small thing in a city with a 6.6% jobless rate.
The timing coincides with the $1 minimum-wage hike to $10.50 an hour last July. That jump followed a boost from $8.25 to $9.50 an hour that took effect in mid-2014. Another jump to $11.50 is set for this July.
Chicago Hiring Halved
The Chicago area saw its weakest year of leisure-and-hospitality sector job growth since 2009. The Windy City's $1.75-an-hour minimum-wage hike to $10 an hour took effect in July. Annual employment gains averaged just 1.1% from October through December, less than half the pace seen in 2014.
Chicago's minimum wage will get another bump to $10.50 an hour on July 1, another stop on the way to $13 by 2019.
The Chicago data cover the Chicago-Naperville-Arlington Heights area, of which Chicago represents only about 40% of the population.
The Bay Area's Twin Wage Peaks
Leisure and hospitality sector job growth in the Bay Area slumped to a five-year low after San Francisco and Oakland adopted what was, at the time, the highest citywide minimum wage in the country of $12.25 an hour last spring.
Employment gains slowed to just 2.5% from a year ago in fourth quarter, down from 4.7% a year earlier. Meanwhile, such employment rose 4.8% last year in the rest of California, where the minimum wage was generally $3.25 lower — before the $1 statewide hike to $10 on Jan. 1.
Oakland's minimum wage got an inflation-related bump to $12.55 with the start of 2016. San Francisco's will jump to $13 in July.
The Bay Area data cover the entire San Francisco-Oakland-Hayward metro area, of which the two cities' population is one-third.
L.A.'s Red Carpet For Hotel Workers
Los Angeles hotel workers get the biggest minimum wage in the country, but their ranks got slightly smaller in 2015. Accommodation industry employment averaged 0.8% lower in the fourth quarter of 2015 compared to a year earlier, the first annual decline since 2009.
In late 2014, the L.A. City Council mandated that hotels with at least 300 rooms start paying workers a minimum of $15.37 an hour, starting last July. The same wage will apply to workers at 150-room locations this coming July.
That move was separate from the council's adoption of a $15-an-hour citywide minimum wage by 2020. The wage will rise to $10.50 in July, then $12 in July 2017. Los Angeles County followed the city's lead and will gradually move its wage to $15 over the same period in unincorporated areas of the county.
The hotel employment data cover all of Los Angeles County, of which the city accounts for about 40% of the population.
Seattle Restaurants Stew
Job gains at Seattle-area restaurants rose just 1.8% from a year ago, down from 4.6% growth a year earlier, in their worst year for employment since 2009. Meanwhile, in the rest of the Washington state, restaurant employment gains accelerated to 6.3%.
Yet Seattle's minimum-wage hikes were only just getting started. The minimum wage rose last April from the statewide $9.47 to $11 an hour for companies with more than 500 employees. For smaller employers, the minimum got a smaller bump to $10. That rose again to $10.50 at the start of 2016, or $12 for employees who don't get employer health insurance.
The Seattle-area data cover the entire Seattle-Bellevue-Everett metro, of which Seattle is one-fourth of the population.
Source: Minimum Wages Surged in 6 Cities Last Year; Then This Happened