US industrial production was slightly higher in June on a seasonally-adjusted basis, but the year-over-year growth rate fell to a new "cycle" low. While the monthly measure was 0.33% above May, it was up only 1.54% over June 2014 following a Y/Y gain of just (revised) 1.62% last month. The 6-month average is again below 3% for the first time since 2013 and without a serious gain in July the average will likely also fall to a new cycle low.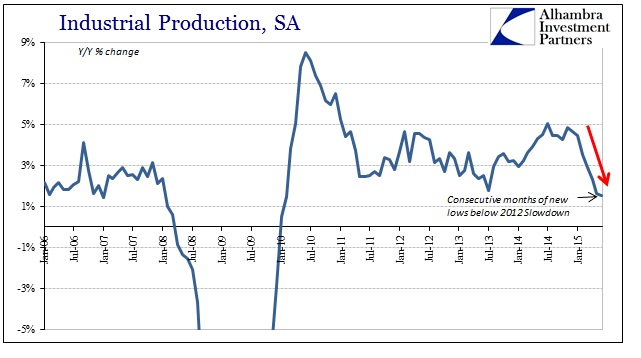 The increase in apparent monthly variation (typical at points of inflection) led to some sharp revisions which actually had the effect of increasing monthly volatility in the estimates. Where IP was thought nearly flat (seasonally-adjusted) for 2015 so far, it still is except with now more ups and downs along the way. That would seem very much in accordance with industrial production and other economic accounts in places like China where monthly variation is often meaningless on its own, and here especially subject to significant revisions.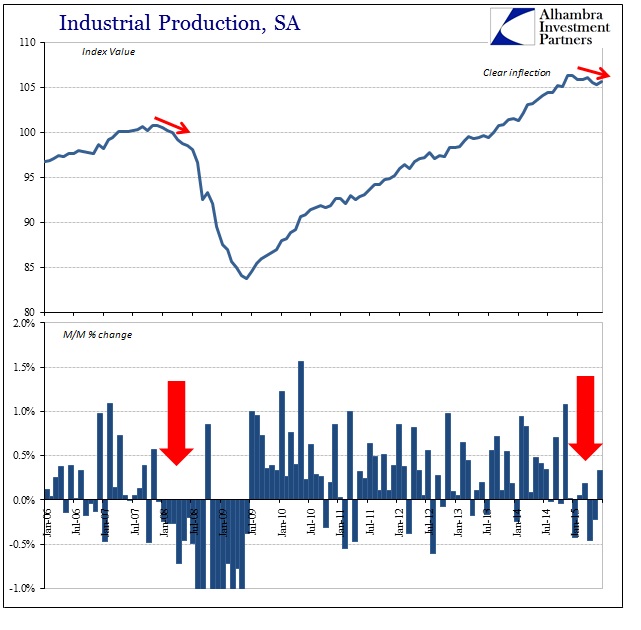 The trend in industrial production remains on the downswing, even though a good portion of the revisions for this year were in the crude oil sector. It still appears as if oil production might be slowing, but estimated production for particularly March and April were revised much higher and more in line with prior production gains; meaning that the expected crude production slowdown has yet to seriously materialize though it, yet again, may be starting to form.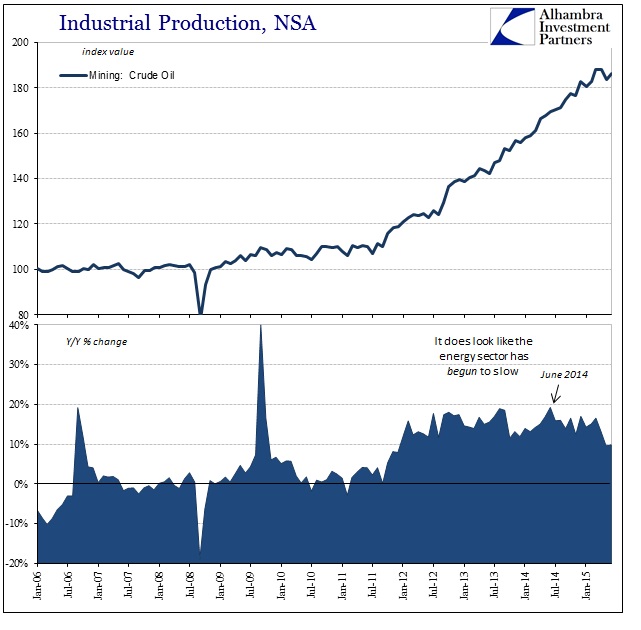 Capacity utilization ticked up in June (and May was revised up by the smallest rounding), breaking a string of six monthly retreats. Utilization is almost a full percent below June 2014 and many industries have shown even sharper retrenchment (communications equipment capacity is at 73.6% vs. 75.8% a year ago; semiconductors at 63.4% vs. 72.4%). I don't think there is any significance in June's gain, even more so by the fact of so many revisions in this update. As long as sales (both retail and wholesale) continue to fall off while inventory does not I would expect that the trend, now quite visible, would continue beyond whatever is figured for individual months.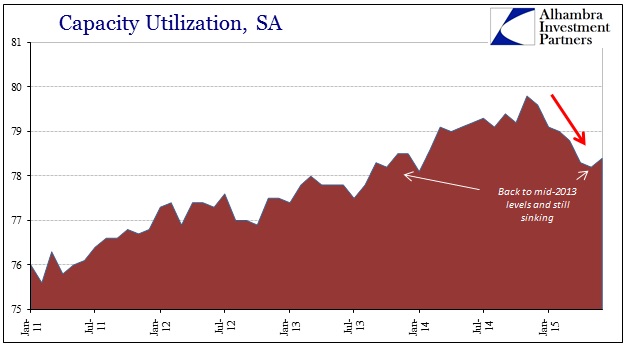 That would seem to be indicated as well by the sudden slowing of capacity growth overall (capex), which remained (month-over-month) at the slowest expansion since 2011 for the second consecutive month in June. Taken together, then, overall capacity growth and utilization still suggest the same downward trajectory of overproduction relative to especially last year.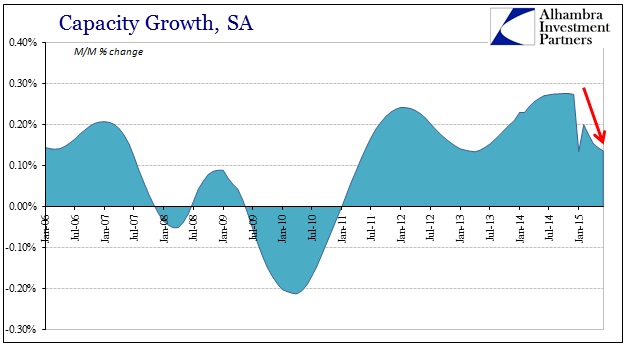 In other words, there remains a slowdown evident here but not the major, massive adjustment that is particular of full recessionary force. In other words, the recession may have begun already on the consumer level and gone as far as wholesale sales, but overall production remains, to this point, only obliquely moving toward the same downward slope. To re-emphasize, it seems far more reasonable to expect the downward trend to pick up given overall sales and inventory, which is very bad news for the US and global economy the rest of this year.