It may be unexpected to economists, but the sudden and uniform economic downside that is either appearing or strengthening almost everywhere in the world is closely tracking the wholesale "dollar." In many cases, that flows through China and so is given that gloss, but there can be little doubt now about either cause or effect. In Japan, machine orders (a highly-used proxy for capex) tumbled "unexpectedly" in August after a mixed view from July (to put it kindly).
Machine orders – a proxy for private capital expenditures – fell 3.5 per cent in August from a year earlier, with the drop catching economists off guard.

They had predicted a 3.5 per cent increase for the month, building upon a 2.8 per cent year-on-year gain in July.
Worse than that, the measure of private "non-volatile" (read: core) machine orders fell 5.7% year-over-year in August after declining 3.6% in July and 7.9% in June. The fact that there is apparent downside gathering two and a half years into QQE without any actual upside to date is perfectly ruinous. As noted discussing Japan's lack of progress for industrial production, there has been no such upside to QE in any of the channels and pathways that economists were absolutely sure would result. Instead, without any gains, there has only been engineered a massive economic hole that is "unexpectedly" widening and deepening again.
The Bank of Japan mercifully held off from expanding QQE again this week, which only allows some minor reprieve for Japan's beleaguered households. Real wages were up just 0.2% Y/Y in August only because "inflation" was calculated as close to zero. Total hours worked was once more flat, suggesting that the best that the Japanese can hope is "scraping along the bottom" before any renewed contraction.
The Japanese economy has only "grown" smaller without any apparent catalyst for the recovery (QQE no longer counts, having been proved decisively ineffective and harmful) and "defeat of deflation" that pushed at least asset markets to multi-year extremes. So where Japan risks continuing a downward slope of depression, despite pressing against quadrillion and the true debasement via orders of magnitude, there is purportedly no connection to the "unexpected" trade developments in Germany:
German exports fell sharply in August, in the latest sign that the slowdown in emerging markets is beginning to affect Europe's biggest exporter.

Exports in August were 5.2 per cent lower than July, their sharpest monthly fall since the financial crisis, according to Germany's national statistics office. Imports also fell 3.1 per cent.
Of course, we are re-assured that all that is left "overseas" and unrelated to the monetary-driven boom in the QE feudal districts of the US and Europe (it must be that Japan's extra "Q" in QQE is the difference):
"The figures are consistent with the industrial data we've already had this week and round off quite a bad August for German data," said Richard Grieveson, an economist at the Economist Intelligence Unit.

"Clearly, what's happening in emerging markets — particularly China and Russia — is having an effect and the outlook is not as positive as it was, given the fall in factory orders and the possible impact of the Volkswagen scandal on the 'Made in Germany' brand.

"However, it would be dangerous to read too much into one month's numbers, given the impact of summer holidays, as well as the fact that the year-on-year data and sentiment indicators are not showing a big change in trend."
"Transitory" again? The credentialed economist assures us that there isn't yet any slowdown in trade activity with especially the US and non-Eurozone EU, despite the Census Bureau reporting this week an August continuation of the 2015 slowdown in US imports from Europe (to nearly 0%).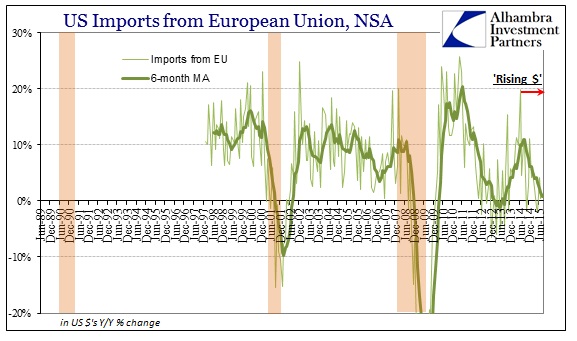 Perhaps the US is importing more from Germany than the rest of the EU, but even if that were the case such a situation where the US is buying from Germany at the expense of other European nations doesn't bode well for any European trade business in the future. Denials aside, there isn't any evidence to support the idea of US economic strength which is why the September payroll report was only shocking to those that testify to the Yellen economy; US and global. Thus, Japan wages and machine orders and German exports all figure in with US consumers further slipping down in economic function, to and through China or not.  And each is met with the growing chorus of "more stimulus" as if the word itself accomplished the directive (since semantics is undoubtedly all that is left of it).
Apparently the "slippery slope" of economic denial is likewise as universal as the aligned direction of economic progression across the world:
1. Dollar doesn't matter, indicates strong economy relative to the world
2. Dollar matters for oil, but lower oil prices mean stronger consumer
3. Manufacturing slump doesn't matter, only temporary
4. Manufacturing declines are consumer spending, but only a small part
5. Manufacturing declines are becoming serious, but only from overseas
6. …
7. Global Recession
8. MORE GLOBAL STIMULUS!!
Fittingly, we are all almost Japanese now.