By EconMatters
The bigger news in the cable industry is that the U.S. Justice Department's threat to block the purchase/merger of Comcast (NASDAQ: CMCSA) and Time Warner Cable (NYSE: TWC) did result in Comcast withdrawing its stock-swap proposal to acquire TWC in April, 2015.  However, TWC soon afterwards entered into an agreement to be acquired by Charter Communications in May.
The Charter's deals totaling $67.1 billion for TWC and Bright House Networks is still under review by Federal Regulators.  If approved, that merger would create the country's second-largest cable operator, with about 24 million customers in 41 states, after Comcast.
I personally think it is insane that anyone would even entertain the idea that a merger of any cable companies would be a good thing to consumers.  On the surface, the cable industry is not entirely "consolidated".  Nonetheless, the fact is that almost all cable companies operate as de facto monopolies in the United States since frequently only one cable company offers cable service in a given community.  Things have gotten worse as cable also has become one of the very few choices for residential Internet services.
For example, in Houston, the fourth most populous city in the nation, Comcast has a virtual monopoly over residential cable services.  Leveraging its cable TV monopoly, Comcast is also the more popular choice for Internet service within the city (cable modem is supposed to have better speed than phone lines).  With this kind of dominance, would any business strive to "innovate" or "improve the quality of customer service?
Comcast already had several widely reported customer service related scandals in 2014 and 2015 (there's a whole section on Wikipedia).  Since EconMatters is based in Houston, I will share some of my personal experience.
Before Comcast, Houston market was served by TWC.  Then TWC and Comcast did a swap in 2006 so Comcast is now serving Houston cable TV.  Although both have horrible customer service, Comcast is even worse due to the increasing complexity of service tiers and "billable" items requiring much higher skilled employees.
To sum it up, it seems a common cable industry practice to have a very cumbersome and "labor intensive" billing system coupled with poorly trained employees.  EconMatters are made up of  market analysts, so believe it when we say cable bills are hard to understand and reconcile.  I almost think this is intentional so to kills two birds with one stone:
Customers are less likely to call and dispute if they cannot make sense of a bill.
Poorly trained employees not only serve as good "gatekeepers" to frustrate customers but also less likely to grant 'disadvantageous" (to Comcast) adjustments regardless of the merit.
Due to various factors (moving, homeowner association change, etc.) at one time or another within the past 12 months, I had to go through a few rounds with Comcast either to correct billing errors or to properly reflect prices agreed upon over the phone.  "Onerous" does not even begin to describe the process.
First, Comcast makes you jump through hoops to get to a live person, and Comcast outsources part of the Customer Call Center to places like Jamaica (there's a serious frustrating communication issue here).  This live customer service person serves as a gatekeeper that can only handle routine issues from a script.  So discussing non-routine issues over the phone is very time-consuming, repetitive and frustrating exercise.
And get this, Comcast does not give email confirmation of what was agreed upon over the phone.  I encountered a situation where I was triple assured everything was fully documented in my account (Comcast rep even gave me a "confirmation number") and nothing to worry about since everything was noted.  However, I later found out the so-called "documentation" or note consists of one sentence "Customer called to discussed pay service package", so with nothing to go back on, I ended up repeating the same process again.
It takes about two months for any billing adjustments to appear on your account, so by the time you realize the expected adjustment fails to appear (like I said, most of Comcast employees I've encountered are poorly trained), two months would have gone by.  Because Comcast does not give email confirmation or document properly what's agreed on over the phone, you need to repeat the same process of explaining and diligently monitoring your account.  At this stage, most of the customers would have given up.
EconMatters does not like to give up anything without a fight.  In my experience, it took up to six months and very long (up to 1.5 hours) five phone calls escalated to the manager level to resolve one of the more complicated billing issues.  And because of several issues taking place one after the other, it has become almost a full-time job to call, reconcile and monitor monthly bills to ensure everything goes as expected.
In addition to billing, Comcast has serious technical issues as well.  I have made at least 5 trips to Comcast service center swapping out cable boxes due to mal-function.  Then, I got charged almost $250 for the technician visit that did not solve any problem.  That ended up taking me 2 long phone calls and 3 months to get the credit back from Comcast
This is where Comcast is penny wise, pound foolish.   Yes, I can see how some brainy act at Comcast think they have a virtual monopoly and outsourcing customer service to Jamaica, saving employees  training costs could be beneficial to the bottom line.  What Comcast fails to see is that providing bad service in a service business means the days of the current business model are numbered.
Brick and mortar companies such as Fidelity, Discover Card (NYSE: DFS), CitiCorp (NYSE: C), and TriEagle Energy are able to move with the latest consumer trend without sacrificing customer service.  These companies understand customers should be the most important part of their business and a wide spread negative consumer response will be like a tsunami crushing the entire industry.
One thing for certain is that the core cable part of Comcast business is facing increasing downward pressure.  It is no accident that 2015 is The year Wall Street Discovered Cord-Cutting.  There's a growing number of Americans either migrate to cheaper packages with fewer channel, watch shows via online services like Netflix (Nasdaq: NFLX), or drop cable altogether. This new cord-cutting consumer trend is killing the business model of an entire industry from cable providers to program producers.  Disney (NYSE: DIS) sparked a panic sale of media stocks in August after revealing its ESPN sports network had lost subscribers and cutting its cable-TV outlook.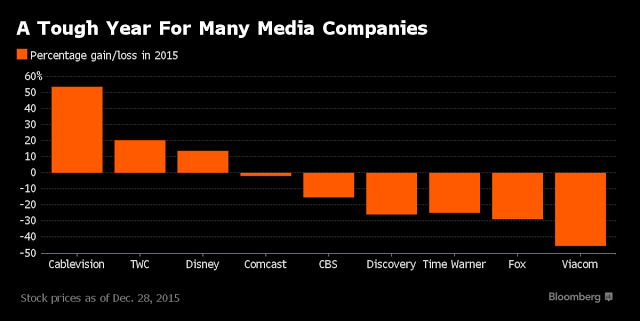 For 2015, Comcast stock seems to have held up better than some other media stocks.  However, this is mostly due to Comcast's entertainment properties like Universal Pictures that had a banner year with three films — Minions, Furious 7, and Jurassic World — exceeding $1 billion in global box office. In addition, the company experienced record attendance at its theme parks.  That being said, movie and theme park business is quite cyclical, and it's unrealistic to expect Universal and theme parks to come through for Comcast year after year as they did in 2015.
Comcast only acquired Universal NBC in 2006, and most likely retain the legacy operation model and talents.  It is likely, or even already happening, that Comcast brings its failing cable operation model into the entertainment part of the business.  Bad management believing in bad business model will take down any company regardless how lucrative it is going.
I think the only part of Comcast business that may have some customer-retention power is in the Internet Service.  But companies like Google already saw that void and started itsGoogle Fiber business.  With consumers moving towards cord-cutting, and the line expansion like Google Fiber and other players, it is only a matter of time the entire cable industry could become obsolete real quick.