By Niall McCarthy at Forbes
In 2014, sales of the world's top-100 arms manufacturers totalled $401 billion, according to a report from the the Stockholm International Peace Research Institute. There was a moderate 1.5 percent decline in sales between 2013 and 2014, primarily due to lower sales for companies based in North America and Western Europe.
Despite that decline, the West still dominates global arms sales. In 2014, seven out of the top ten largest arms-producing companies were American. Lockheed Martin LMT +1.40% grabbed the top spot for the first time since 2009, acccording to SIPRI, with arms sales totaling $37.5 billion. Boeing BA +0.71% was in second place with $28.3 billion while Britain's BAE Systems came third with just under $26 billion in sales.
Last year, the United States accounted for 54.4 percent of the world's arms sales. The United Kingdom was in second place, with 10.4 percent while Russian companies had a 10.2 percent share of the market.  Arms sales by Western European countries fell 7.4 percent in 2014 with only German and Swiss companies showing growth (9.4 and 11.2 percent respectively).
Increasing national military expenditure and exports in Russia have seen the country's arms industry grow steadily. According to SIPRI, Russia's top eleven military companies experienced revenue growth of 48.4 percent between 2013 and 2014.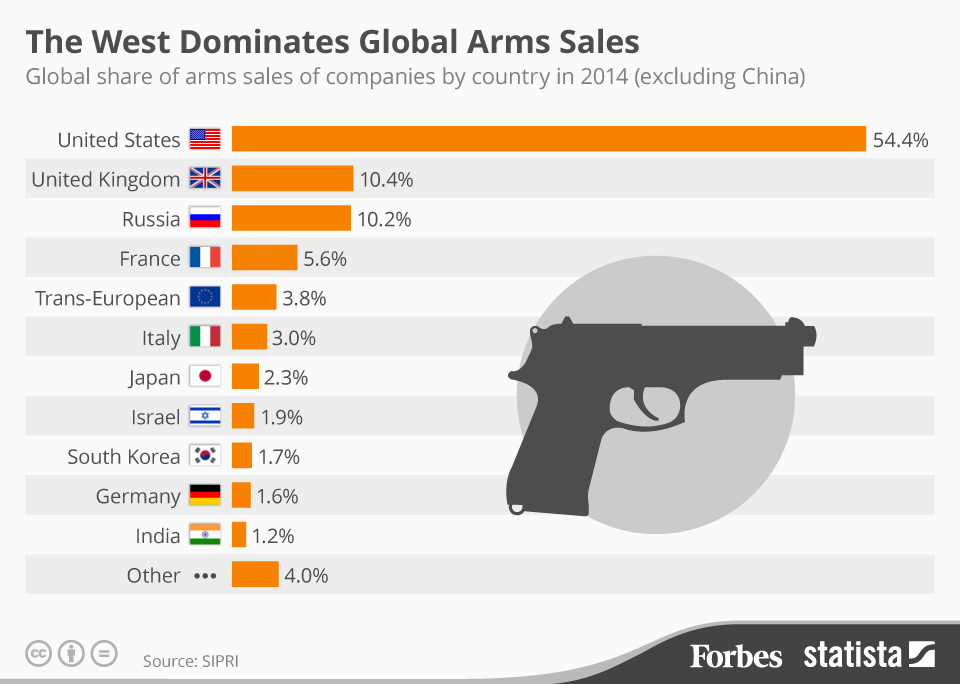 Source: The West Dominates Global Arms Sales [Infographic] – Forbes