[David Stockman's Note: Last night, I wrapped up my first-ever live video event. Over 30,000 people signed up in total. I hope you were able to attend because during the event I revealed information and access to a once in a lifetime investment that will rock markets… but offer you an opportunity at 300% gains in the coming weeks. If you weren't able to attend, we're leaving the full recording plus the urgent access I offered to attendees only until midnight tonight. Please watch the briefing at the soonest chance, and prepare while you still can. After midnight tonight, the video goes dark. So make sure you find the time this evening to watch it. It'll prepare you for a major market event that could unfold any day now. >>Click here now before you lose the advantage of everything David covered<< ]
By Tyler Durden at ZeroHedge
The S&P 500 is three trading days from reaching "trend exhaustion," according to infamous technical analyst Tom DeMark. "The foundation of the ongoing rally is suspect," warns DeMark, noting that if the market closes below these key levels in the next three days, DeMark warns "the decline is going to be sharp."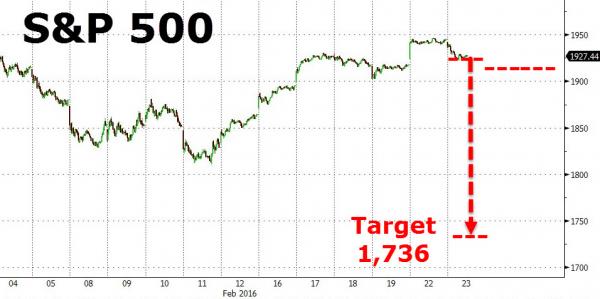 As Bloomberg reports, a top in the S&P 500 would also be confirmed should the S&P 500 finish below 1,926.82 on Tuesday, or close less than 1,917 on Wednesday or Thursday, DeMark said.
If any of those S&P 500 triggers occur, the benchmark index will decline at least 8.2 percent from Monday's close to 1,786, a level last seen in February 2014, according to DeMark. Should the market top correspond with what he referred to as "bad news," the S&P 500 could see deeper selling down to 1,736, an 11 percent decline. DeMark sees the ongoing market rally as temporary relief as investors exit short positions.

"We've seen some pretty vicious short-covering come in, which has caused the market to move up," said DeMark. "When that happens, it really plays havoc with the market once the downside move begins."

"The foundation of the ongoing rally is suspect," DeMark, based in Scottsdale, Arizona, said in a phone interview. "The temporary buying produces a price vacuum beneath the market and accelerates the subsequent decline. The decline is going to be sharp."
*  *  *
A handful of chart-based calls by DeMark have looked prescient in recent weeks, including a prediction on Feb. 11 that oil would rally and a Jan. 20 forecast for a temporary bottom in the S&P 500. And traders pay close attention to the levels he suggests.
*  *  *
The S&P 500 did indeed close below DeMark's crucial 1,926.82 level today…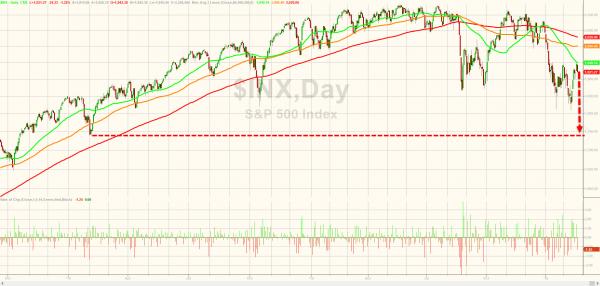 Source: Tom DeMark Warns If the S&P Closes Below This Level, It Could "Wreak Havoc to the Downside" – ZeroHedge