By Tyler Durden at ZeroHedge
With China's official headline GDP number printing at decade lows, the positive spin on the increasingly negative data out of China has been that this is all a part of China's transition from an export-oriented to a consumption economy. However, there is a problem with this narrative: malls and shopping centers in China have been, and remain, increasingly empty suggesting that the narrative of the  resurgent Chinese consumer – especially in the aftermath of the biggest stock market bubble burst since 2008 – is greatly exaggerated.
Case in point: Reuters asks this morning "if why are malls closing if consumption is rising?"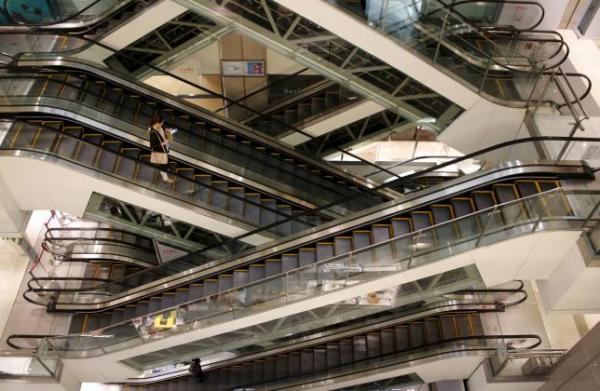 Specifically, it looks at the Di Mei shopping center in downtown Shanghai which it finds "a surprisingly depressing place to shop."
The underground mall is located in one of the most shopping-mad cities in China, and yet it is run down and starved of customers."

"Sometimes I cannot sell even one dress in a day," said dress shop owner Ms Xu, who rents a space in Di Mei.

Rising vacancy rates and plummeting rents are increasingly common in Chinese malls and department stores, despite official data showing a sharp rebound in retail sales that helped the world's second-largest economy beat expectations in the third quarter.
It sure makes one wonder just how credible China's retail sales "data" are, especially since the government is far less willing to provide official commercial vacancy rates: "As growth in retail sales slows because of the country's lower GDP growth, and in cities where mall space is abundant, vacancy rates have risen substantially," said Moody's analyst Marie Lam in a research note.
One possible answer to this seeming conundrum is a well-known one: the transition to online shopping, but there is another twist: the government is goosing retail sales by acting as a direct end-purchaser:
The answer to that apparent contradiction lies in the rising competition from online shopping and government purchases possibly boosting retail statistics. Add poorly managed properties into the equation and the empty malls aren't much of a surprise.

More importantly, the struggles of Chinese brick-and-mortar retailers amplify a policy conundrum; these malls, built to reap gains from rising consumption, are instead adding to China's corporate debt problem, currently at 160 percent of GDP – twice as high as the United States.

Less foot traffic means cash flow of mall owners and developers are getting squeezed – a potential hazard for an economy growing at its slowest pace in decades.

Di Mei's owners are trying to refurbish, but it's unclear whether it will pay off, and others are just closing down. The Sunlight Store in Beijing, for example, is located in another prime pedestrian hub, but it closed its blinds this month, with manager Ni Guifang telling Reuters they are seeking greener pastures online.

"The sales were just OK, but the overall sales were on the downward trend," Ni said.

On the other hand, e-commerce sites continue to post double-digit growth rates, even as some moderation is evident. E-commerce leader Alibaba (BABA.N) is expected to report that sales growth slowed sharply in the second quarter – albeit to around 27 percent on-year, still a ripping pace.
There is another, potentially benign explanation: overcapacity – after all China's "ghost shopping malls" have been well-known for years.
China is currently the site of more than half the world's shopping mall construction, according to CBRE, a real estate firm, even though it appears that many of these malls will not produce good returns for their investors.  A joint report by the China Chain Store Association and Deloitte showed that by the end of this year, the total number of China's new malls is projected to reach 4,000, a jump of over 40 percent from 2011.
This brings up two follow up problems: one is that this overcapacity will remain in place for years, leading to much less construction and expansion in the coming years: "Real estate analysts note that much of the surge in retail space construction came at the behest of local governments, who were rushing to push real estate development as part of attempts to stimulate the economy. The result has been malls built in haste and managed poorly."
An even bigger problem is that sooner or later, all these bad debt that was used to fund this construction scramble and which currently generates no cash flow, will have to be reclassified as non-performing sooner or later: "If you build it and they're not coming, that's a non-performing loan," said Tim Condon of ING.
As a reminder, China's non-performing debt is the one elephant in the room which nobody dares to touch, yet which CLSA briefly touched upon two weeks ago when it calculated that the real bad debt ratio in China is not 1.5% as per official "data" but really 8.1%. Needless to say, on $30 trillion in bank assets, this is a big problem.
But the one explanation that had not been provided, also happens to be the simplest one: Chinese consumers are simply not consuming! Luckily, we have insight into that as well, courtesy of the FT's Martin Sandbu:
As if on cue, the programmed slowdown in manufacturing, investment, and export growth is perfectly matched by a rise in domestic consumption, retail and services that leaves the total economy growth number just where the government said it would be. For example, industrial output is now reported to increase at 5.8 per cent, while the growth of the services share of GDP remains stable at 8.4 per cent.

The real sceptics go much further — and they have good arguments on their side which the optimists do not convincingly address. As the FT's new EM Squared service pointed out last week, there are important holes in the shift-to-services story. One is that too much of the services growth is accounted for by finance, which is tricky to measure at the best of times, and whose reported robustness after the third-quarter market mayhem is outright unbelievable. Another is that income and wage growth, which presumably should be powering the supposed consumption and services boom, is slowing.
And the chart which hammers China's hard landing home: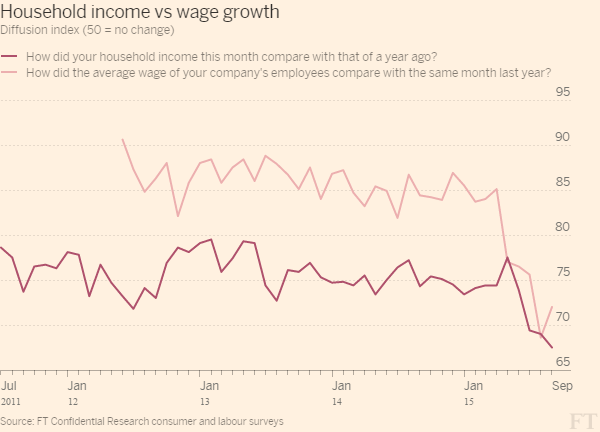 There is simply no way to spin the above data in a favorable light, which we hope also answers Reuters' original question on China's empty malls.
In fact, the only question after reading the above should be: "how long before China's consumption dysfunction leads to empty malls in the middle of the United States itself?"
Source: Everyone Is Asking: "If Chinese Consumption Is Rising, Why Are Its Malls Empty?" – Here Is The Answer – ZeroHedge