By Tyler Durden at ZeroHedge
It's a busy night in AsiaPac. The ubiquitous Japanese stock buying-panic at the open quickly faded. China weakened the Yuan fix quite notably and injected another CNY10bn of liquidity but news of the arrest of the President of China's 3rd largest bank and a graft investigation into Dongfeng Motor's general manager sparked greater uncertainty and Chinese stocks extended the losses from yesterday. Commodities had started to creep lower, with Dalian Iron Ore pushing 2-month lows with its biggest daily drop in 3 months, were extended when the Aussie central bank kept rates steady (as expected) butsparked turmoil in FX markets with forward guidance of th epotential for more easing.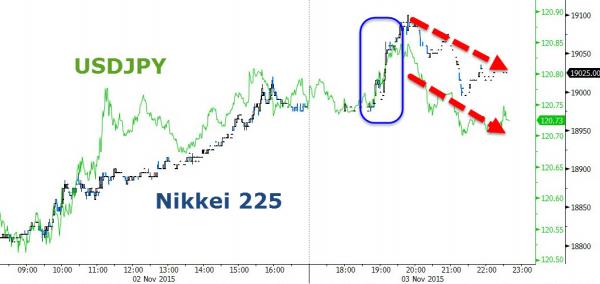 China opened with more liquidity injections and a sizable weakening in the Yuan fix…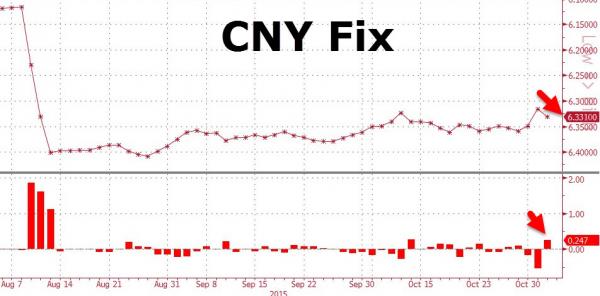 Probes widened with AgBank (China's 3rd largest bank) President arrested…
The president of China's third-largest bank has been detained, local media reported on Monday — the most senior bank official to be swept up in President Xi Jinping's sweeping anti-corruption campaign.

Zhang Yun, president, vice-chairman, and deputy Communist party secretary of Agricultural Bank of China had been "taken away to assist an investigation", Sina Finance and QQ Finance reported, using a known euphemism for corruption arrests. QQ cited an AgBank employee saying that Mr Zhang had been arrested on Friday and that executives had held a meeting late into the night to discuss a response.

Mr Zhang is the most senior banker to be ensnared in China's anti-corruption probe.

In January, then-president of midsized Minsheng Bank, Mao Xiaofeng, was arrested in an investigation linked to a top aide to former president Hu Jintao. Days later Lu Xiaofeng, a board member at Bank of Beijing, was also arrested.

More recently, police arrested the general manager and several other top executives at Citic Securities,China's largest securities brokerage, for insider trading linked to the big fall in China's stock market this year.

Local media also reported on Monday that a famous hedge fund manager was under arrest for insider trading.
And Dongfeng Motors general manager facing graft charges…
A general manager of China's Dongfeng Motor Group is being investigated for suspected corruption, the country's graft watchdog said on Monday.

Zhu Fushou was being investigated for "suspected severe violation of discipline", the Central Commission for Discipline Inspection (CCDI) said in a statement on its website. Discipline violations generally refer to corruption.
All of which follow the weekend's extraordinary actions around Xu Xiang and the Zexi Fund – whose holdings (below) are all under more pressure again today (amid liquidation fears)…
Guangdong Electric Power
China Gezhouba
Guoxuan High-Tech
China Sports Industry
Shanghai Metersbonwe Fashion
Eastern Gold Jade
Founder Technology Group
Shanghai Tofflon Science
Hareon Solar Technology
Fujian Rongji Software
Anhui Xinlong Electrical
Shenzhen Desay Battery
Anhui Xinke New Materials
Jiangsu Alcha Aluminum
Tianjin Saixiang Technology
Jinzi Ham
Guangdong Eastone Century Tech
Nantong Jiangshan Agrochemical
Guangzhou Lingnan Group
Hangzhou Cable
Xiamen Academy of Building
Ningbo Kangqiang Electronics
Fujian Haiyuan Automatic
Tieling Newcity Investment
Ningbo United
Elec-Tech International
All of which sparked selling pressure in Chinese stocks as recent re-leveraging was unwound for the 2nd day in a row…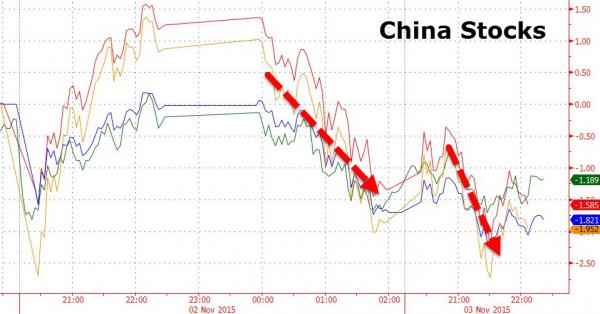 China is in big trouble…
四大行的三季度净利润降至"零"时 代。基层员工排队辞职!! 4 BIG SOE banks 3Q net profit "Zero" growth, employees are queuing up to resign.

— Simon Ting (@simonting) November 3, 2015
And then RBA decides, as economists expected, not to cut rates
*RBA LEAVES KEY RATE AT 2.0% AS SEEN BY MAJORITY OF ECONOMISTS
*RBA: FINANCIAL MARKET VOLATILITY ABATED SOMEWHAT FOR THE MOMENT
Which extended commodity losses…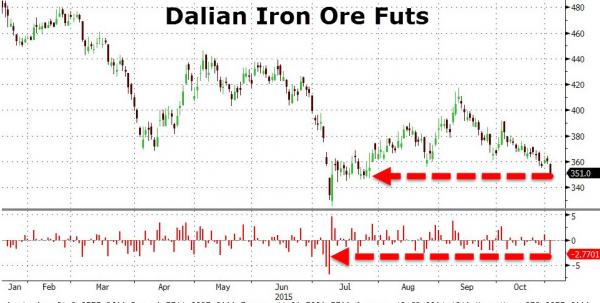 But of course fed the crowd some forward guidance hope:
*RBA SAYS INFLATION OUTLOOK MAY AFFORD SCOPE FOR POLICY EASING
*RBA: SUPERVISORY MEASURES HELPING CONTAIN HOUSING RISKS
This erased Aussie stock gains and sparked chaos in the FX markets – despite the "no move" being expected…running stops high and low before settling back unch…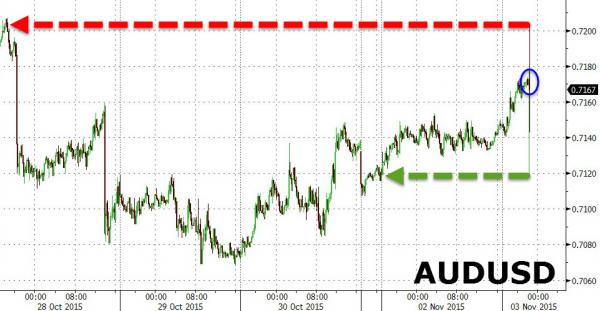 One wonders who knew what early? Just like last time (and will the regulators get involved again)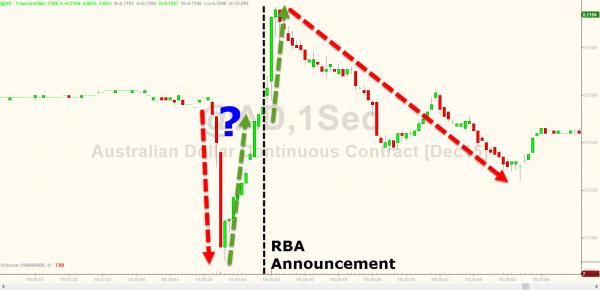 And US equity futures are drifting lower as USDJPY rolls over and Apple fears rise on Pegatron hiring freeze...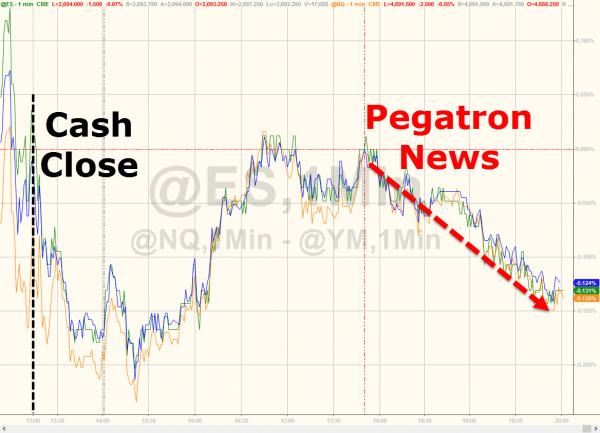 Source: Widening Probe Snags Most Senior Chinese Banker Yet, Sends Stocks Lower; RBA Sparks Commodity Slide, FX Turbulence