When NCR announced its preliminary and disappointing third quarter results today, it lowered its guidance for the rest of 2014. Its stock got knocked into a breathtaking 21% plunge. While at it, NCR revealed to just what extent brick-and-mortar retailers were sinking into a quagmire.
The maker of, among other things, point-of-sale devices for the retail industry should know: It is, as it says, "the global leader in consumer transaction technologies."
It blamed "global macroeconomic conditions" such as "foreign currency headwinds." The dollar had surged recently to regain some of the value it had lost before – very unwelcome news for Corporate America. And NCR blamed particularly the "challenging retail market" for its debacle. CEO Bill Nuti explained it this way:
Market conditions within the retail industry worsened in the third quarter, as evidenced by weak same store sales comparisons and financial results. This resulted in our retail customers spending more cautiously than anticipated and further delaying solution rollouts. Contributing further are ongoing data security concerns, which were heightened in the third quarter. This is causing retailers to shift IT priorities, resources, and capital spending. Additionally, ongoing retail consolidation continues to be a factor impacting our performance.
So, while NCR will "continue to be faced with challenging and uncertain market dynamics," it remains, obviously, "confident in the actions we are taking to address these challenges, including strengthening our Retail Solutions team and talent…."
NCR, a thermometer into the retail industry beyond the latest sales statistics, has noticed that brick-and-mortar retailers are cutting back. And they're not just cutting back buying point-of-sale devices; they're cutting back, period. "Ongoing retail consolidation," Nuti called it. And some are using bankruptcy courts to do it.
These structural problems in the brick-and-mortar retail industry include Sears Holding with its moribund Sears and Kmart stores. They excel only in two things: shrinking sales and losing money. This year, the company promised to close 300 Sears stores and 80 Kmart stores. Some of us wonder why anyone is still buying there.
A week ago, discount retailer Alco, with 198 stores in 23 states, filed for Chapter 11 bankruptcy protection. In September, after never-ending and wild speculations that electronics retailer Radio Shack might also head into bankruptcy, the company suddenly supported these wild speculations in an SEC filing:
Given our negative cash flows from operations and in order to meet our expected cash needs for the next twelve months and over the longer term, we will be required to obtain additional liquidity sources, consolidate our store base and possibly restructure our debt and other obligations. We are exploring alternatives…. Alternatives include the sale of the company, partnership through a recapitalization and investment agreement, as well as both in and out-of-court restructuring.
That "in-court restructuring" would be bankruptcy and could entail outright liquidation. It would be the end of that story. The stock trades as a penny stock. If the store down the street disappears, I'd regret it. It's convenient. I buy my doodads there, like that cable a few years ago that allowed me to plug my laptop into my old and powerful stereo system with its big analog speakers and wonderful sound. Things like that. I rarely spend more than five bucks there. But it's apparently hard to make a living that way.
Sears, Kmart, Alco, and Radio Shack aren't exceptions. Retail chains, large and small, have announced a veritable epidemic of store closings in 2014. Here are the "Top 20″ announcements of store closings. For these 20 chains, the total number of stores to be closed exceeds 4,200!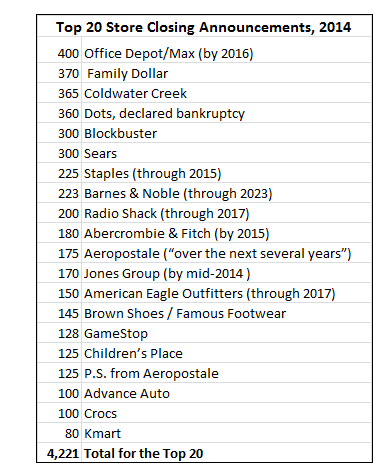 Store closings add up after a while. This process has been going on for years. It's tough out there.
Mega-retailer Walmart has seen nearly stagnating profits over the past three years as sales growth barely beat inflation. Sure, some brick-and-mortar retail chains are thriving, but many others are languishing, and some are on the way out. As a side note: when all this washes out, who is going to fill the vacant retail space in our malls? That's one of the many secondary effects of the troubles in the American retail industry.
There are bright spots, however. Online retail continues to grow, though undisputed king of the hill Amazon continues to lose money. Turns out, it's easier to grow a business if making money is not part of the plan, as long as you keep getting new money to lose [read…. But Wait, There Are A Few Differences Between Amazon and the US Postal Service].
And auto sales have been booming, whipped into frenzy by cheap money, long financing terms, a focus on subprime customers, and such loosey-goosey underwriting standards that even regulators have started fretting about it. They're worried about the risks to the banks. But when this auto-loan doozie pops, it will hit sales, production, services, railroads…. It won't go away quietly. Read…. Debris from Subprime Auto Loans to Ricochet across Main Street
As for the rest of retail, it's a slog. American consumers are stressed. Inflation has been eating into their incomes, and they have to curtail their spending, or make up the difference with borrowed money. Savers have seen their incomes from their $9.5 trillion in bank accounts, CDs, and money market funds whittled down to nearly nothing, and they too had to tighten their belts. These are the designated losers of monetary policy. There are a lot of them. And it's hurting the real economy. Read… More QE? These Charts Show the Pauperization of Workers in the UK and America since 2008