By Tyler Durden at ZeroHedge
For the second time in two months, an economic data series that indicate drastically weak performance in China has been "suspended." Having seen Markit/Caixin's flash gauge of China's manufacturing discontinued in October (having plunged notably divergently from the government's official data), Bloomberg reports that the publishers of the alternative China Minxin PMI will stop updating the series to make a "major adjustment."
Guess which time series was just "suspended"…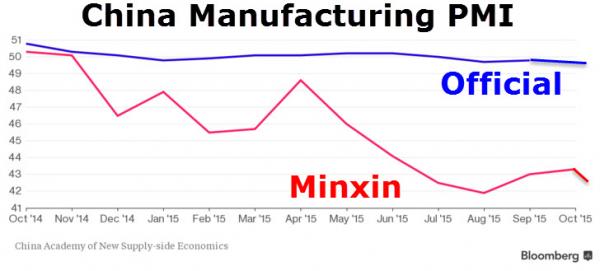 Release of the unofficial purchasing managers index jointly compiled by China Minsheng Banking Corp. and the China Academy of New Supply-side Economics will be suspended starting this month, the Beijing-based academy said in an e-mailed statement Monday, about six hours before the latest monthly data were scheduled for release.

Minxin's suspension is the second in recent months as policy makers in the world's second-largest economy struggle to arrest a deceleration in growth. Another early estimate of China's manufacturing sector, a flash gauge of a purchasing managers index compiled by Markit Economics and sponsored by Caixin Media, was discontinued Oct. 1.
Minxin's PMI readings are based on a monthly survey covering more than 4,000 companies, about 70 percent of which are smaller enterprises. The private gauges have shown a more volatile picture than the official PMIs in the past year.
The manufacturing PMI declined to 42.4 in November from 43.3 in October, while the non-manufacturing reading fell to 42.9 from 44.2, according the the latest release. The factory gauge fell to a record low of 41.9 in August. China's official PMI from the National Bureau of Statistics fell to a three-year low of 49.6 in November.
For September, the now-discontinued flash Markit/Caixin PMI fell to a six-year low, while the official PMI reading showed a modest improvement.
*  *  *
Because nothing inspires confidence like removing transparency of just the worst data series. We assume the "major adjustment" needed is akin to America's "double-seasonal adjustment" because how could it be possible that official figures remain so 'healthy' when every private survey (pre-discontinuation) has shown utter collapse…?
Source: China "Suspends" Another Unofficial PMI Data Release To Make "Major Adjustment" – ZeroHedge