In August last year, Caterpillar announced that it was moving manufacturing jobs back to America from Mexico. The truck and equipment company had entered what is called the "vocational truck" business back in 2011 but in a partnership with Navistar. Using its facility in Escobedo, Nuevo Leon, Navistar assembled these vocational units for Caterpillar under that Caterpillar's brand. Last year's announcement about Texas was Cat figuring it had established enough presence in the market to take the next step and manufacture its own product.
They had invested in expanding an existing facility in Victoria, Texas, and in that August press statement indicated that the first production runs would take place at some point in the first half of 2016. Its promotional material suggested only that it was a very serious effort. From the company's promotional material:
We didn't mess around when we set out to develop our new line of vocational trucks… We spent hundreds of hours on the road asking customers to describe the ideal truck. Our design team rode alongside drivers and gathered input on everything from specs and comfort to visibility and performance.
On February 26, Caterpillar delivered the news not that production had begun but rather that it would never make any "vocational trucks" in Victoria or anywhere else. The company decided it was best to get out before even starting.
We have not yet started truck production in Victoria. This decision allows us to exit this business before the transition occurs.
It was yet another anecdote that "something" has changed between last summer and the start of this year. This was not a big market for the company given its global reach in construction and mining, but obviously going back to 2011 they found some kind of opportunity worth pursuing and then ramping up last summer. Ramin Younessi, Caterpillar's Vice President in the Industrial Power System's Division was rather blunt about it, saying "we determined there was not a sufficient market opportunity to justify the investment."
The trucking industry as a whole has fallen under tremendous strain this year, which really does justify Caterpillar's decision. It is not only railroads that are suffering under the ongoing contraction or manufacturing recession, trucking might even be harder hit. The Wall Street Journal reported only a week after the Victoria decision that orders for Class 8 rigs were down 43% year-over-year in February. At the time, the industry and insiders seemed somewhat on the fence as to whether such horrible numbers were a temporary problem as economists in the media claimed, or whether it was the start of a major, systemic adjustment.
Still, analysts see risks of a continued downturn, particularly if truck orders don't bounce back next month [March], when buying typically begins to climb ahead of the peak late-summer shipping season.
The Journal reports again this week that truck demand never did bounce back and has only gotten worse.
Orders for large trucks fell for the fourth consecutive month in April, and are likely to stay low through the summer as trucking demand continues to be weak, according to research group FTR.

Last month, trucking fleets ordered just 13,500 Class 8 trucks, the big rigs used on long-haul routes, down 16% from March and 39% from a year earlier. It was the fewest net orders in any April since 2009, FTR said.
The reason for the huge dropoff in demanded capacity growth is the current and large dropoff in freight volumes as the quantity of goods being moved around has declined. The Journal reports that one estimate for fleet availability, dry vans, was down 28% in April from a year earlier meaning that trucking companies are idling huge portions of their fleets. With such spare capacity, obviously, there isn't much call for new vehicles beyond scheduled replacements. That might be, however, the next step as any real recession usually hits hard enough where firms start forgoing needed capital maintenance in addition to large reductions in ordered capacity.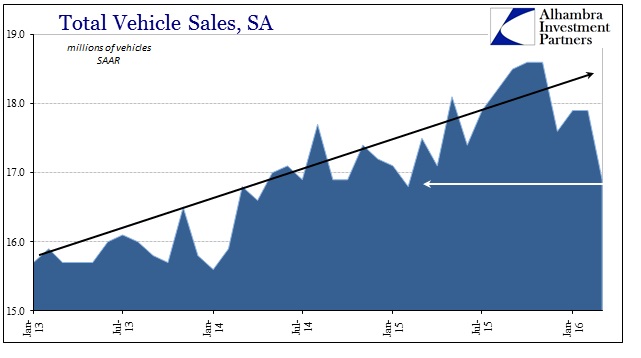 There is as yet no indication that I can find which suggests the trucking industry is close to that far into what looks increasingly like a serious, systemic adjustment. This may just be the beginning and again not some "transitory" weakness that the employment market (as suggested by conventional views of it) will easily work through given enough time. That is the relevance of Caterpillar's decision in February, as taking time, effort, and money into that new business line and then deciding instead to not bother indicates something other than a bump in the economic road. In other words, as bad as last year might have been, this year seems intent on finding out what that "something" really was or is.
I believe this is yet another reason why, as noted yesterday, transportation (and retailer) stocks have yet to recover from January/February's liquidations. These truck stories and pieces of data may all yet still be anecdotes and partial pictures, but they are adding up to already seriously elevated risk of something more than the mainstream views on the economy allow as possible. Today's employment report, meaningless and irrelevant as it truly is, will not help as it was, with lower oil prices, about the only hope left for escaping economically undamaged. Since we are already discussing serious setbacks in trucking and transportation, obviously those low oil prices never counted for anything.