By Mark Magnier & Wei Gu at Wall Street Journal 
BEIJING—China's better-than-expected trade figures in December have sparked questions over whether trade flows have been inflated by investors evading capital controls and the extent of incentives being offered by government agencies to prop up exports.
China reported Wednesday that exports in December declined 1.4% year on year. This was much better than the 8% drop expected by economists in a survey by The Wall Street Journal and compared with a 6.8% decline in November, allowing Beijing to end the trading year on a stronger note. Imports fell by 7.6% last month, better than the expected 11% decline, compared with an 8.7% drop in November.
The December trade figures also were helped by favorable comparisons with year-earlier figures, economists said.
Of particular note was a 64.5% jump in China's imports from Hong Kong, the strongest pace in three years, analysts said. This compared with a 6.2% decline for the January-November period.
"It really looks like capital flight," said Oliver Barron, China research director with investment bank North Square Blue Oak. "This has artificially inflated the total import data."
Officials at China's commerce ministry and foreign exchange regulator didn't immediately respond to questions.
China in recent months has struggled to adjust to massive capital outflows as Chinese investors seek better returns overseas. China saw its foreign exchange hoard drop 13.3% in 2015, or by $500 billion, to $3.3 trillion by the end of December.
Under Beijing's strict capital controls, consumers are only allowed to purchase $50,000 worth of U.S. dollars each calendar year. But manipulated foreign trade deals offer a way around tightening restrictions, say economists.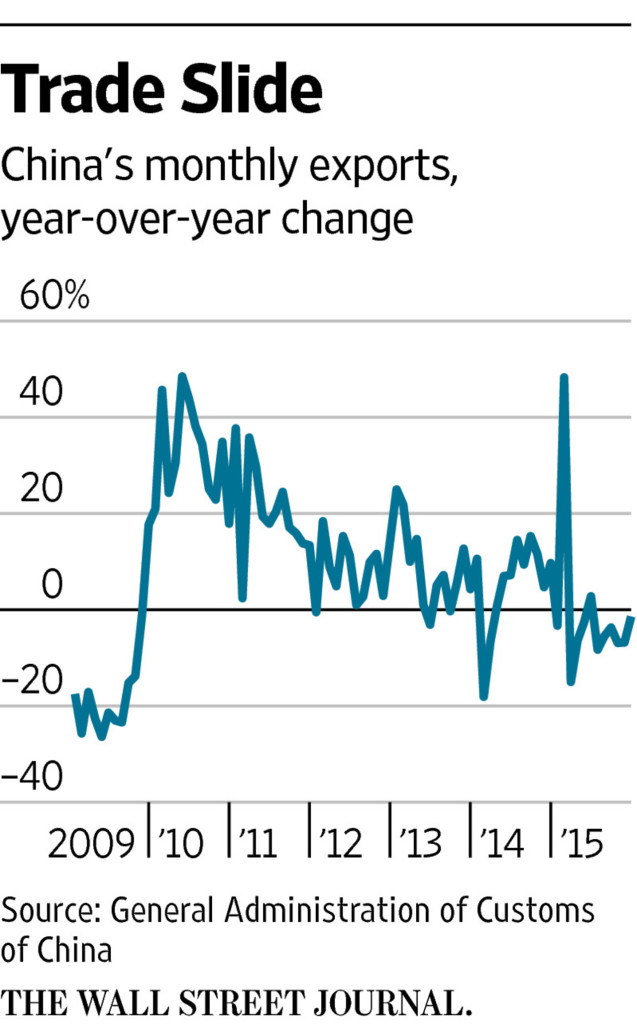 In an effort to stem the outflow, Beijing's foreign exchange regulator announced stricter supervision starting January 1 to screen suspicious individual accounts and crack down on organized capital flight, according to an online statement.
Bank customers also have reported more difficulty recently exchanging yuan into dollars, with some forced to wait four days to complete a transaction that normally takes one.
And China has cracked down on illegal foreign-exchange networks, including a bust announced in November in Jinhua, a city of five million people in eastern Zhejiang province, allegedly involving eight gangs operating from over two dozen "criminal dens" that reportedly handled up to $64 billion in unauthorized transactions, according to state media and a detailed police report.
The official People's Daily newspaper said 69 people had been criminally charged and another 203 people had been given administrative sanctions.
"Regulators have been trying really hard to close the loopholes," said Steve Wang, economist with investment firm Reorient Financial Markets Ltd., adding that the market seems skeptical of Wednesday's trade figures. The Shanghai Composite Index fell 2.4%. "I don't think Hong Kong has been buying or selling any more from China. The December data is a huge question mark," he added.
An example of how a Chinese company might move capital abroad using trade deals would be to import 1 million widgets at $2 apiece from a Hong Kong partner or subsidiary company, paying the $2 million, analysts said. It then exports the same widgets at $1 apiece, receiving $1 million from the Hong Kong entity. The goods are back where they started, but $1 million has now moved offshore.
Leading up to early 2014, China saw a wave of questionable overinvoicing trade deals in the opposite direction as investors moved money into China to take advantage of high interest rates. Now the flow has apparently reversed, economists said.
Export shipments to Hong Kong in December also were notably higher, economists said, rising 10.8% year-over-year compared with a cumulative 8.7% year-over-year decline for January-November 2015. This may reflect investor efforts to arbitrage the gap between onshore and offshore yuan rates, said Citibank in a report. This gap has been as much as 2% recently.
"An unusually large jump in exports to Hong Kong raised the usual suspicions about capital flight, tempering optimism that export demand was firming," said ING economist Tim Condon.
Also having a potential impact on China's improved December export figures are incentives offered by various Chinese government agencies. Customs spokesman Huang Songping told reporters Wednesday that December's stronger export results partly resulted from companies rushing to meet year-end targets.
James Mao, who runs a Shanghai-based company that exports biochemical materials to the U.S., said the Shanghai government promised at a December meeting to pay him and other exporters between 500,000 yuan [$76,054] and 1 million yuan if they raised their year-over-year fourth quarter exports by $1 million.
"It is difficult to earn a million yuan from actual business nowadays," said Mr. Mao. "If the government is willing to give me the money, why not take it?"
As China's economy has slowed and its once powerful export machine has sputtered, Beijing has pared export taxes, reduced red tape and boosted incentives to help traders, although few of the programs appear to be as generous as the one mentioned by Mr. Mao.
Pu Jiang county in eastern Zhejiang province announced on its website in October a sliding scale bonus of up to 300,000 yuan for companies that export up to $50 million dollars annually. And the National High-Tech Zone of Ningbo, a major port near Shanghai, said in August on its website that the top five companies that increased exports by at least 10% could collect bonuses of up to 500,000 yuan.
Officials with the Shanghai, Pu Jiang and Ningbo governments didn't immediately respond to a request for comment. An official with a Shanghai government commercial hotline who declined to give her name said companies that exported $1 million in the fourth quarter and $5 million for the year would receive an undisclosed bonus. Many government agencies don't publish bonus details in case they run afoul of World Trade Organization rules governing subsidies, she added.
Lu Li, who runs a company in Ningbo that arranges international goods shipments said intermediaries that usually charge him to process Customs documents for export shipments in late 2015 started instead offering him several thousand yuan for receipt involving large transactions. They may be using these as proof they hit the export target, he added.
Mr. Mao, the biochemical exporter, said he exported enough to qualify for the bonus. "As a private sector entrepreneur, I never thought I could get a bonus from the government," he said. "The central government has gotten more nervous about its poor export numbers."
Source: China's Better-than-Expected Trade Numbers Raise Questions – Wall Street Journal