By Kate Burgess, Hariet Agnew & Scheherazade Daneshkhu at Financial Times
Companies around the world will be forced to add close to $3tn of leasing commitments to their balance sheets under new rules from US and international regulators — significantly increasing the net debt that must be reported by airlines and retailers.
A new financial reporting standard — the culmination of decades of debate over "off-balance sheet" financing — will affect more than one in two public companies globally.
Worst hit will be retail, hotel and airline companies that lease property and planes over long periods but, under current accounting standards, do not have to include them in yearly reports of assets and liabilities.
In these sectors, future payments of off-balance sheet leases equate to almost 30 per cent of total assets on average, according to the International Accounting Standards Board, which collaborated with the US Financial Accounting Standards Board on the new rule.
Hans Hoogervorst, IASB chairman, said: "The new Standard will provide much-needed transparency on companies' lease assets and liabilities, meaning that off-balance-sheet lease financing is no longer lurking in the shadows".
As a result of the accounting change, net debt reported by UK supermarket chain Tesco would increase from £8.6bn at the end of August to £17.6bn, estimated Richard Clarke, an analyst from Bernstein. However, while the new standard would make Tesco look more indebted, Mr Clarke added that the assets associated with the leases would also come on to the company's balance sheet, so "the net effect would be neutral."
Investors warned that the new standards could affect some groups' banking covenants and debt-based agreements with lenders, but said they would make it easier to compare companies that uses leases with those that prefer to borrow and buy.
Vincent Papa, director financial reporting policy at the Chartered Financial Analysts Institute, which has been pushing for these changes since the 1970s, said: "Putting obligations on balance sheets enables better risk assessment. It is a big improvement to financial reporting."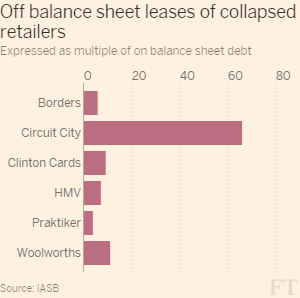 For some airlines, the value of off-balance- sheet leases can be more than the value of assets on the balance sheets, the IASB noted.
It also pointed out that a number of retailers that had gone into liquidation had lease commitments that were many times their reported balance sheet debt.
News of the accounting change follows long-running concerns over the use of off-balance sheet finance by some companies.
In 2005, the US Securities and Exchange Commission calculated that US companies had about $1.25 trillion of leasing commitments that were not included in assets or liabilities on balance sheets.
Six years later, the Equipment Leasing and Finance Foundation in the US said that "Capitalising operating leases will add an estimated $2 trillion — and 11 per cent more reported debt — to the balance sheets of US-based corporations . . . and could result in a permanent reduction of $96bn in equity of US companies."
Under current rules, companies are required to differentiate between financial hire-purchase type of leases, which are put on to balance sheets, and operating leases. The latter are only disclosed as footnotes to annual reports although the payments and costs are included in income statements.
Source: Reporting Rule Adds $3tn of Leases to Balance Sheets Globally – Financial Times