Oil prices shot up more than 6 percent this week on the news that OPEC reached a deal to cut oil production, but by Friday the rally seemed to be already running out of steam as the markets grew skeptical of the group's ability to implement the deal.
Nine restaurant companies representing 14 chains have filed for bankruptcy since December: Garden Fresh Restaurant, Restaurants Acquisitions, Cosi, Logan's Roadhouse, Fox & Hound, Champps, Bailey's, Old Country Buffet, HomeTown Buffet, Ryan's, Johnny Carino's, Quaker Steak & Lube, and Zio's Italian Kitchen…….the current wave rivals the chain bankruptcy wave of 2009 and 2010, when several chains filed for debt protection after sales fell…..
For the first time in 5 years, US construction spending fell YoY in August. The 2nd monthly drop in a row and large downward revisions reduced construction spending to its weakest since 2015. Public construction spending dropped considerably more than private, with highway construction tumbling.
This is the biggest drop in over 5 years…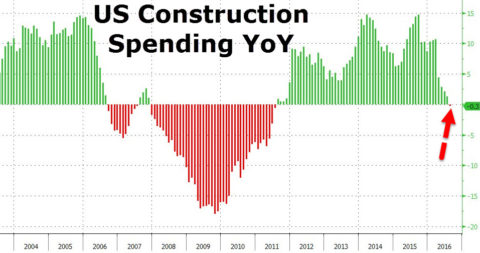 Through an endless barrage of ugly propaganda, the U.S. government and the mainstream American press have put the world on course for a potential nuclear showdown with Russia, an existential risk that has been undertaken cavalierly amid bizarre expressions of self-righteousness from Western institutions…..This extraordinarily dangerous moment reflects the insistence of the Establishment in Washington that it should continue to rule the world……
"No one on the ground believes in this mission or this effort", a former Green Beret writes of America's covert and clandestine programs to train and arm Syrian insurgents, "they know we are just training the next generation of jihadis, so they are sabotaging it by saying, 'F*ck it, who cares?'". "I don't want to be responsible for Nusra guys saying they were trained by Americans," the Green Beret added.
If you ever find yourself at a cocktail party with a bunch of oil executives, one phrase is a guaranteed mood-killer: "reserve replacement"…….Last year, the stuff-gathering did not go so well. Not replacing your reserves can be due to several things, such as striking out on a big exploration prospect or simply dialing back investment in finding new fields. It can also just be about those fickle little things called prices.
If there is a common qualification or description among all these PMI's it wouldn't be recession or growth, it would be "languishing." The global economy already operating at a low level or seriously degraded capacity can accomplish no better than perhaps small fits of acceleration that are truly transitory. It is perhaps the epitome of one step forward, two steps back, where the biggest cost is lost time particularly where each seeming step forward is so celebrated and overstated.
Without a doubt, things are coming to a head at the bank. It's heavily exposed to the fracking industry in the U.S., which is sure to see continued rising defaults ahead. It has the largest derivatives exposure of any bank, at $54.7 trillion (and that's not a typo) out of the worldwide total of $550 trillion. And now, the U.S. Justice Department is slapping on a $14 billion fine for fraud in mortgage security sales.
But few expected the barrage of bad news that soon hit on both sides of the Atlantic — a rat-a-tat-tat of job cuts, scandal and financial worry that sent bank shares tumbling and left many investors wondering just where or when the pain would end…..it began in Germany, where long-struggling Commerzbank AG unveiled yet another plan to regain its footing, this time by cutting one in five of its employees. In Washington, came still more blistering attacks on John Stumpf……
Most empires were financed by theft. As far as we know, the U.S. is the first to run an empire on fraud. The usual business plan involves conquering other nations, stealing their wealth, and demanding tribute for protecting them. Instead, the U.S. pays for its empire with fake money.