By Tyler Durden at ZeroHedge
Seven days ago, Deutsche Bank turned in what various sellside desks described as "horrible", "grim" results for both Q4 and 2015 as a whole.
The bank posted its first annual net loss since the financial crisis, reporting red ink that totaled more than $7 billion as investment banking revenue fell plunged by some 30%.
On Thursday, we learn that Credit Suisse lost nearly $6 billion in the fourth quarter. The 2015 net loss came to nearly $3 billion.
Shares in the Swiss bank plunged 13% to their lowest levels since 1991 as Tidjane Thiam's "turnaround" hit a rather large bump in the road.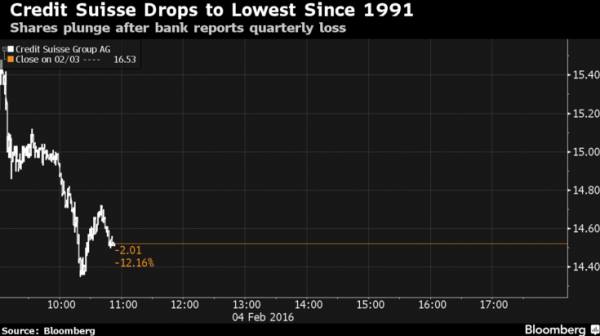 The shares are down 32% this year alone.
The $5.8 billion quarterly loss is the largest since the crisis and it would certainly appear that the focus on wealth management (as opposed to investment banking) comes at a rather inopportune time, given the emphasis placed on AsiaPac where Thiam plans to double pretax income in just two years.
"The latest report is the first to reflect Credit Suisse's new structure under Chief Executive Tidjane Thiam, who took over in July and announced his strategic plans for the bank in October," WSJ writes. "Those plans include bolstering wealth management, particularly in regions such as Asia, while reducing the resources directed to its investment bank."
Some of the loss was attributable to a CHF3.8 billion impairment charge tied to the costly 2000 acquisition of investment bank Donaldson, Lufkin & Jenrette for $11.5 billion which The Journal reminds us was "a price widely viewed at the time as expensive.
But even as the Street expected a rather disappointing performance, "these numbers are terrible," to quote Dieter Hein, an analyst at AlphaValue based near Frankfurt who spoke to Bloomberg. "In the mid- to long-term, it's right to focus on growth in Asia, but what bad timing given the current environment."
Yes, "what bad timing." And "what" horrific results across the board. Analysts were expecting things to be bad (consensus was for a CHF4.97 billion loss) but the CHF5.8 billion was far worse than most anticipated. Even excluding the goodwill write-down, as well as significant litigation and restructuring charges, the underlying pre-tax loss was "far worse" than consensus, Citi's Andrew Coombs writes. "Underlying revenues are 7% below consensus… overall we view these as very poor results," he said on Thursday.
Restructuring and litigation costs were CHF355 million and CHF564 million for Q4, respectively.
Investment banking was a nightmare as revenues fell 17% in 2015 due to "lower debt and equity underwriting" attributable to "volatility in capital markets." "They're the ones we control the least," Thiam said of the Global Markets and Investment Banking & Capital Markets units. "We want to have an investment bank with stable earnings," he added. Here's what investment banking looked like in Q4: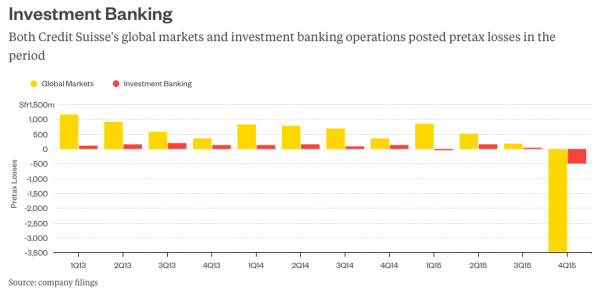 And here's a look at equity and fixed income trading: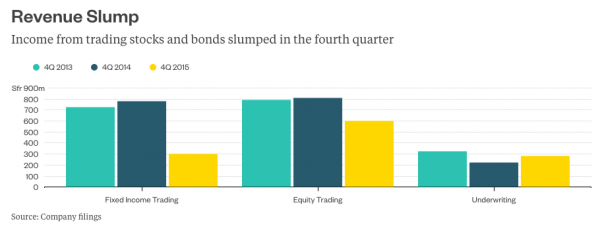 "Revenue from fixed-income trading fell by more than two thirds — a much steeper decline than at Deutsche Bank or any of its U.S. peers,"Bloomberg notes. The culprits: widening HY spreads in the US, "subdued client activity" and of course, "significant mark-to-market losses."
"Revenue at the units that house trading, advisory and underwriting businesses outside of Switzerland and Asia, slumped 35 percent to a combined $1.5 billion," Bloomberg continues. "Excluding goodwill impairments and restructuring costs, the units posted a pre-tax loss of $761 million combined for the period, compared with a profit of $516 million a year earlier."
Contrary to reports, the bank will not, Thiam says, be selling a portion of the investment banking business to Wells.
"The environment has deteriorated materially during the fourth quarter of 2015 and it is not clear when some of the current negative trends in financial markets and in the world economy may start to abate," Thiam said, in an attempt to explain the results.
The bank will cut some 4,000 jobs in an effort to supercharge cost savings. Bonuses were cut by 11% last year. "We continue to believe that wealth management, supported by our investment banking capabilities, remains a uniquely attractive long-term opportunity," Thiam continued, justifying the shift away from investment banking. The international wealth management unit lost CHF20 million in Q4 and saw net asset outflows of CHF4.2 billion during the period.
Here's Citi's Coombs summing things up outlook wise: "We do not believe the 2018 targets are achievable."
No, probably not, because as Andreas Brun, an analyst at Zuercher Kantonalbank put it after the results: "Even to just get in the direction of their goals, they need the market as a tailwind, but at the moment they have rough winds blowing at them from all directions."
Indeed.
Source: Credit Suisse Plunges To 25 Year Lows After Posting Enormous $5.8 Billion Q4 Loss – ZeroHedge