According to Bloomberg, "Construction spending increased by 2.2 percent in April, the Census Bureau reported, more than the 0.8 percent gain expected by economists surveyed by Bloomberg." That "positive surprise" was good for a rally in stocks and a selloff in Treasuries. Wall Street's bull strategists were braying about it. Do bulls bray, or is that another animal?
"The housing part of the equation is helping out, and construction spending, which is a big deal in terms of growth," said Eric Green, the head of U.S. rates and economic research at Toronto-Dominion Bank's TD Securities USA unit in New York, one of 22 primary dealers who trade with the Fed. "It all works in a direction that's contributing to the selloff here." – from the Bloomberg story.
He was talking about the the seasonally adjusted, nominal, annualized number. In other words, they took the monthly seasonal smoothing error and sampling error and multiplied them by 12.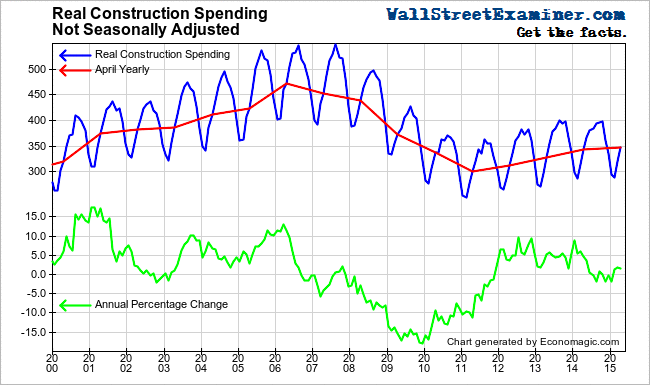 Here's the crux of the issue. Real construction spending rose 1.5% from April 2014. That is the actual volume of construction adjusted for inflation and not finagled to represent some idealized, abstract impressionist version of the trend which flattens seasonal patterns. The actual year to year rate of change dropped by 0.3% from the March annual gain of +1.8%.
Somehow the Census Bureau's model turned that 0.3% monthly drop in annual momentum into a seasonally adjusted annual increase in the news headlines. Nobody in the mainstream media questioned the census bureau about the data. That's not their job. They are financial journalists. Their job is to repeat the government's press releases and get a few choice quotes from Wall Street cheerleaders.
Not that I want to spoil the fun, but the real number may even be weaker than the +1.5% real annual gain, since there's evidence that the BLS measures inflation in a way that understates the reality. One way or the other, it's clear that since the middle of last year, there has been virtually no growth in construction put in place.
But there's good news. Real construction spending has now recovered all the way back to within 10%… of the level at the bottom of the 2002 recession.
Yes, sir. ZIRP and QE sure have been a potent stimulant to real investment! Or maybe fake investment. But fake investment (in appreciating financial assets) has been so profitable, why should anyone invest in building real assets? Too risky.
And if you're a CEO why bother with real investment when you can just buy back your company's stock and put some more stock option money in your pocket?