By Sue Chang at MarketWatch
China is burning through its foreign-currency reserves at such a blistering pace that the country will run down its cushion in a few months, forcing the government to wave the white flag and float the yuan, says Société Générale global strategist Albert Edwards.
"The market remains content that massive firepower remains to support the renminbi. It does not," Edwards, a perma-bear with a propensity for doom-and gloom-prognoses, said in a report published Thursday.
Société Générale, using the International Monetary Fund's rule of thumb on reserve adequacy, estimates that China's foreign-currency reserves are at 118% of the recommended level. But that cushion is likely to evaporate soon on a combination of capital flight and the continuing effort by financial authorities to stem a dramatic drop in the currency.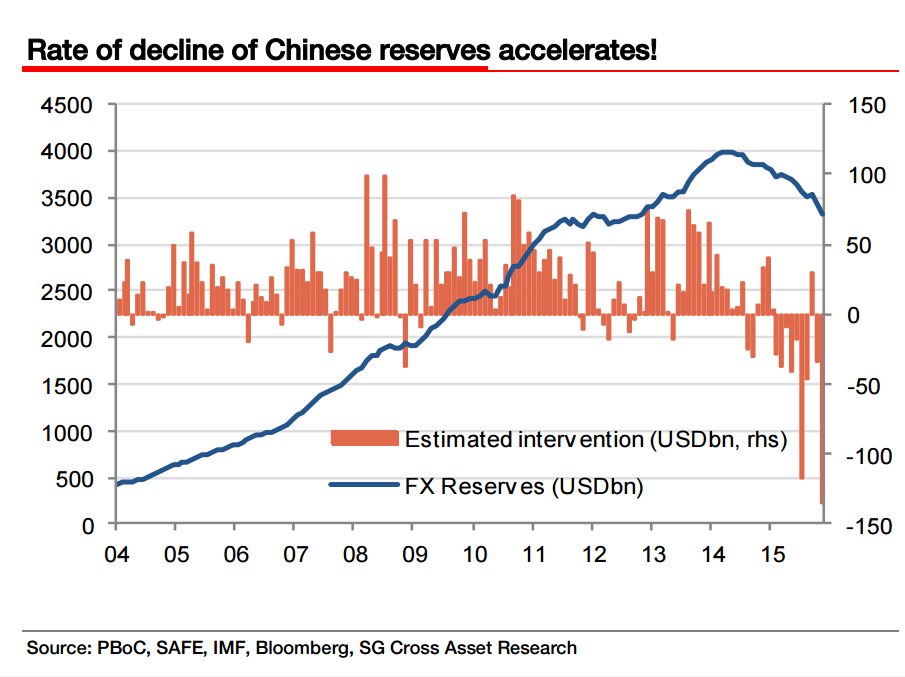 China's reserves totaled $3.33 trillion in December, according to official government data. Edwards estimated that China's foreign-exchange reserves fell by about $120 billion in January, a trend that is likely to continue in the foreseeable future.
"When foreign exchange reserves reach $2.8 trillion—which should only take a few more months at this rate—foreign exchange reserves will fall below the IMF's recommended lower bound," he said.
That is likely to trigger a "tidal wave of speculative selling," which in turn will force the People's Bank of China to allow the yuan to freely float within six months.
The yuan currently moves within a trading band set by the People's Bank of China that the central bank can change at will.
"We estimate that if capital outflows maintain their current pace, the PBoC would be unable to defend the yuan for more than two to three quarters," Wei Yao, Société Générale's China economist, said in a report published earlier this month.
"China's reserves have already fallen by $663 billion from mid-2014, and a further decline of this scale would start to severely impair the Chinese authorities' ability to control the currency and mitigate future balance of payments," she said.
Against this backdrop, Société Générale is projecting the yuan USDCNY, +0.0944% to sink to 7.5 against the U.S. dollar this year, significantly weaker than 7 yuan to the buck predicted by most economists. The dollar is currently at 6.56 yuan.
Edwards and his colleague join a growing group of economists and investors who are sounding the alarm on China's approach to managing its yuan exchange rate.
On Wednesday, Kyle Bass, founder of hedge fund Hayman Capital Management, expounded in depth on why he is shorting the yuan and the problem of escalatingbad loans in China's banking sector.
"This isn't an aberration. This isn't a speed bump. This is China's excess—let's call it misallocation of capital—coming home to roost," Bass said in an interview with CNBC.
What is particularly noteworthy about Edwards' scenario on China is its similarity to how Korea's currency crisis unfolded in 1997.
A crisis of confidence in the country sparked a surge in withdrawal of funds that eventually forced Seoul to float the Korean won in 1997 in exchange for billions in emergency loans from the IMF. The won, until then, had been pegged to the U.S dollar and was only allowed to trade in a limited daily band.
One difference is that Korea's reserves were in billions of dollars rather than the trillions of dollars that China holds.
China last year devalued the yuan, a move that roiled stock markets around the world. Chinese authorities have indicated that they will introduce further changes on how the currency is valued against its peers, which analysts believe will give the government more flexibility in nudging the currency in the direction that they desire.
Barclays, meanwhile, projected China's reserves to have dropped by as much as $140 billion last month to $3.19 trillion — or more than Edwards has forecast. "If correct, this would be the biggest monthly drop in foreign exchange reserves on record," said David Fernandez, an analyst at Barclays, in a note.
The PBOC is expected to report on the level of its currency reserves this weekend.
Source: SocGen Claims China Is Only Months Away From Burning Through Its Currency Reserves – MarketWatch