As banks focus on mortgage lending, and urban property prices surge, some people are bending the rules to come up with down payments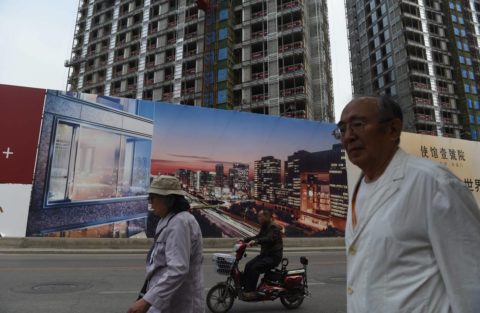 By Lingling Wei at The Wall Street Journal
Oct. 19, 2016 5:41 a.m. ET
BEIJING— Xiong Meifang was about $30,000 short two months ago for a 30% down payment on an $895,000 apartment in the southern part of China's capital.
To make up the difference, the 31-year-old graphic designer took out a line of credit from a national bank. She said the bank told her she could use the loan however she wanted.
China bans borrowing for down payments. A surge in such financing offered by nonbank lenders earlier this year led to a regulatory clampdown. But as banks increasingly turn to mortgage lending, there are new signs of risky practices. In some instances, banks offer credit lines to borrowers buying apartments with few questions asked. In others, banks work with independent loan brokers or property agents to funnel money into down-payment financing.
Data released Tuesday showed medium- and long-term household loans, almost all of which are mortgages, made up 60% of all new loans created in the third quarter, up from 47% in the second quarter and 23% in the first. Easy credit has fanned a property-buying craze in many Chinese cities this year, helping shore up an otherwise weak economy. Government data on Wednesday showed gross domestic product expanded by 6.7% from a year earlier in the third quarter, matching expectations, largely on the strength of the hot property market and loose monetary policies.
In the past two weeks, two dozen cities have asked banks to tighten home-lending standards. Financial regulators are seeking to rein in the relatively new practice of banks working with brokers and others, such as developers, to help home buyers come up with down payments.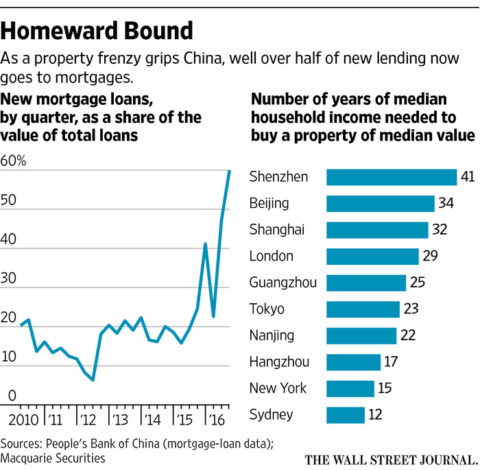 In a shopping mall just south of Beijing's Workers' Stadium, Xiao Zhu Finance Co.'s loan brokers consult with prospective customers on their loan needs.
Across the room are booths with posters for banks including large lenders such as Ping An Bank Co. and Bank of Nanjing Co. When a well-dressed woman in her late 30s asked how she could get help toward her down payment, a Xiao Zhu representative told her the company could try to get her a credit line from the banks it works with.
On paper, the purpose of the loan can't be for the home purchase itself. But the company could help arrange a contract with, say, a decorator, to show a bank that the loan would be for home decoration, the representative said, adding that ultimately the bank can't check how the money is used. Xiao Zhu, whose name means "piggy" or "piglet" in English, charges a 3% flat fee on the amount of any loans it helps arrange.
"It's all legal, of course," said the representative. "This is actually what we're told by banks' client managers to do to meet [regulatory] requirements."
In a statement to The Wall Street Journal, Xiao Zhu said "we do not engage in the business of down-payment financing."
Bank of Nanjing said in a statement that the lender "has no cooperation with Xiao Zhu Finance or any similar finance companies." Ping An Bank didn't respond to requests for comment.
Regulators say there is cause for concern—but not alarm. The rapid increases in home loans pose new challenges for China's banking system, Wang Shengbang, a deputy director at the China Banking Regulatory Commission, said at a press briefing last week. "But there's no need to worry too much from a financial-stability perspective."
Even with riskier lending, China today isn't quite like the U.S. in 2008. Data from the banking regulator show that on average, home mortgages in China account for 55% of the underlying properties' value. By comparison, the average loan-to-value ratio exceeded 75% in the U.S.—or higher if including second mortgages—before the American housing-market collapse sent global financial markets into a tailspin.
And home loans in China so far have proven much safer than corporate loans, with mortgage defaults virtually unheard of.
Newly created loans, however, "would be more vulnerable to abnormal economic situations," said Liao Qiang, a Standard & Poor's banking analyst. Mr. Liao noted that some recent mortgages could come with a loan-to-value ratio of as high as 80%.
The Chinese government has flooded banks with capital and pushed interest to record lows to jump-start the economy. But with a murky economic outlook, businesses have failed to line up for loans, with many struggling to pay existing debt. As a result, many banks are shifting their focus toward individual borrowers.
In some cases, banks have turned a blind eye to borrowers who don't meet regulatory requirements on down payments. In August, the Suzhou branch of the Industrial & Commercial Bank of China Ltd., the nation's largest bank by assets, was fined 250,000 yuan ($37,100) by the local banking regulator, which said the ICBC branch failed to catch that portions of the down payments on the mortgages it made had been provided by developers. ICBC's press office didn't respond to requests for comment.
A spokeswoman at Shimao Property Holdings Ltd., a large Chinese developer, said some of the company's outside sales agents offer loans that can help home buyers finance down payments. "These products do play a role, and do exist," she said, adding: "We don't have those products ourselves."
Li Ling, a property broker in Beijing, said her firm still offers clients down-payment financing despite the regulatory crackdown. "There's a huge demand for this," Ms. Li said. "Given how much home prices have risen, it's becoming more difficult to come up with a large sum of down payments on your own."
—Mark Magnier and Dominique Fong contributed to this article.
Write to Lingling Wei at lingling.wei@wsj.com
Original article: China's Property Frenzy Spurs Risky Business