By Eric Morath at the Wall Street Journal
One of the labor market's early-warning signs may be flashing trouble.
Hiring by staffing agencies has ground to a halt so far in 2016, a worrisome sign because the category fell off before a broader job-market slowdown ahead of the past two recessions. Many economists look at the sector as a leading indicator because cautious firms tend to first hire temps when an expansion begins and dismiss those nonpermanent workers when they sense the economy is faltering.
The question now is whether the recent flattening in temp employment points to another economic downturn or is just respite for an industry that has capitalized on a shift toward flexibility for workers and firms.
More than one in 50 U.S. workers were employed as temps at the end of 2015, eclipsing a record set in early 2000. At that prior peak, the unemployment rate was near a cyclical low and payrolls were growing steadily, albeit at a slightly slower rate than the prior two years. By spring 2001, the economy was in recession.
"It's the first sector that really begins to lose jobs," said Donald Grimes, a labor economist at the University of Michigan. "If you start seeing those numbers go negative, you've got a real problem."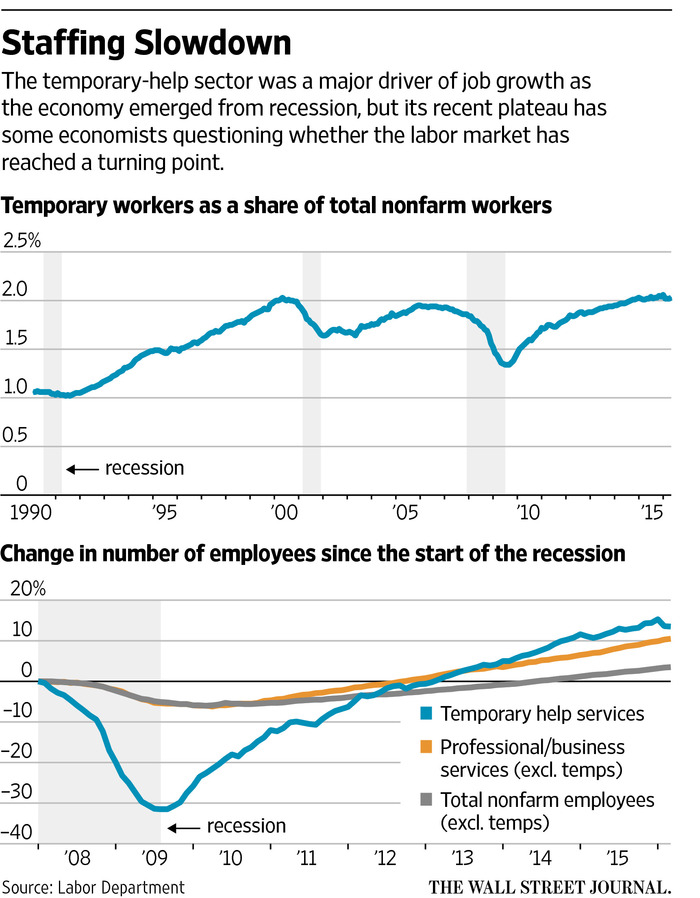 The temp sector has shed 27,400 jobs since December, a reversal from the preceding five years, when the temporary-help category grew five times as fast as overall employment. That suggests the sector, which did add jobs in April, bears careful watching, especially because the slowdown comes alongside other red flags.
The long decline in initial jobless claims, another leading labor-market indicator, appears to have ended this spring. Average payroll growth this year slowed to the weakest pace since early 2014. The unemployment rate has plateaued. And industrial production suffered the largest decline to start the year, outside of a recession, on record.
To be sure, other indicators show an economy still growing at a modest pace. Consumer spending picked up last month, wages are increasing and the housing market is improving.
Staffing agencies maintain it's too soon to declare the end of their industry's expansion. Temp employment is poised to climb alongside the popularity of freelance and contract work and the so-called gig economy, said Jim Link, chief human resources officer at staffing firm Randstad Holding NV's North America division.
Staffing employment "is going to continue to tweak up," he said, projecting it could rise by 50% over the next five years to about 3% of the workforce from 2% today. But he warned the industry will remain cyclical.
"The great recession taught employers to be extremely mindful about how they approach their workforce strategy," Mr. Link said. "The old way of building up staffing through internal hiring is not the safest bet."
Executives in the staffing industry say they now serve different types of clients. Temp staffers are less often in the clerical and light-industry sectors—which have been in decline for decades—and more frequently work in technology, health care and finance. Those staffers might roll out a mobile app or develop​a strategy to meet new regulations.
The typical staffing-agency worker is increasingly a specialist rather than an entry-level employee, said Kelly Services Inc. Chief Operating Officer George Corona. Most temp and freelance workers prefer the work to a permanent placement, he said, while others want to try out employers before making a commitment.
"The younger generation of workers hasn't seen the loyalty from employers" and don't expect to provide it in return, he said. "They're looking for different things in terms of work-life balance."
Cara-Marie Findlay, 26, finds employment in Atlanta through staffing firm Creative Circle and arranging her own freelance design and editing work. She said temp work fits her current lifestyle, which includes caring for her young son. But she worries about managing health insurance and retirement in the long run.
"A lot of companies are looking for someone for a week or a year, but they don't want to make a commitment," she said. "That's one less employee to have on insurance."
Worker advocates and Obama administration officials worry the changing nature of the labor force means more Americans will be cycling through temp jobs and short-term gigs, such as an Uber driver or a TaskRabbit handyman, and therefore not have access to benefits and regular pay that comes with permanent employment.
Temp workers also are paid less, on average, than their permanent peers. The average hourly wage for temporary help workers was $16.83 in March, compared with $25.45 for all private-sector workers.
"Structural changes in the labor market mean that higher volatility is likely to persist, in part through a weakening of the social compact between workers and firms," Treasury Chief Economist Karen Dynan said in a recent speech.
Short-term projects and less-loyal workers can be a recipe for volatility. The average tenure for a temp employee was 10.7 weeks last year, down from 11.3 in 2014, marking the shortest engagement time since 2003, according to the American Staffing Association. The industry group said the shorter tenure could be an indication temps are more quickly converting to full-time work. About one-third of temps are offered permanent work.
Volatility in the sector can make the leading indicator hard to read.
"When temp employment is moving sideways, as it is now, it could mean things are frothy and firms are jumping straight to permanent hires," said Erik Weisman, economist at MFS Investment Management. "Or it could signal we're on the precipice of a downturn and firms don't want to hire, and even start firing temp workers."
Source: Temp-Worker Freeze Bodes Ill for Economy – the Wall Street Journal