By John D. Stoll and Gautham Nagesh at The Wall Street Journal
General Motors Co., fresh off agreeing to a new union contract that is expected to drive up its U.S. labor costs, plans to become the first major auto maker to sell Chinese-made cars in the U.S.
The nation's No. 1 auto maker by sales early next year plans to start selling the Buick Envision, a midsize sport-utility vehicle made in Shandong province, according to people familiar with the plan. The move would add a third SUV to Buick's U.S. lineup at a time when such crossovers are among the best selling vehicles in the market.
Initially, the company expects to import a modest number—between 30,000 and 40,000—a year. But it signals the beginning of a strategic production shift for the Detroit auto giant and a bold experiment that will be closely followed by other auto companies that have said they would eventually consider such a move.
Long among the top foreign sellers in China by volume, GM has confined production there to meeting China's recent explosive demand. But as sales gains have moderated and Chinese tastes in cars converge with Americans', the potential for more Chinese imports from GM and others could blossom.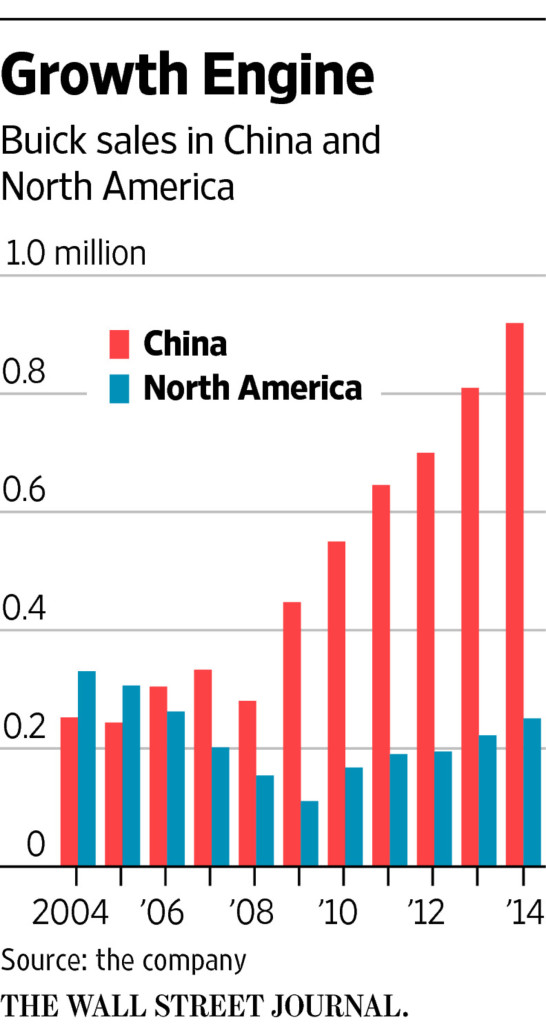 Global auto makers had been slow to ship Chinese vehicles to the U.S. and Europe, fearing Western buyers would shun them over quality concerns. Volvo Car Corp., a small auto maker owned by China's Zhejiang Geely Holding Group Co., was the first to challenge that assumption when it started shipping sedans from a plant in China to the U.S. this spring.
The arrival of Chinese-made Buicks in the U.S. is likely to rile the United Auto Workers union, which has struggled to gain approval from its members for recent labor deals, in part over U.S. production guarantees. Over the summer, as rumors spread that GM was considering importing vehicles from China, UAW officials called the prospect concerning.
However, the UAW and GM discussed the move during recent labor talks and appear to have come to an understanding. Union officials have been hit hard in recent months with news that production of some smaller, less-profitable passenger cars now built in the U.S. will move to Mexican factories over the course of the next four-year labor contract.
In 2011, the UAW agreed to a wage contract that led to big bonuses for workers and the addition of tens of thousands of factory jobs. This year, union officials won much richer contracts that are expected to undermine those investment decisions and lead Detroit executives to look for lower-cost manufacturing options.
GM officials briefed on the plan say importing the Buick Envision would fill a gap in the brand's product line, and isn't a cost-saving measure. Buick's U.S. presence has declined as the auto maker's market share slid and Chevrolet took center stage as its mass-market brand. Buick's U.S. volumes have recovered in recent years on more attractive models and a near-record pace for light-vehicle demand.
In the U.S., Buick's most popular offering is a small crossover called the Encore that is built in South Korea. GM has used its Korean plants to supply low-cost vehicles for more than a decade, but lately has been rethinking that strategy due to rising Korean labor costs.
The brand's second-best seller in the U.S. is the Enclave, a larger crossover built in Michigan. By adding a third crossover vehicle to the lineup, GM could accelerate Buick's attempt to take on other premium auto brands, such as Honda Motor Co.'s Acura or Ford Motor Co.'s Lincoln.
Salt Lake City Buick dealer Jerry Seiner said customers are much less concerned about driving cars made in China or other countries today than in the past. He believes a Chinese-made Buick would do well in America as long as it meets the quality standards customers expect.
"I don't think there's a negativity that there would have been when people were talking about [making cars] in Mexico and Korea" years ago, Mr. Seiner said.
Rich Walicki, vice president of Jim Winter Buick in Jackson, Mich., said there is a clear need in Buick's lineup for a midsize crossover for younger families with children. "It's a great gap to fill and we'd love to have it," Mr. Walicki said.
Buick has been successful importing the smaller Encore and customers would welcome a slightly larger vehicle with more power, he said. A Buick minivan now sold in China also would boost GM's product line since the company currently doesn't have an offering in that segment, he added.
As Buick sales were fading in the U.S. several years ago, they were fast rising in China, now the biggest new-car market in the world. Buick today is one of GM's two top brands in China alongside its commercial Wuling offerings, and represents nearly a third of its sales volume there—far exceeding Chevrolet, Baojun or Cadillac sales.
In the U.S., Buick represents about 7% of the auto maker's volumes. There were more than 100,000 Buicks sold in China last month compared with fewer than 19,000 in the U.S.
GM's top Chinese partner, SAIC Motor Corp., will play a significant role in a $5 billion initiative aimed at developing a more competitive car for emerging markets, including India. And executives are looking to ramp up the popularity of Chevrolet, Cadillac and Baojun.
Source: GM to Import Chinese-Made Buick SUV – The Wall Street Journal