By mybudget360
Some of you might remember the glossy highly produced advertisements back in the early 1980s when Wall Street decided it was time to turn American retirement plans into casinos.  The slow and agonizing death of the pension plan was supposed to be replaced by the beautiful and wonderful world of the 401(k) plan.  Save for 30 years and in the end, you will be a millionaire just like your friends on Wall Street that sincerely care about your financial future.  Of course since then, we have found out about junk bond scandals, mutual fund fees that make loan sharks look conservative, and of course the financial shenanigans of giving people toxic mortgages that were essentially ticking time bombs of destruction.  This was the industry that was put in charge of helping you plan for your future.  We are now a generation out from those slick ads and the results have been disastrous for most Americans.  A recent analysis found that half of US households 55 and older have no money stashed away for retirement.
The new retirement is no retirement
Planning for retirement takes time.  Saving money is a slow process.  There was a time when simply stashing money into CDs and savings bonds was enough to have a nice nest egg if you were diligent enough.  Yet for the last decade, most banks are paying close to zero percent on their savings accounts thanks to the Fed's low rate policy to juice the markets.  Since the true inflation rate is much higher, you are essentially letting your money rot away.  So the only other option is for people to invest in the stock market or try to leverage into real estate.
The stock market is largely an arena for the wealthy.  Half of Americans own no stocks at all.  Now after a generation, we are finding out that most people did not follow in the footsteps of those glossy over produced retirement ads:

Source:  GAO
"(Raw Story) Are we all in denial or is it simply impossible to save enough for retirement? Is it some kind of toxic combination of the two? Whatever the reason, yet another study – this one from no less an authority than the non-partisan US government accountability office (GAO) – is here to remind us that we're woefully unprepared, financially speaking, for retirement. While we may all have dreams about how we'd like to spend our retirement years – fishing, golfing, writing that great American novel – the truth is that as many as half of all households with Americans 55 and older have no retirement savings at all . Nothing. Zip. Nada. Not a dime.

And the news gets worse, the GAO reports. Because households headed by older Americans that don't have retirement savings like 401(k) plans or IRA accounts also are less likely to have other sources of income that they can rely on when they retire, such as pensions or even plain old savings accounts. About 29% have absolutely nothing : no pension plan, no savings, no 401(k), nothing."
The idea that all older Americans own their home free and clear is simply not true.  Only 35 percent own their home free and clear from debt (and this does not mean they don't have expenses like taxes, insurance, and maintenance).  24 percent are still saddled with mortgage debt.  And 41 percent do not own a home meaning they have to pay rents that continue tooutpace any wage gains.
The median net worth of those 55 and older is $34,760.  This is basically one small illness from bankrupting this family.  The median annual income of those 55 and older is $18,932 which makes them part of the new low wage America cohort.
On the retirement side 48 percent have some retirement savings (not much).  29 percent have no pension or retirement savings.  And 23 percent have a pension but no retirement savings.  In the end, it is a tough situation for many older Americans.  And that is why older Americans rely heavily on Social Security as their primary source of income into old age: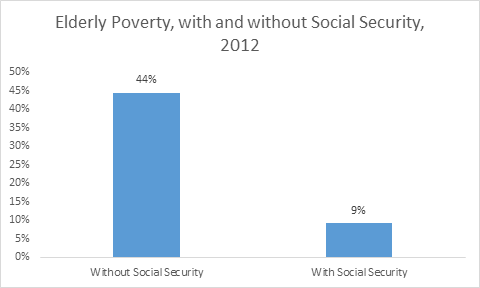 If it were not for Social Security, half of retirees would be out in the street bringing back another Great Depression like atmosphere.  This is in stark contrast to that 401(k) dreams pushed by Wall Street investment banks of endless Margaritas and walks on nameless sunny beaches.
The sad reality is that retirement is no longer what people think.  And keep in mind this is happening to the baby boomer generation that lived through some mega US prosperity and stock market bull runs.  What about young Americans today that are starting in an even more precarious position thanks to the insane cost of going to college and the mountain of student debt?  Many people are realizing that retirement is a luxury only a few can afford.
Source: Get used to the idea that you will never retire: GAO report shows that half of Americans 55 and older have no retirement savings at all.