By Tyler Durden at ZeroHedge
Since Abenomics was unleashed on the world (with QQE starting in April 2013), things have not worked out as the smartest men in the Japanese rooms predicted. In fact, with April's final manufacturing PMI printing at 47.7, operating conditions in Japan worsened at the sharpest pace in 40 months… since Abe began his three arrows. Output tumbled at the fastest pace in 25 months and new orders are the worst since Jan 2013. This is the death cross for Abenomics…
The weakest Japanese manufacturing PMI since the start of Abenomics…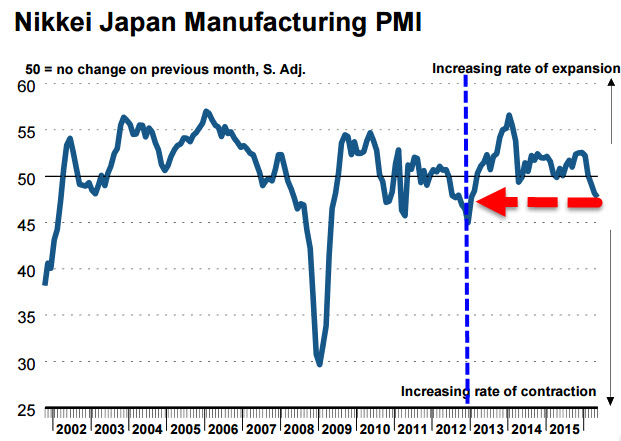 Commenting on the Japanese Manufacturing PMI survey data, Amy Brownbill, economist at Markit, which compiles the survey, said:
"The aftermaths of the earthquakes in one of Japan's key manufacturing regions continued to weigh heavily on the manufacturing sector. Both production and new orders declined sharply midway through the second quarter of 2016. A marked fall in international demand also contributed to the drop in total new orders, as exports declined at the fastest rate since January 2013."
Flashing the "death cross" of Abenomics three arrows…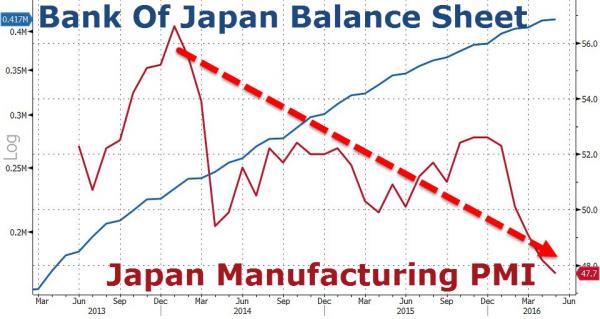 As it is now clear that the massive expansion of the Bank of Japan balance sheet has done nothing… in fact worse than nothing… for the Japanese economy.
Source: Abenomics "Death Cross" Strikes as Japan PMI Plunges to 40-Month Lows – ZeroHedge