By Tyler Durden at ZeroHedge
It was just two days ago when we reported that Slovenia had begun to construct its own version of Viktor Orban's now infamous razor wire, anti-migrant fences. As The New York times noted, more than 170,000 refugees from the war-torn Mid-East have crossed into Slovenia from Croatia in the last month alone. To get an idea of just how dramatic that is, relatively speaking, consider that Slovenia is a nation of just two million.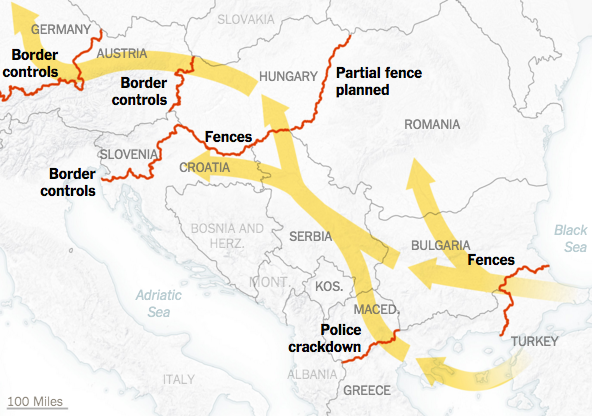 Slovenian prime minister, Miro Cerar, is concerned that with winter right around the corner, his country will not have the resources to house the migrants even if it wanted to, setting up the possibility that a severe humanitarian crisis could unfold. In short, Slovenia was able to cope with the flows from Croatia as long as a roughly equal number of migrants were exiting to Austria, but if anything slowed the migrants' progress into Austria and Germany (like border controls for instance), then tiny Slovenia would be in a tough spot.
And so, Slovenia built a razor wire fence on its border with Croatia. Croatia dubbed the project "a waste of time."
Now, as Reuters reports, "The European Commission has formally authorized the temporary reimposition of border controls by Sweden and Germany's extension of frontier checks." Here's more:
Sweden, long a haven for people fleeing war and persecution, was the latest EU state to re-establish checks at its borders to stem a tide of migrants coming from Denmark.

Germany reimposed border controls on Sept. 13 and decided to extend them beyond an initial limit of two months foreseen by Schengen rules, using a clause that permits stretching checks to a maximum of six months.

"The temporary reintroduction of border controls between member states is an exceptional possibility explicitly foreseen in and regulated by the Schengen Borders Code, in case of a serious threat to public policy or internal security," the European Commission said in a statement.

The decision replicated similar provisional authorizations granted by the EU executive to Austria, Hungary and Slovenia when they imposed temporary border controls in recent weeks.
Meanwhile, Austria is following in Slovenia and Hungary's footsteps on the way to constructing yet another fence. Here's AFP:
In a new blow to the EU's cherished open-border Schengen accord, Austria announced Friday it would erect a 3.7-kilometre (2.3-mile) metal fence along its border with Slovenia to better manage a record influx of migrants and refugees.

The barrier, due to be completed in less than six weeks, will be the first fence between two members of the passport-free zone.

Austrian Interior Minister Johanna Mikl-Leitner insisted the "fence conforms to the Schengen accord", adding that it was part of temporary measures aimed at "channelling" the human flow.

"We are talking here about an ordered inflow and not a barrier," Austrian Chancellor Werner Faymann's chief of staff, Josef Ostermayer, told reporters in Vienna.
Right. "It's not a barrier, it's just a fence." Kind of like JP Morgan's CIO bet "wasn't a bet, it was a hedge." Back to AFP:
Austria's mesh fence either side of the Spielfeld border crossing point in southern Austria will be 2.2 metres (7.2 feet) high.

Barbed wire will be stored in nearby containers ready to be rolled out along the border — within the passport-free Schengen zone — if the situation escalates, officials said on Friday.

Austria had initially planned to install a 25-kilometre fence but "our Slovenian colleagues have asked us to not do this immediately," said Austrian Interior Minister Johanna Mikl-Leitner.

"They have offered to increase border security measures by erecting a fence to create a safety corridor and to reinforce police patrols on the Slovenian side to prevent (unofficial) border crossings."

However Austrian authorities were ready to unfurl the entire 25-kilometre fence if Slovenia's measures failed to control the flow, she stressed.
As for Sweden's "checks", Swedish authorities have begun checking trains for migrants and escorting dozens with no papers away. More from Reuters:
Officers waited at Hyllie station south of the city of Malmo, the first stop in Sweden on a route from Denmark, checked passengers' papers and led about 50 people away in the space of one and a half hours.

The controls by a Nordic state that touts itself as a "humanitarian superpower" underscored how the flow of refugees into the European Union is straining its prized system of open internal borders close to breaking point.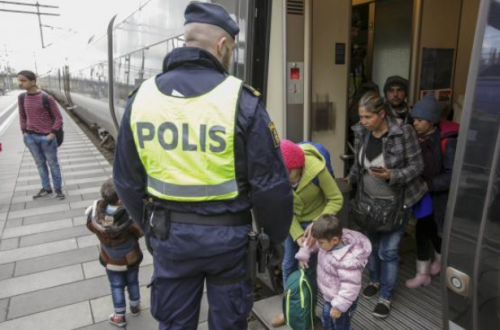 Parents with toddlers and young children, some of them wrapped in blankets, waited by the track waiting to be processed.

Until Thursday, the half-hour ride over the Oresund Bridge separating Denmark and Sweden had no checks, under the European union's border-free Schengen agreement.

At one point, police escorted 20 people, mostly men, from a train. The group was asked whether they sought asylum and after one refugee appeared to translate, most raised their hands. Five youths refused, saying they wanted to move on to Norway.
Looking ahead, all of this wil serve to slow the migrants' path from one destination to another meaning there's all the more chance that the bottleneck in the north stymies the Balkan flow leading to precisely the type of humanitarian crisis that Slovenian premier Miro Cerar warned would occur once winter hits and hundreds of thousands of migrants are stranded in countries with no capacity whatsoever to accommodate them.
Meanwhile, the border checks, fences, and the hauling of migrants off trains will likely perpetuate the idea that these are not asylum seekers, but rather outsiders who do not belong in the minds of those who have spoken out against taking in migrants.
In any event, we'll close with a quote from European Council President Donald Tusk:
 "Saving Schengen is a race against time. And we are determined to win that race."
Source: The European Union is Disintegrating: Austria Builds New Fence; Germany, Sweden Resume Border Checks – ZeroHedge